6 Different Types of Online Communication Tools
There are several tools which can be easily and successfully utilized in an online setting to both collaborate and communicate. Most of these online communication tools for business are only utilized in real-time settings. This is why they heavily depend on various media such as auditory and visual,can be faced with numerous accessibility barriers and might have complex interfaces.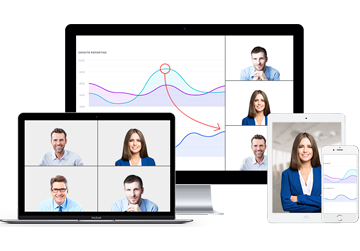 Best Online Communication Tool
Free for up to 100 ParticipantsFluent Group Video/Audio/IM ChatScreen Sharing and AnnotationWhiteboard and CollaborationRecord and PlaybackSign Up Free NowThe different types of online communication tools are as listed below:
Video conferencing
Video conferencing services have developed to become one of the top types of online communication tools. Businesses benefit from video conferencing through meetings. This is because meetings allow for the discussion of business progress and the collaboration of ideas. Video conferencing software such as ezTalks Cloud Meeting allows for arrangement of meetings regardless of the physical location of a member thus good for emergency cases. This means that video conferencing guarantees a speedy redress of business concerns and increased productivity. Effective online communication tools for business like video conferencing has the following benefits:
It enables immediate meetings and short notice meetings.
It facilitates collaboration without an individual having to leave their office.
It is very cost-effective.
It allows for multi-point meetings based on various time zones.
It allows for real-time concessions.
It facilitates non-verbal communication.
Video conferencing software such as ezTalks Cloud Meeting only needs the user to have a camera and a microphone so as to communicate online.
Chats
Chats can be described as online text conversations that happen in real-time. The 3 ways of conducting chats include the following:
Internet relay chat – Users of IRC employ an external program (a client) in order to create a connection with an IRC server. This means that the accessibility of an IRC mainly relies on the client's accessibility. This tool is mostly used by a technical audience.
Instant messenger – This is a downloadable messaging program that people use to communicate. Examples of messenger include AOL Instant Messenger and MSN Messenger. Instant messaging has become a more reliable online communication tools for students,especially with the latest generation. Instant messenger software usually requires users to create a nickname and an account. Communicators are heavily used to facilitate private chats,this is in different forms like phone services,file and video exchange and of course messaging.
Web-based chat – These are online chats which are accessed via a normal browser. A good example is the chat feature that Gmail has put in place. Usually,a portion of the screen or even the entire screen refreshes on a regular basis. Web-based chats are very accessible today because the output is HTML.
Whiteboards
Interactive whiteboards are among the most recent types of online communication tools. Whiteboards are popular online communication tools in education. They are beneficial as they allow users to write,draw and even collaborate with the help of an interface which simulates an actual physical whiteboard.
Whiteboards require users to have a mouse in order to add some content. Most,if not all the content in an electronic whiteboard is created in real-time and graphical. Whiteboards have become the top online communication tools in education because of their features aid in learning.
Forums
There are several ways by which online forums are referred to as,these are discussion groups,discussion boards,bulletin boards and just forums. They can be described as places where all users are allowed to post either comments or post questions. Other users of the forums are permitted to post replies to posts so as to create a kind of online discussion. The posts from the discussion are properly stored to be chronologically sorted out in a bid to form threads.
These online forums are all keyboard accessible. Avatars,emoticons and images all require alt text that is appropriate. Forums as online communication tools utilize inaccessible CAPTCHAs for registration,these function to keep out spammers and bots. Forums are insightful online communication tools in education as they contain a lot of valuable information.
Voice over IP
Voice over IP also known as VoIP is a term that is used in reference to a voice conversation which is conducted over an internet connection rather than over the traditional phone line. Various large organizations utilize VoIP in place of the conventional phone line. It should be noted that it is very possible to make Voice over IP calls over a computer but with either handsets or a USB headset. VoIP calls are purely audio-based. Some good example of VoIP as an online communication tools for business are Skype,ezTalks,Whats App,etc.
Email
Electronic mail or email is among the old online communication tools. It allows users to transfer photographs,send files and receive news from any part of the world. This online communication tool is broadly utilized for public communication,particularly in mailing lists.
The list above is not exhaustive as there are other basic online communication tools such as websites,newsletters,web 2.0 and even social networks.
The internet has availed a good number of new mainstream communication tools that has revolutionized things. This is because the different types of online communication tools have greatly reduced the time spent in creating and delivering messages.