2014-2016 E-learning Market Trends — Asian E-learning Market
In our previous articles,we mainly talked about European,North American and Latin American E-learning market,today,we will continue with our next region,Asian E-learning market.
The Asia region has the highest growth rate for eLearning on the planet at 17.3% and the growth in some countries is nothing short of remarkable. Revenues reached $5.2 billion in 2011 and will more than double to $11.5 billion by 2016,according to a new Ambient Insight report called,"The Asia Market for Self-paced eLearning Products and Services: 2011-2016 Forecast and Analysis."
Forecasts for sixteen countries are included in this regional report: Australia,Bangladesh,China (including Hong Kong andMacao),India,Indonesia,Japan,Malaysia,New Zealand,Pakistan,the Philippines,Singapore,South Korea,Sri Lanka,Taiwan,Thailand,and Vietnam. The two countries with the highest growth rates in the world are Vietnam and Malaysia,at an amazing 44.3% and 39.4%,respectively. Asia is now a vibrant and rapidly evolving market.
While the aggregated global growth rate of E-Learning is 7.6%,several regions have significantly higher growth rates. According to recent regional research studies,the highest growth rate is in Asia at 17.3%,followed by Eastern Europe at 16.9%,Africaat 15.2%,and Latin America at 14.6% respectively.
What drives the market? Clear lines of development characterize every aspect and the view is absolutely diversified. Looking at Asia on a whole projects related to literacy development in rural areas funded by the government is one of the major drivers for the introduction of online training software.
If we take a specific focus on IndianMarket,the E-learning industry was valued at INR 18.41 trillion in 2010 – 2011. Increasing Internet penetration,low cost existing coverage and rising demand are expected to help this market develop strongly in the near future. According to the Ken Research Group report,"India's E-Learning Market Outlook to FY'2018 – Increasing Technology Adoption to Drive Future Growth",the market is estimated to grow at a Compound Annual GrowthRate (CAGR) of17.4% over the period FY2013-FY'2018.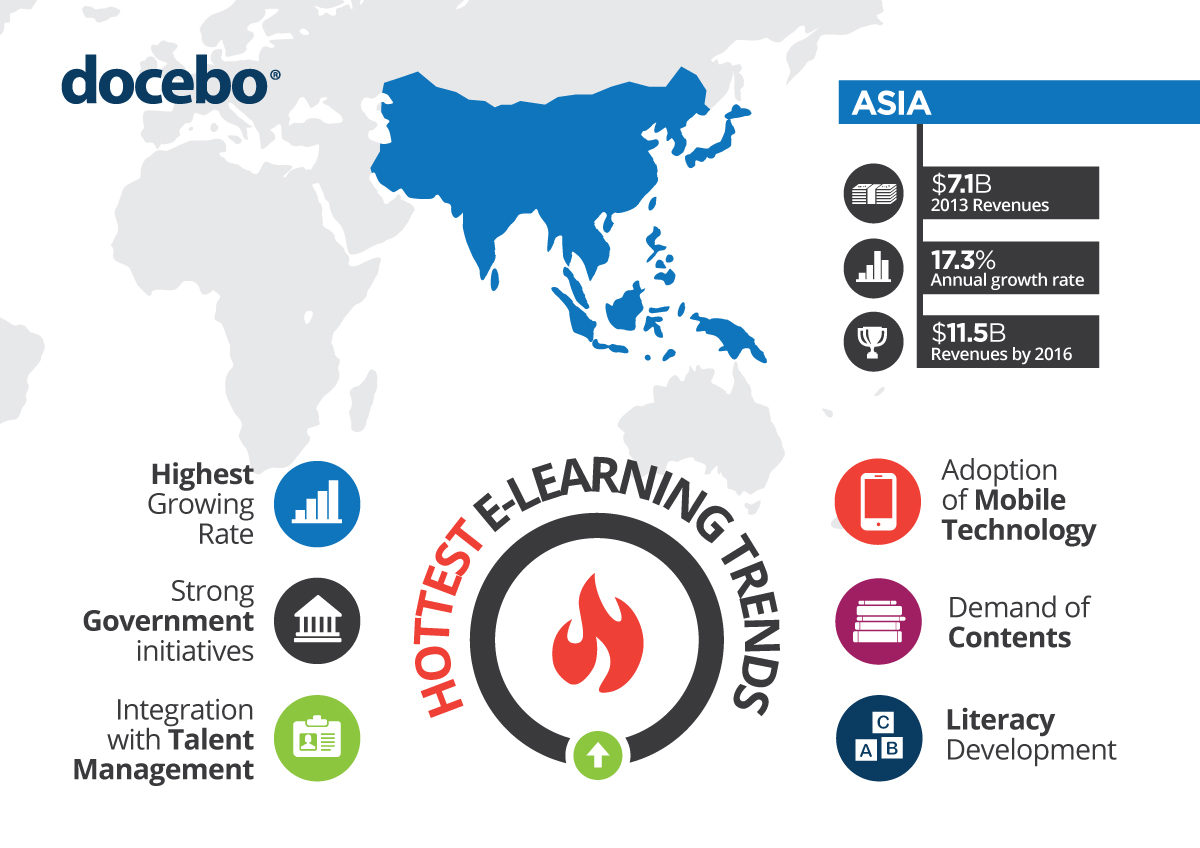 With E-Learning being increasingly used to facilitate talent management in corporations,the demand for custom E-Learning content and technology is likely to increase. This should increase the overall growth rate for India's E-Learning market in the future.
The rapid adoption of mobile technology is going to play a major role in the way the entire digital experience is valued and consumed. The mobile ecosystem — devices,carriers,app markets and so on –has become the fastest-growing industry ever recorded.
The increasing sales numbers suggest that the growth of smartphones in India allows people greater access to the
Internet via mobile devices rather than computers. Unlike a desktop PC or even a laptop,this is an education portal
that people can take with them wherever they go. Hence,learning on the go will be the next thing to watch out for and platforms like Docebo,which fully supports mobile access,will continue to perform well as market leaders.