The Best Enterprise Collaboration Software of 2019
Collaboration is something that enterprises just cannot do without. For successful completion of projects, different people from different departments need to team up and give their best. It is not possible for such people to always meet each other face to face, as they may not be present in the office, city or country when meeting up is important. In such cases, an enterprise collaboration software helps all such people meet together virtually and discuss their plans whenever needed. Enterprise collaboration tools can benefits your business. Though there are many enterprise collaboration software available, given below is a list of some of the popular ones that you may consider.
7 Best Enterprise Collaboration Software of 2019
1. ezTalks
The first and the best enterprise collaboration software in this list is without doubt ezTalks. It offers more features than most other tools do. The best thing is that you can enjoy most of it features free of cost like HD audio and video, unlimited cyclical meetings, whiteboarding, gallery and full-screen view, screen sharing for annotation, the freedom to add up to 100 members, and a lot more. You also have two paid plans to choose from in case you need more features and the freedom to add up to 10, 000 members.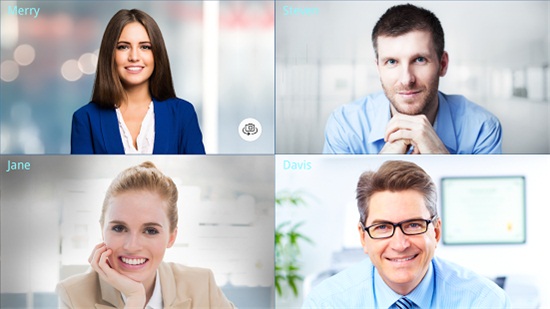 2. Slack
Slack has an attractive interface, allows real-time instant messaging, and has easy integration with applications like Twitter, Google Drive and Skype, which makes it a perfect tool if you want to enjoy smooth workplace communication and collaboration. If you use the Chrome, Windows or Mac version of Slack you can also enjoy video calling and an even better integration experience because of its partnership with Google Cloud. There is a free trial version that you can first try (though that does not allow you to enjoy group calls and careen sharing), or you may even opt for either of its paid versions – the Standard or Plus package.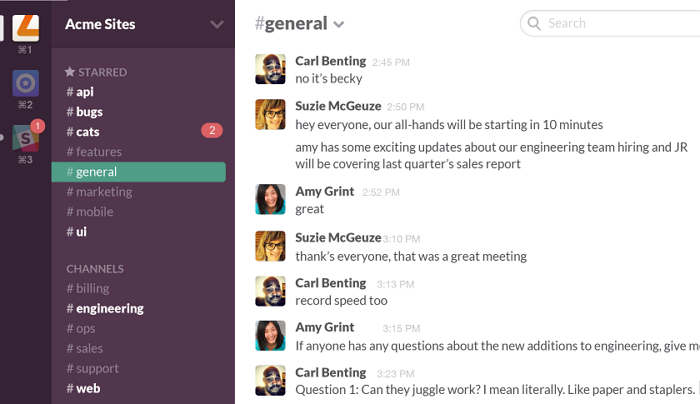 3. Yammer
Microsoft Purchased Yammer in the year 2013 and with it entered the collaboration market. With the help of Yammer, you can compile files, messages, and updates in one destination and share information in conversation groups. Members may interact with one another in private groups if they want to share sensitive details, otherwise, they can use the open public groups. Since Microsoft has merged with Yammer, to use it you need to select either of the Office 365 Enterprise plans.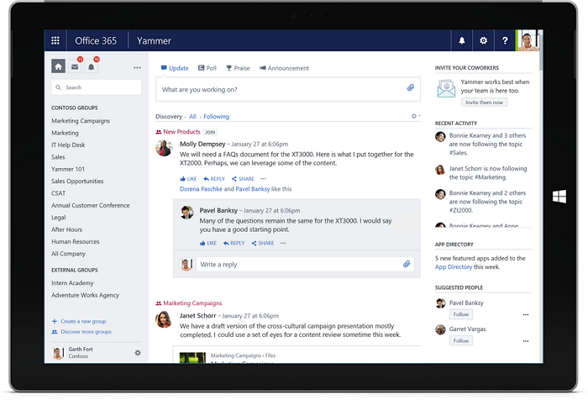 4. Smartsheet
Smartsheet is a well-known project management application that has a spreadsheet type of interface, which allows teams to collaborate, manage tasks, and plan projects. This tool offers various project management applications like reporting, document management, time tracking, resource management, and issue management if you choose to use an add-on app. Smartsheet helps users keep track of projects and allows you to enjoy better visibility of the team priorities so that important activities are never missed.
5. Onehub
Onehub is also a well-known online enterprise collaboration tool with the help of which users can store and share important files. You can get it customized to meet your specific needs. Onehub offers various features that help you with file storage like full-text search, drag-and-drop uploading of documents, version controls, and folder organization. Users can easily share files with the help of role-based permissions or links. It also has workspaces with user access and management controls. This tool also allows you to send emails, post comments, make dashboards and get notifications regarding new files and posts.
6. Mavenlink
Mavenlink offers services and software for resource planning, project management, financial management, and collaboration. It has been designed for professional usage and is best for those who want to collaborate with their teams online. Using it you can store and share files with your team members and can even tag them to some particular task. It has a simple and easy to use platform with its centralized dashboard that keeps the users updated with progress in projects and about every latest activity.
7. Workfront
Workfront is an online project management solution with the help of which teams can manage, report, and prioritize their work. It is fit to be used by any business – big or small, and every industry. It has a standard reports library that can be used as it is or can be customized according to the need of the company. Workfront offers tools using which you can plan the work cycle so that it becomes easy to maintain budgets and project schedules. The communication tools help members to assign work, collaborate, deliver work, keep track of deadlines, check status updates, and manage approvals and reviews. Its business management tools help you assign responsibilities, allocate sources and track performance.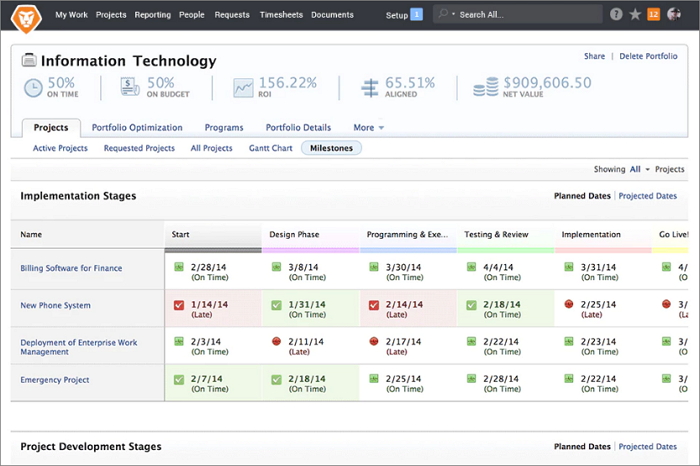 These are the 7 best enterprise collaboration software of 2019. Each of them has unique and helpful features to offer. You simply need to go through their details well, if needed go through their websites too, and then decide which one will prove to be the best for you.