Top 5 Video Conferencing Service Providers
Introduction
Video conferencing market is a huge success,and it is one of the most relied upon forms of communication by businesses. In the market,there are a number ofvideo conferencing service providers,and this article aims to draw attention to the great options that are available to the users. Video conferencing software and services are expected to reach the figure of $3.6 billion in 2020. Below are the 5 great video conferencing services in different countries.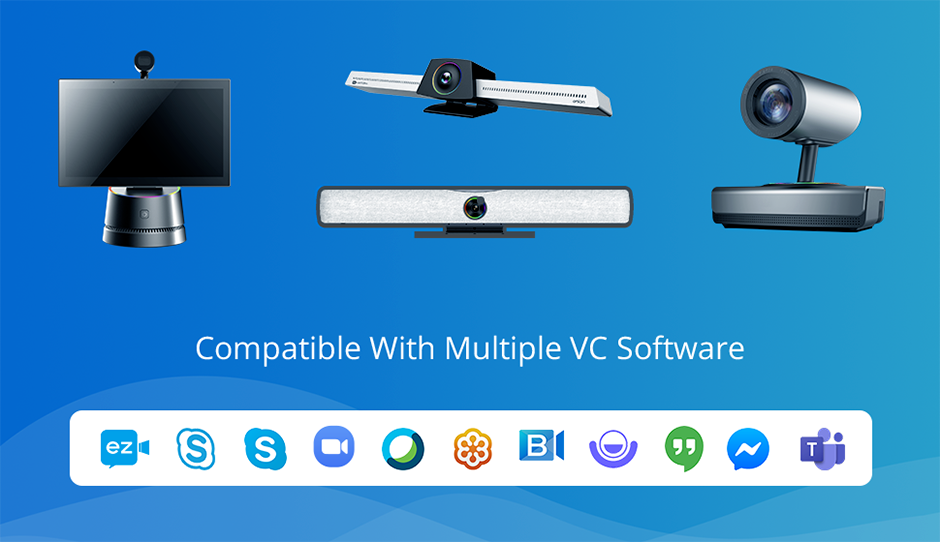 ezTalks Hardware
Supports Multiple VC Apps
ezTalks all-in-one video conferencing devices work with most popular VC apps like ezTalks,Skype for Business,Skype,Zoom,WebEx,GoToMeeting,BlueJeans,Lifesize,Google Hangouts,Facebook Messenger,Microsoft Teams and more as you require.
Request A Demo
1. ezTalks
ezTalks is a world's leading online video conferencing provider that is powerful yet very easy to use. Itoffers full portfolio products including Meetings,Rooms and Webinars to faciliate the unified coummunication in every sphere. While the Meetings enables you to host unlimited HD video conferencing with anyone,anytime and anywhere.The Rooms service aims to deliver the consistent conference room solutions for any size of rooms. While ezTalks Webinars provides the best webinar platform for online events with up to 100 interactive video participants. ezTalks is a complete video conferencing package as it offers a comprehensive range of services that includes HD audio & video,screen sharing,screen projection,live broadcasting,etc. It even offers cool features like whiteboard annotation. And not only this,it supports online meeting control features where you can do a live chat,make a recording,make presentations,mute audio,lock meeting room,remote control and much more.

ezTalks offer high-quality video and audio with live broadcasting supported from any device. Not only this video conferencing provider is full of features and user-friendly but is also free. So,try it free and stay tuned with your participants to facilitate the best possible communication. ezTalks is popular and is widely used by all type of organizations,be it legal,healthcare or government enterprise,it fits the need of all. A quick one button set up allows starting and scheduling very simple,swift and easy by ezTalks.
ezTalks also takes pride in its hardware solutions,open source platforms,that allow users to install their preferred video conferencing software including ezTalks,Microsoft Teams and more as required. You are good to uplevel your conference room within a few minutes!
2. Zoom
Zoom is a big player in the industry of web conferencing with 65,000 clients. Zoom provides a free plan for web conferencing that offers the significant advantage to new startups and small and medium enterprises. Zoom allows up to 50 users,unlimited 1-to-1 meetings,and an unlimited number of sessions with only one restriction that however each session of the meeting is limited to 40 minutes of time. Zoom also offers paid plans to the users ranging from $9.99 or $49.99 per user as it depends on the features a buyer needs.
3. VideoCentric
VideoCentric is a web conferencing service provider of UK that offers the convenience that virtual assistants. This web conferencing service can be controlled by voice commands where users can use their voice to start or end the meetings. Not only meetings but users can even display different screens or execute any other commands they need to use. For businesses,voice commands over video conferencing help create real work environment during meetings and make video conferencing more authentic.
4. TrueConf
TrueConf is one of the video conferencing systems available in the market. Used by 5000 companies around the world,TrueConf server is specially designed to work for corporate networks as it offers UltraHD video conferencing as well as cross-platform client applications,offers convenient collaboration tools. Another feature it offers is,Address Book with status and photos. It has a very flexible administration,and the best part is all of these features are for free.
5. VCNow
VCNow is a product of unified collaboration services,and it provides unified communication and collaboration services. It supports features like virtual meeting rooms,video,audio and web conferencing. VCNow is a leading web conferencing service provider in India,and it is recommended by industry-leading professionals of video conferencing in India. Their services include video conferencing centers,managed video conferencing services,webcast & streaming services,virtual classrooms,etc. VCNow offers loud and clear audio in the video conferencing making it real easy and professional. VCNow is a good choice if you want to make your audio & video conferencing easier,simplified and best in results.
Conclusion
The overall video conferencing market is growing due to demand driven by lower prices,and migration from stand-alone audio to the web and video conferencing. The web conferencing services market is characterized by growth,innovation,and technology advancements. It is highly anticipated that the video conferencing market will thrive,driving the greater use of SaaS (Software-as-a-Solution) alternatives. Video conferencing services providers in India are receiving a huge success. Not only in big metro cities but it is now being used by small businesses in small cities. There are multiple video conferencing service providers and the market for web conferencing is getting increasingly crowded.