8 Best Webinar Solutions in the Market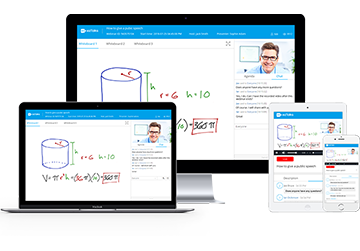 ezTalks - Best Webinar Solution
Free for up to 100 ParticipantsFluent HD Video/Audio QualityScreen Sharing and WhiteboardPolls,Survey and RecordingRebranding and Paid WebinarsSign Up Free NowA webinar may be a presentation,demonstration,discussion or even an instructional sessionthat takes place over the Internet. It letslarge audience engage in online conversations and sharesvideos,audios or files regardless of their respective geographical locations. Aswebinars areused in extensive fields,webinarsolutions are becoming veryimportant toolsto help you achieve your goal. Here is a list of 8 best webinar solutionsin the market.
1. ezTalks Webinar
ezTalks Webinaris without a doubt a market dream. A bountiful supply of features makes webinars delivered via this webinar solution dependable,secure and professional. It is most suitable for those who are under pressure to communicate and collaborate in a rapid,productive,and cost-effective way. The reasons are as follows.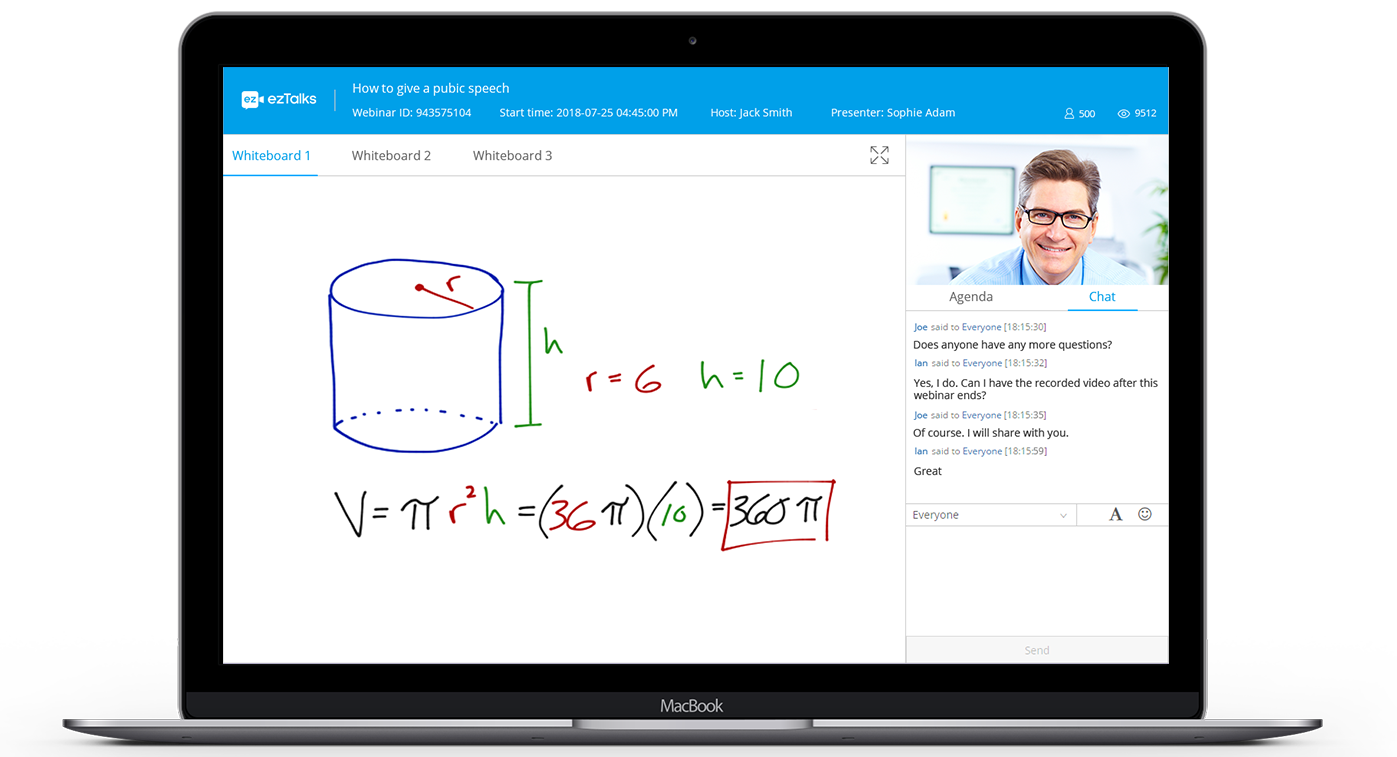 Reason 1: It is cost-effective.
As for its free trial version,ezTalks Webinar gives a free trial service with up to 100 participants that lasts for 100 minutes. You can hold as many webinars as possible during this duration. As for its paid version,you can host a webinar with more than 100 participants at an affordable price.
Reason 2: It gives you flexibility.
Thiswebinar solutionsupports Android-based,iOSdevices,Mac and Windows.Besides,where ezTalksWebinar shines is that it offers you the ability toschedulea webinar in seconds by virtue of its default templates and rebrand a webinar in the entire webinar process as expected.
Reason 3: It owns rich collaborative features.
This webinar solution comes with a number ofuseful features for enhancing engagement likea whiteboard,screen sharing as well as instant messaging. They also provide you with the ability to schedule and call off webinars. ButWhere ezTalksWebinar shines is that it offers you the ability to notify other clients about the upcoming events and products.
Reason 4: It maximizes your return.
ezTalks Webinargives you the freedom to record webinars in HD and store it for future reference.For more result,you can monetize your expertise with paid webinars or analyze & enhance your webinar performance with its reporting tool.

With these convincing factors,ezTalks Webinar solution must help you every step of the way: before,during and after the webinar.
2. GoToWebinar
If you are looking for a powerful and user-friendly webinar solution among the best webinar providers,GoToMeeting should be one of your choices. The program includes a number of great features like being able to integrate with social network platforms,being able to switch presenters,along with the dashboard that helps you track in real time the participation of your audience.
The program also allows you to create quarries and polls in order to enhance webinar interaction. Moreover,GoToWebinar runs on the server,meaning there are only a handful of issues with connection speed. It recently introduced a browser-based solution,so participants don't have to install the program in order to see the webinar.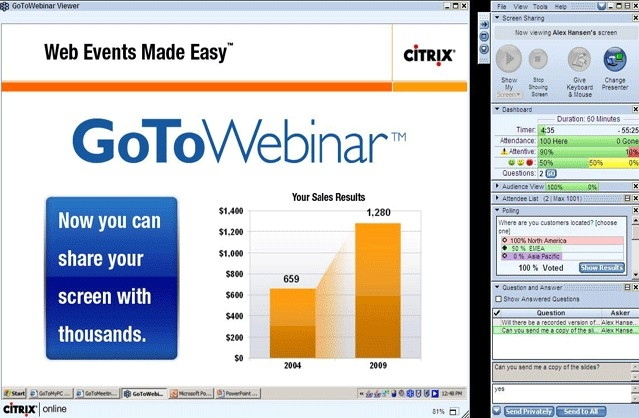 3. Cisco WebEx
Cisco WebEx is among the most popular webinar solutions for setting up online webinars and events. The software comes equipped with numerous features that make it stand out from its competitors. Some of its notable features include registration tracking,polls and surveys,branded registration and invites,high-quality audio and video as well as lead generation tools.
This webinar solution also allows you to schedule instantaneouswebinars or schedule larger webinarsin advance by sending invitations via telephone,email or text. Cisco WebEx takes privacy very seriously. Your webinar is safely encrypted and the solution will not record your webinar without your consent.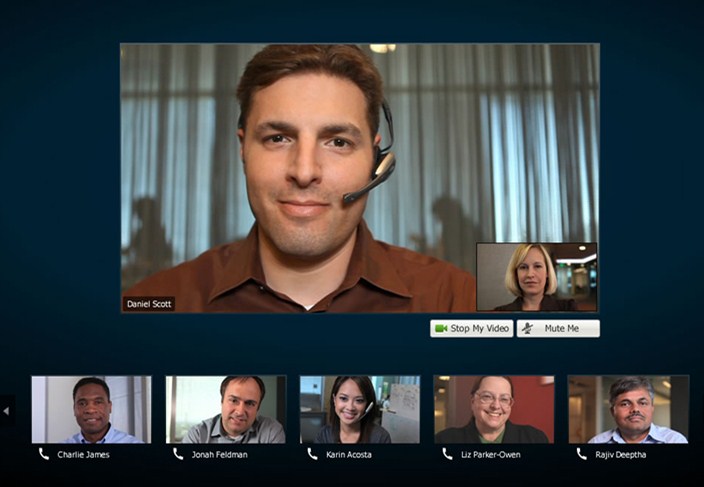 4. join.me
join.me is a simple,super-light webinar solution that enables you to collaborate instantaneously with free screen sharing,simple video conferencing and smooth audio.What makes this it stand out in a crowd of competitors is the fact that it doesn't require registration. Its user interface is modern and friendly,and setting up conferences fast and easier. Participants have to only click on a webinarlink to join the webinarthrough their browser. It is easy to interact with customers or vendors,regardless of the geographical locations. Monthly fees are billed per registered users and only conference hosts should have an account. This helps to keep the cost down.
5. ClickMeeting
Formerly known as Click Webinar,ClickMeeting brings the power of webinars to businesses of all sizes. This solution for webinars is user-friendly and covers virtually every aspect of webinar from preparation to discussion. Because it is browser-based,it does not require software installation. Also,it is not picky about device compatibility. You can use any device and OS including Windows,Linux,Mac and Flash Player. Webinar hosts can make use of the online portal to launch webinars or schedule future webinars. During the webinar,the host can show online presentations,YouTube clips or use their screen sharing functionality. This solution webinar can rely on offers a wide range of plans to fit your business needs.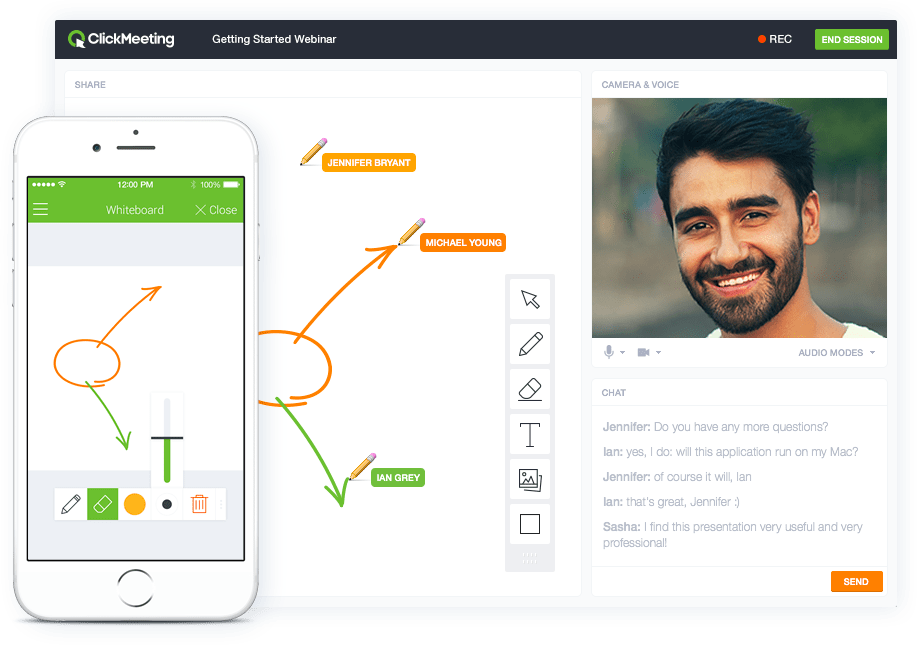 6. Adobe Connect
If you are looking for a webinar solution that comes with control functions and features to help your web seminar run efficiently,Adobe Connect might be your best bet. With Adobe Connect,you can adapt to the functionalities included for each webinar. This allows you to minimize the hassle for attendees who may not be interested in the same set of features for webinars. It also includes analytics and email reminders and enables you to set up unlimited events on a monthly basis. This webinar solution can be used in wide range of scenarios,including online demos,virtual collaboration and online training. Adobe Connect supports Windows 7,Mac and Flash Player.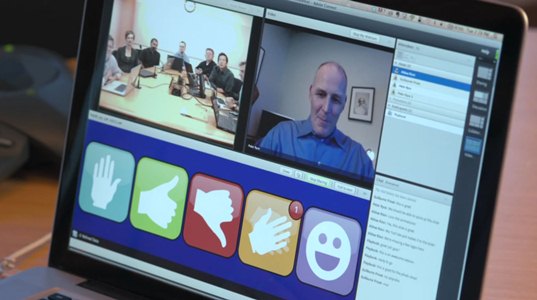 7. Skype for Business
Formerly known as Microsoft Lync Server,Skype for Business is a webinar solution that lets you collaborate anywhere,with anybody,on any device. It offers all essential features including whiteboard,screen sharing,audio conferencing,video conferencing,file transfer,chat to name a few. The program can be deployed in the cloud,on premises or as the hybrid service. You can run on Windows OS,Android devices and tablets as well as Apple iOS devices. Skype for Business supports HD webinar for up to 250 participants,making it ideal for small and medium-sized businesses.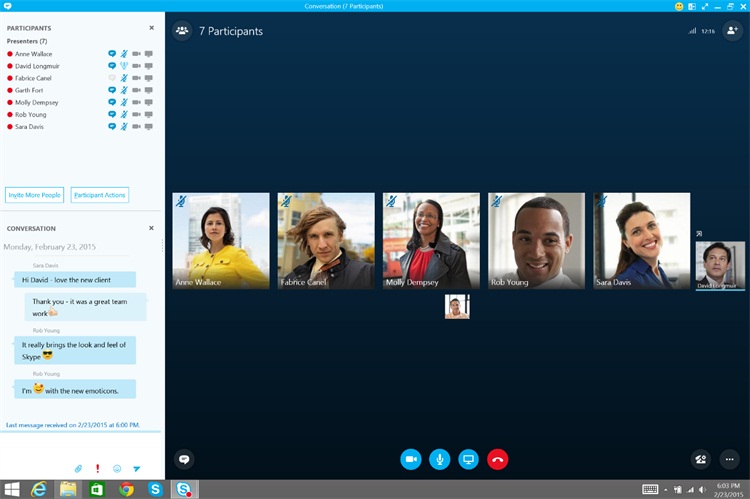 8. Zoom
Zoom is a webinar solution that comes equipped with a wide and well-structured array of features. The program allows you to share screens,record sessions and interact collaboratively. When communicating through this program,you have access to HD audio and video conferencing so your communication is clear and easily understandable. Furthermore,Zoom gives you the ability to create video webinars. But it doesn't provide the free trial version. If you are hosting webinars with multiple screens,the solutionallows you to stream from all of those screens.
While there are many webinar solutions out there,their features and functionalities vary widely. Like you can see,choosing one that meets your need can be a frustrating and annoying process.That's our list of8 best webinar solutions out thereto help you pick the right one for your purpose in a time-saving and hassle-free way.