Six Best Employee Communication Apps
Employees need to have an internal mechanism of communication. When setting up a team to work on specific targets, it is important to ensure that everyone is on the same page. Once all employees are on course, setup a continuous communication link to make sure everybody is in touch with the team. To fulfill the need for constant communication, various apps offer the best platforms for employee communication. Some apps are for free while others are costly, but they help in the efficient running of the business. Here are the top six employee communication apps.
Slack
Slack provides the best platform for real time chats among employees. The employee communication app offers the user an option of either creating a new team or joining an existing team. If you are in charge of a team of employees, you can create a team and get the rest of the team members to join. The app provides you with various channels that are used to group conversations-based on different topics. You can also create your own custom channel to suit the needs of your team. You can also use private chats for direct one on one communication. The disadvantage of the app is that the notifications may become too much. You can customize the notifications in the settings.
ezTalks Meetings
Formerly known as ezTalks Cloud Meeting, this employee communication app offers the ultimate employee communication platform. Unlike most of the other apps, ezTalks Meetings can be used for hosting large scale video conferences. The app offers HD video quality of up to 1080p. It also provides you with the best quality audio, hence making it the best employee meeting app. 
ezTalks Meetings has various features that make it unique, which includes the screen sharing capability. The users of the app can share their screens such that they work, take notes while following the meetings. The app also offers interactive whiteboard for presentation as well as the capability to record meeting proceedings.
Employees can have chats beside the video and audio conferencing. The plus side of ezTalks Meetings is that it is compatible with almost all the tools used by employees. Google calendars can be used for scheduling meetings, Microsoft office can be used for presentation and can also be integrated with Microsoft Outlook.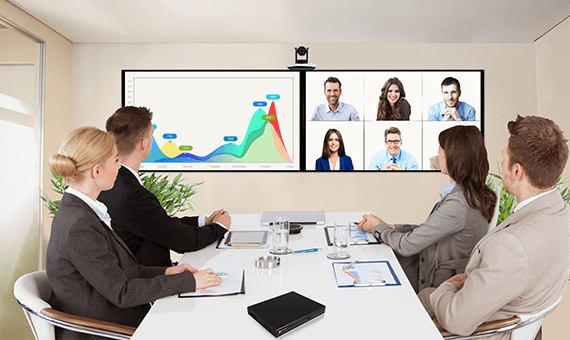 Trello
Trello is custom designed to help teams in project management. It helps teams to keep track of their activities and previous activities. The app for employee communication allows you to create boards with different cards, showing your previous tasks. You can use the boards to assign tasks to team members as well as move tasks from one board to another freely. This app is good for keeping track of the main objectives and ensuring that employees do not get out of their objectives. It clearly states what should be done, by when and by who.
Fuze
This is the ultimate app for small companies that need to enhance employee communication. The app allows employees to make quick HD video conference calls and video conferences. This app can be used to enhance communication between the top managers and the lower managers without face to face meetings. Another plus for the app is the Fuze Analytics tools that can be used to give an analysis of the business and progress. The app is suitable for use in office due to its compatibility with other important tools such as Microsoft Office, Outlook, and Lync. Fuze can also be used with online apps like Google Calendar.
Microsoft Lync
Formerly known as Microsoft communicator, the Lync app is an employee communication app made by Microsoft. The app can be used for instant messaging between employees. Of late the app has been integrated with Skype, making it one of the best tools for remote meetings. It offers access to Microsoft office, Google Calendars as well as HD video calls. If you are a big fan of Redmond giant, you will find this app interesting to work with. Since it is a Microsoft app, it means it can work well with many other aspects and tools in the office.
Wrike
Wrike is a great tool for managing tasks and ongoing projects. It offers a great platform for internal employee communication. The information shared on the app is transparent and all employees can contribute to the discussion. The employee communication app is not for keeping contact information. It is mainly made for brainstorming and delivering projects within time.
Conclusion
Employees need to have regular internal communication and meetings that are organized and with a straightforward agenda. These employee communication apps offer the best platforms since they provide with tools that can remind employees of their progress, duties, and tasks. Apps that offer video conferencing like ezTalks Meetings are preferable, considering that it can be used for clear illustrations. Employee communication should be enhanced to ensure proper working of any organization.