Top 5 Group Meeting Apps
Meetings are often held to discuss emerging issues or anything of concern in an organization,institution,or in a business environment. With the introduction of virtual meetings,nowadays,you can hold a group meeting from any side of the planet. All you need to have is a group meeting app that is extremely reliable and of course,easy to use.
Generally speaking,no one planning to conduct such a meeting has time to deal with choppy video and audio,dropped calls,stream lags,annoying plugins,and downloads,or any other frustrating technical challenges. Therefore,to achieve the objective of having an uninterrupted meeting,there is no doubt that you will consider using any of the below group meeting apps.
1. ezTalks Cloud Meeting
If you're looking for a great app that takes group meeting to the next level,ezTalks Cloud Meeting app takes precedence. It is designed purposely to meet the needs of the 21st-century group meetings. Depending on the device you are using,all you need to do is to download and install the app. After installation,you will start enjoying a free plan that allows for up to one hundred participants to join a meeting at once as long as you do not talk for more than forty minutes. If you want to host a larger group meeting,say 500 participants,you have the option of choosing affordable premium plans,which depends on the number of participants in a group meeting.ezTalks Cloud Meeting has incredible features that make it the best group meeting app. It includes high definition video and audio,instant screen sharing (or apps and files),chat functions,interactive whiteboard,video/audio recording function (perhaps for recording the meeting for reference purposes),meeting scheduling feature,and much more. With all these great features,users will have stable and fluent virtual group meetings.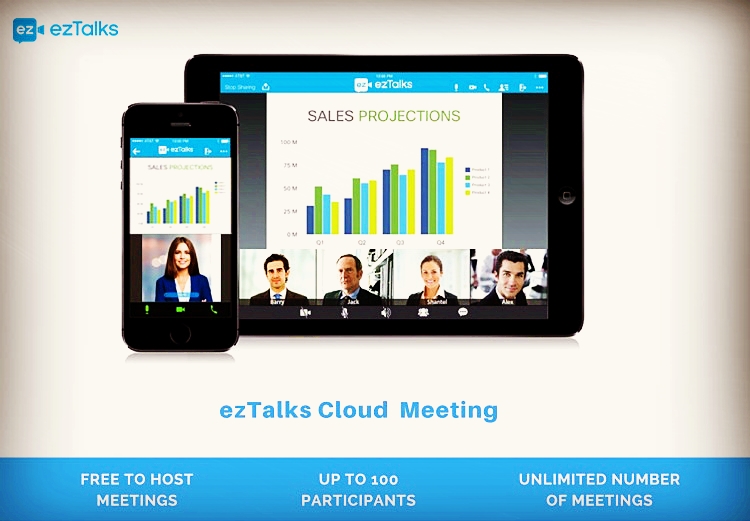 2. Google Hangouts
For those who would want to conduct group meetings either on their mobile devices or PCs,then Google Hangouts is undeniably a suitable and efficient app available today. To access this group meeting app,you will need to sign up for an email or Google Plus account,which is often free.
This group meeting app allows for up to twenty-five participants,again for free. Other incredible features for this app include seamless integration with Google's other tools/apps,online meeting scheduling function,free sharing of Google apps,drive files,and so on. When using this app,be sure to have a good Internet connection. Otherwise,the virtual link might be broken and hang.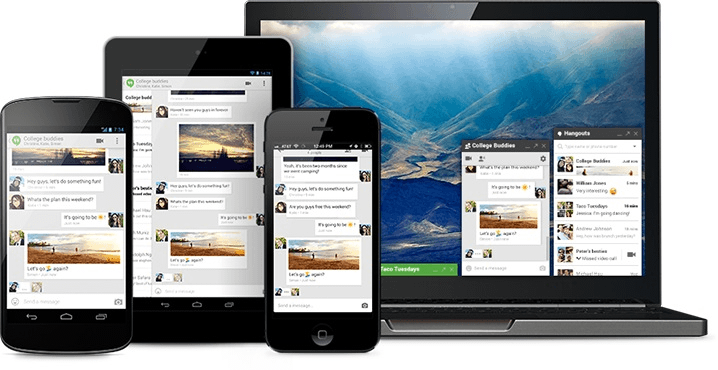 3. Zoom
One of the best group meeting apps that enable seamless virtual team communication on Android,iOS,Mac,and Windows platforms is Zoom. This app lets you join a meeting from your devices via cellular networks or Wi-Fi,hence a great option for users who are always on the go. It is currently one of the most reliable and simplest app that offers great features like screen sharing from mobile/desktop,HD video conferencing,conference recording functions,and of course,the ability to choose either full screen or gallery views during a meeting.
Besides,it has an online interactive whiteboard and the option to send group images,text,and even audio files during a group meeting. Zoom's uncharged plan includes unlimited meetings with up to fifty participants for about forty minutes. Premium options are available at affordable prices depending on the number of participants and the duration of the meeting.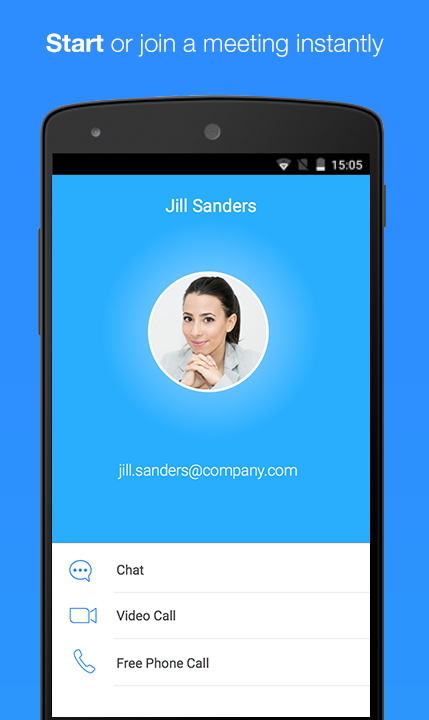 4. Onstream Meetings
The group meeting application offers incredible features such as document sharing option,screen sharing,private/group chats,shared controls,polling,and an interactive whiteboard. What makes Onstream outstanding is the ability to allow up to 1,000 participants at once. It also has recording feature that lets you record online meetings and download as soon as the meeting ends. There is a free trial version,but with limited features. To access all the features,you have to subscribe to the paid version.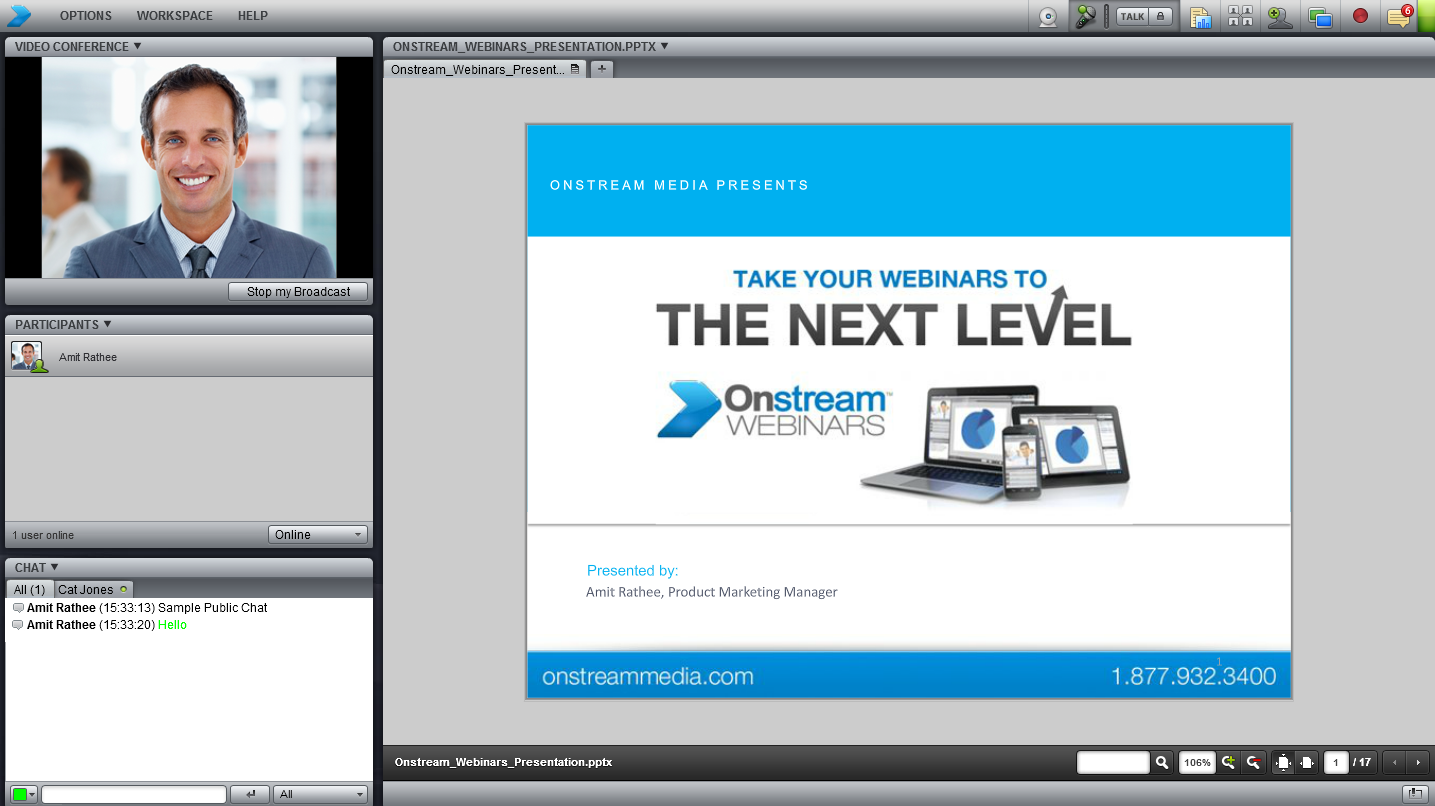 5. join.me
join.me is one of the best apps for group meeting. It allows you to record the entire meeting and you can join the meeting from your preferred devices (either mobile,tablet,or desktop). Other features include the capability to share your screen,the option of changing the presenters,and transfer file options.
Unlike other group meeting apps,with join.me,you can personalize your meeting space with screen backgrounds and custom URLs. Interestingly,the app allows you to make calls through the telephone or the Internet. Upon installation,you will be given a basic free plan that allows for up to ten participants,but with limited access to some features. However,for advanced features,you should subscribe to premium plans.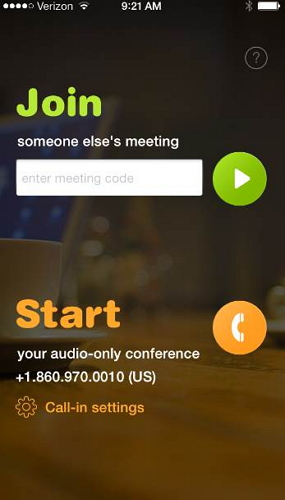 Conclusion
As earlier mentioned,gone are the days when you had to attend a meeting physically. Nowadays,with most people having access to PCs or smartphones installed with great apps,group meeting has advanced to higher levels. The good news is that these group meeting apps explained above are not only up to the task,but there are also highly affordable. In fact,most of them are coming with a free trial version,so that you can learn the features before subscribing to the premium version. Therefore,choose your favorite group meeting app and have meetings anywhere anytime.