What Is Online Collaboration
Collaboration in itself is a very broad term which includes working together in various set ups. In today's technologically advanced age of internet users collaboration means an online communication setup that allows people working on the same project work together even if they are not at the same location.
What Is Online Collaboration
Online collaboration can be defined as a technology that uses a collaboration software like ezTalks Cloud Meeting etc. to allow a group of people to work together to achieve the same goal. The members of collaborating group can use the collaboration software to coordinate, communicate, cooperate, share, negotiate and even compete with each other to solve problems.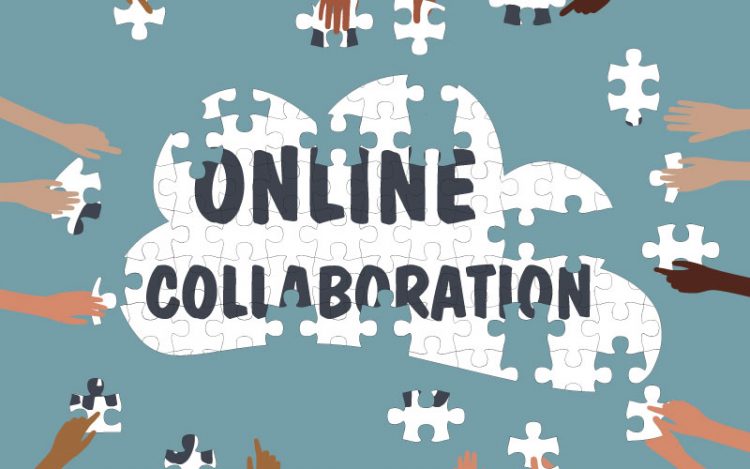 Types of Online Collaboration
Online collaboration is generally categorized in two categories – synchronous and asynchronous.
1. Synchronous Online Collaboration
When the users work or do their tasks together really at the same time or in real-time, whether they are located at the same location or different locations, then it is known as synchronous online collaboration. They have to use online collaboration software for this purpose. This type of online collaboration allows two or more people to view and edit information or document in real-time, even if they are not located on the same location. For instance people can use a web-based platform to work collaboratively on a problem by sharing whiteboards. These shared whiteboards can also be used in sharing sophisticated communications like publishing applications or sharing collaborative graphic designs etc. The software options like Skype or ezTalks Cloud Meeting etc. used for synchronous collaboration also allow sharing of live videos between two and more participants in an online meeting if their communication systems have cameras to make videos instantly. Some of the chat systems also allow people to write and send messages in real-time to various people at a time. You can assign chat rooms to create chat groups to discuss topics with other participants. Similarly, certain decision support systems also help certain groups in their decision making process by using the tools for analysing ideas and finding possibilities of the alternatives.
2. Asynchronous Online Collaboration
When the users of collaboration software work together on the same project at different times, whether they are located at the same place or at different places, then it is known as asynchronous online collaboration. Email, one of the most commonly used asynchronous collaboration tool, is considered as the ancestor of the online collaboration software applications used these days. But today they have included several new features in the old Email so that it can file or forward messages, attach dozens of files or create mailing groups just in one message. Today it can also sort, process and route the messages automatically. Similar to email newspaper groups and mailing lists are the means of online collaboration between the groups of people, as they cannot communicate face-to-face. Likewise, workflow systems are also good example of asynchronous collaboration as they can route documents and files through organisations or groups on the basis of a fixed process. Group calendars can also be placed in this category of online collaboration as they also allow the management and scheduling of projects, scheduling of deadlines or deliverables and coordinating people.
Types of Software Used for Online Collaboration
The collaboration software options used for this purpose are mainly of three types: communication software, conferencing software and coordinating software.
Communication software options were initially used for establishing communication between the members of a group working on the same project. Instant chat or messaging platforms come in this category.
Conferencing software options are the software tools that allow real time collaboration of the members of a team working on the same project located at different location so that they can be viewed through a unified screen. Mostly the view of the screen is controlled by a presenter whereas other members provide their feedbacks by chatting or talking.
Coordination software is the most recent type of online collaboration which is gaining popularity at very high speed these days. These software options allow the users to manage big and complex tasks, mutually supported by many people, to achieve the same goal.