Top 5 Virtual Collaboration Software
When teams in organizations incorporate the right virtual collaboration software, chances are they will be very productive. This happens because virtual collaboration software enable remote workers to communicate quickly and successfully. In essence, virtual team collaboration software provide a platform for remote workers to interact, build team cohesion and enhance productivity. But which virtual collaboration software are the best for use. This article looks at top 5 virtual collaboration software. 
1. ezTalks Meetings
For a long time, ezTalks Meetings has been widely utilized for video conferencing purposes, online meeting solutions and On-Premise solutions. Currently, it is also one piece of the most preferred virtual collaboration software. It is preferred due to its user friendly features and interface. ezTalks Meetings makes it possible to initiate virtual communication and training with remote workers irrespective of their geographical locations. Team members have the privilege of enjoying effective interaction by using ezTalks Meetings features such as HD video conferencing, online meetings scheduling, instant chat, meeting recording, whiteboard and screen sharing. As a result, many organizations are finding it easier and easier to interact and collaborate with remote workers, clients and partners. What makes ezTalks meetings great virtual team collaboration software?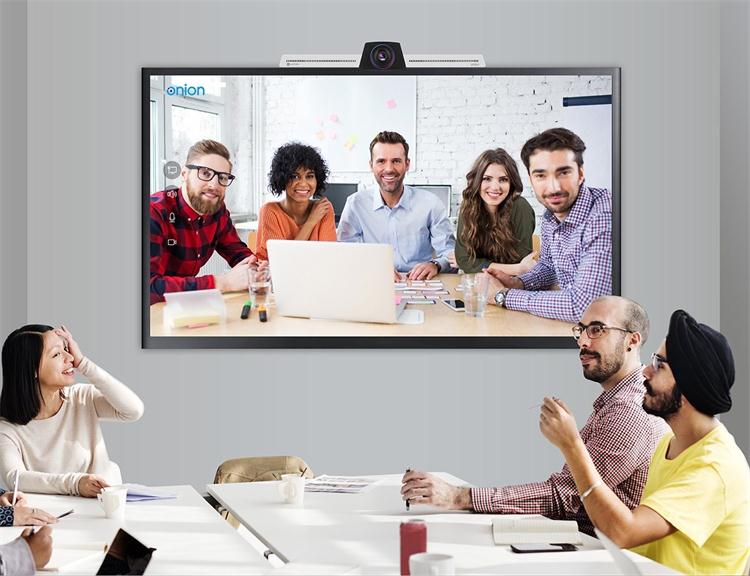 a. Free online collaboration. ezTalks meetings allows collaboration with about 100 participants for free.
b. Unlimited virtual team meetings can be held.
c. Content and screen sharing plus the interactive whiteboard, allowing meaningful discussions among team members.
d. Facilitate private and group chats in a bid to offer personalized interaction.
e. Access to tools such as remote control and instant messaging to improve co-ordination and management of virtual team meetings.
f. Up to 500 team members based in different places can participate in virtual meetings simultaneously.
g. Virtual team meetings and training sessions can be recorded for future reference.
h. Reminders can be used to schedule, reschedule or cancel virtual team meetings. 
2. Slack
As a virtual team collaboration software, it ensures effective and easy communication among remote team members. Slack allows both audio and video conferencing calls among teammates. Virtual teams can also share screens, files and private messages. Reasons that make Slack a great virtual collaboration software are as follows:
It has a wide array of customizable notifications. This ensures remote team members keep abreast with all important information.
a. Ease of use. Team members only need to use the provided team URL to login.
b. Enhance group interaction via channels. The channels are created by any team member.
c. Team members have total control over private and group discussions.
e. It shows progress of remote workers since work progress images can be attached.
d. It consists of a free package which individuals and businesses can use to test if Slack is suitable for their virtual team collaboration needs. 
3. TeamViewer
It is distinguished as a piece of virtual office collaboration software which enables troubleshooting remote computers in a speedy and easy manner. It is usually available in many desktop platforms as well as mobile platforms. It gives users the power to remotely gain access to other users' personal computers. This software allows virtual team meetings, virtual team training sessions and sales presentations. Why is TeamViewer a piece of great virtual collaboration software?
It upholds and improves communication between an organization and its remote workers and clients. This is because videos can be streamed by using a webcam during virtual team meetings. As a result, team members are able to see each other throughout the meeting which encourages more interaction among them. 
a. It enables remote access of workers' files and applications.
b. It helps in monitoring the progress of remote workers.
c. It allows instant hosting of meetings and scheduling of team meetings in advance. In addition, emails can be sent to prospective participants, informing them of when to join a scheduled meeting.
d. It is equipped with a mobile app which allows attendees to join a virtual team meeting via their iOS and Android devices. 
4. Basecamp
This is a piece of very applicable virtual collaboration software for organizations that have numerous branches, departments and projects. To enjoy the benefits provided by Basecamp, users have to make a subscription to its pay plan since it is not free. With Basecamp, timelines and deadlines for execution of different tasks and projects by virtual teammates can be set. Other factors that make Basecamp a quality virtual collaboration software include:
a. A very easy to use dashboard.
b. A message board that displays announcements.
c. A check-in section which is automatic. It asks team members questions on a frequent basis.
5. Skype
Skype has become the ultimate software for virtual team purposes, especially in large organizations. Skype enables communication among team members through voice and Skype video conference calls. As for screen sharing option, it is available only on Skype's premium membership plans. Skype can be used on a wide range of devices with different OS.
To wrap up, there are many virtual collaboration software that support communication in organizations. They enhance communication by facilitating social networking among remote workers. The above discussed virtual collaboration software allow remote workers to keep in touch, communicate work progress issues, solve work related problems, hence improve productivity.
As already mentioned, the virtual team collaboration software explored here possess various typical features which enable remote workers to communication in a satisfactory manner. These virtual collaboration software allow screen sharing, document sharing, video/audio conferencing, instant messaging, private and group chats and meeting recording, thus enhance clear and precise communication.