How to Record a Live Webinar?
Have you recently attended a great webinar that you really wished to record for your own future reference? Or, maybe you just wanted to share the contents of that webinar with your friends and colleagues by recording it? If yes, this article will be so apt for you. That's because it will introduce some popular and commonly used tools that let you record live webinar.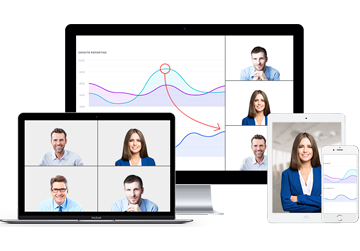 Best Webinar Recording Tool
Free for up to 100 Participants
Fluent Group Video/Audio/IM Chat
Screen Sharing and Whiteboard
Webinar Cloud Recording
Webinar Custom Branding
Sign Up Free Now
So, the main question is how can I record a live webinar? Well, there are two easy ways to record a live webinar. First, as a webinar host, you can simply use the webinar software (which should have the recording feature) to record the entire content. Alternatively, if you are an audience and your host doesn't let you download the webinar video online, then you can use a screen recording software, which enables you to record the content of any live web-based video conference and webinar.
How to Record a Live Webinar?
Way One: Eight Webinar Software Recommended for Webinar Hosts
In this section, I will share a total of eight best webinar recording software. Now, have a quick look at their key features.
ezTalks Webinar- The Best and Most Recommended Webinar Tool
ezTalks Webinar is one of the best webinar tools with multiple powerful features:You can run a custom webinar and record live webinar free with ezTalks Webinar App; It has Instant Group Video, Audio, and IM Chat feature; It comes with Interactive Whiteboard and Screen Sharing option; Webinar cloud and local recording and custom webinars with customized registration and waiting room pages are available.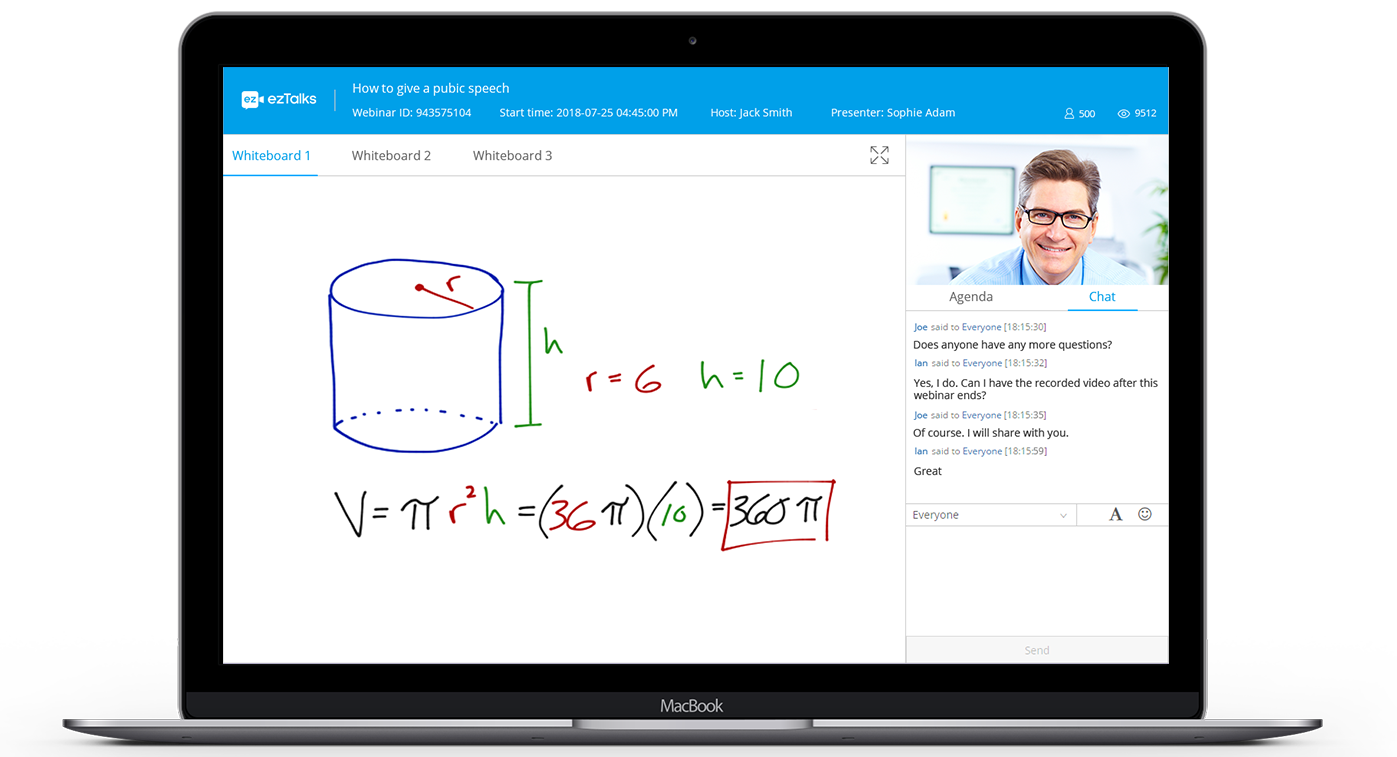 Well, you must be now wondering about how to record a live webinar using ezTalks Webinar? For your reference, the step-by-step information about how to use ezTalks Webinar software to record a live webinar is given below.
Step 1 - Visit the official website of ezTalks and quickly download ezTalks Webinar software.
Step 2 - Complete your registration and create your account with ezTalks. You will be asked to enter a valid email address and a few other basic details.
Step 3 - After creating your account, open ezTalks app and then click on "Schedule a Webinar". Now, invite some of your participants to attend the scheduled webinar.
Step 4 - Click on the Record option to start recording the webinar on your PC. If required, you can opt for the facilities like pause and resume your recording. Kindly note, the app will automatically send you a notification once your recorded webinar is ended.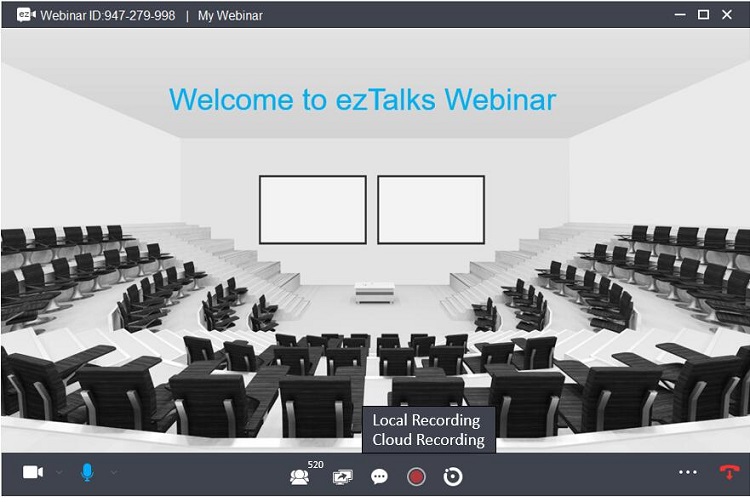 ClickMeeting
It's another webinar software that comes with recording feature. It also lets you host a webinar, send customized invitations, and interact with the audience.
GoToWebinar
This software can be also used to record a live webinar. However, it's not a free version; you're required to pay the license fee to purchase the tool and use its salient features.
WebinarNinja
This software is designed in such a way that it can automatically record your webinar. So, no need to worry anymore as WebinarNinja will record all of your webinar contents automatically.
AnyMeeting
This software lets you host a webinar and also record the content of it. An important feature of this tool is that it's quite easy to use.
WebEx Webinar
This is a quite popular tool that's widely used to set up interactive events and webinars. Its "Record everything" feature allows you to record your events in one single click.
WebinarJam
WebinarJam comes with Automatic Recording feature and lets you record any of your favorite webinars easily.
GetResponse
Although, GetResponse is mainly an email marketing platform. However, it comes with a bunch of standard webinar features (such as, the webinar recording option). Using this feature, you can easily record live webinars, download, and even share it with whoever you wish.
Of course, each of these tools comes with their own set of features, benefits, and advantages. However, among this list of eight tools, you are highly recommended to use ezTalks Webinar software. Needless to mention, ezTalks comes with a plethora of useful features that are worth to mention again.
How to Record Live Webinar?
Way Two: Eight Screen Recording Software Recommended for Webinar Audiences
In the previous section, you have been acquainted with eight webinar software that lets you record a live webinar. In this section, you will reveal another alternate way to record live webinar with the help of some reliable screen recording tools.
ezTalks Meetings - Highly Recommended Software for Screen Recording
ezTalks Meetings offers video conferencing and online meetings service and can be used to record webinars, video conferences and web conferences as a screen recording software. It comes with a free plan that lets you join 100 participants simultaneously, with multiple features of group video chat, IM chat, screen sharing, whiteboard, recording, etc.
How do I record a live webinar with ezTalks Meetings? It's like ezTalks Webinar, but it is much simpler. And no matter you use ezTalks Webinar service or ezTalks Meetings service, you only need download ezTalks app once. Click "Video Meeting" to start a meeting, and then click on the red circle dot to kick-start the recording process. Since you need record live webinar free on your screen, you can click the screen sharing icon and then the live webinar will be recorded.
TinyTake
It's a free video recording, webinar recording, and screen capture software that's compatible with both Mac and Microsoft Windows platform.
Adobe Creative Cloud
You can use this software in order to capture either the entire section of your computer screen or a part of it.
NCH Software
It claims to be an award-winning software that allows you to record live streaming video, gameplay, computer screen, and more.
CamStudio
Developed by Rendersoft, it's one of the useful video cum webinar recording software that captures screen objects and converts them in AVI format.
VLC
You must be well-versed with VLC media player which is commonly used to play both video and audio files. Apart from that, it can be also used as a screen, video, and webinar capture software.
Movavi
This is another feature-packed and easy-to-use screen capture software. You can use it to record/capture any live webinar.
Total Recorder
It's a multi-purpose video and audio recording program which comes with loads of editing & conversion capabilities.
Conclusion
With this, you have revealed a total of eight webinar software and eight screen recording software that you can use to record a live webinar. Among this list, ezTalks software is the best and most recommended tool for sure. It includes two services in one app- ezTalks Webinar and ezTalks Meetings. Not only these two services let you record live webinar quite easily, but also, they are loaded with plenty of useful features like whiteboard, instant chat, and more. Thus, if you are looking for a webinar recording software, there are no better options than ezTalks software.