How to Livestream An Event?
Live Streaming can help you generate a big audience. It removes the physical and geographical restrictions and allows you to target your audience no matter where it is. Live videos can boost the interactions between you and your potential clients.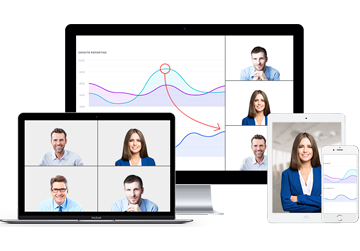 ezTalks Livestreaming Tool
Free for up to 100 Participants
Fluent Group Video/Audio/IM Chat
Screen Sharing and Whiteboard
Webinar Cloud Recording
Webinar Custom Branding
        Sign Up Free Now
How to Livestream An Event?
Event live streaming services are like classrooms where you can share your ideas, engage with your audience, clear doubts and do more. It's a cost-effective method to interact with the geographically dispersed audience.
Excellent event live streaming services will saves you most of the energy and maximize your business productivity. So this is the first thing you will need to prepare before your event. In this article we will use ezTalks Webinar as the example to explain the steps.
Step 1. Download the ezTalks software from its official website. The ezTalks software works with Windows, MacOs, Android, and iOS. Make sure you use the latest version to make the most out of software.
Step 2. After you download the ezTalks software, sign up for the ezTalks webinar account. Activate your account from the link that you get on your email.
Step 3. You can schedule your webinar using the 'Schedule A Webinar' icon on the software. ezTalks also allows you to host the live events without scheduling as well.
Step 4. Customize your registration page and invite participants for your webinar. You can create an address book on the ezTalks page and invite them for the webinar. You can also use the email icon to draft an email to invite people to the live event. Another way to invite your audience is by using the hashtag on various social media platforms.
Step 5. Make sure that you have a high-quality microphone and camera for delivering the HD video and audio. For a practice run, click on the 'Start A Webinar' button. You can also send reminders to people you invited before.
Step 6. With the invitations sent and the promotions going on, you must focus on the content development. Produce high-quality content to make your presentations engaging and entertaining. You can use ezTalks features to create polls and surveys.
A Q&A session at the end of your presentation will allow you to clear the doubts on your audience's mind and increase engagement.
Step 7. Now, you can go ahead and host the live event. Click on the 'Start Webinar' button. And if you enable the cloud recording feature, you can make the live event video available to the public for branding purposes or make it available on-demand to earn revenue.
Step 8. Don't forget to thank your audience for attending your webinar. You can send a 'Thank You' email to your audience and also let them know about any upcoming events. Ask for their feedback and use the ezTalks webinar to make improvements in the next webinar.
Tips For How to Livestream An Event
- Choose A Topic
You should clearly define the purpose of hosting a webinar. You must ask yourself the question, how do i live stream an event?
- Schedule The Webinar
Find out the best time for hosting the webinar. Choose a time when your audience is active online so that they can actively participate in the live event.
- Use Branding Strategies
Create a hashtag for your webinar and choose an appropriate theme for it. Hashtags will make it easy for your audience to share it on the social media. Choose a good picture for your landing page and include a logo. Make sure that the design reflects your brand truly. Effective branding will allow you to get the results that you want.
- Practice Session
Before you host the live event, it's good to schedule a practice session and ask how to do live streaming of an event. It is necessary to prepare yourself for the live event and boost your confidence.
- Promote The Webinar
You must have a few marketing strategies on your mind that will allow you to promote the webinar well in advance. Without an effective promotion, you can never make the desired impact with the live event.
- HD Video
It's extremely important to use a great camera for recording the live events. Bad video quality will instantly turn your audience away and you can never get the engagement you want.
- High-Quality Audio
If your audience cannot hear you properly, the quality of your content doesn't matter. Use a good Internet connection and a high-quality microphone.
- Put Yourself In Your Audience's Shoes
Put yourself in your audience's shoes while planning your content. As a webinar host, it's your job to understand your audience's problems. You should understand how you can keep your audience engaged and entertained.
- Follow A Logical Flow
A logical flow will make it easy for your audience to follow you and engage with you. Just because you have planned a Questions and Answers session in the end, it doesn't mean you don't answer any question in the middle. Remember, by answering a question, you clarify a lot of doubts in the minds of a lot of people. You just need to make sure that the questions don't break the entire flow of the presentation.
- Use Multiple Formats For Branding
After hosting the live stream event, you should use multiple formats such as audio, slides, infographics, etc. for branding. You can post them on various social media channels for exposure and targeting the right audience.
Final Words
The live stream events can give your brand the right exposure and target the right audience around the globe. ezTalks is a great tool for hosting webinars just like youtube live stream events to engage with your audience and solve their problems. With proper planning and a right format, you can exploit the advantages of the webinars.