The Top 7 Video Conferencing Equipment in Australia
The importance of video conferencing to businesses can never be overstated. It makes it possible for people in different parts of the world to engage using video and audio functionalities and hold meetings as if they were in one room. It is the solution that businesses with various branches in a region,country or even the world need. In order to have fruitful and productive video conferences,you need to have the right video conferencing devices that ensure that each member of the conference can communicate effectively. Below are some of your best video conferencing equipment available specifically in Australia.
1. ezTalks Rooms
This is one of the best video conferencing solutions Australia that you should try. ezTalks conference room solutions offers video conferencing solutions to all sizes of meetings rooms at the affordable prices.
The product portfolio ranges from the mini conference room solutions,huddle conference room solutions to medium and large rooms solutions. The Meet Mini is the best device for home office or your personal office with all the components needed for the video conferencing like mic,camera,speaker,codecs,software,display and also built-in battery,which is portable to any place you like.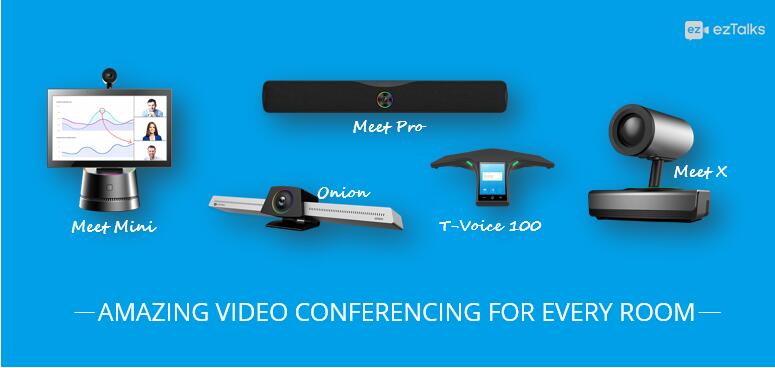 With just one device,users can have a fruitful meeting without breaking the bank to afford the equipment. All the parts of the equipment work perfectly. The mic has noise-cancellation and filters any echo so what a person speaks is clearly heard by all other parties. To see each other and feel that they are truly in one meeting,the camera has a wide angle and takes perfect shots even in low light. The active speaker focus enables the camera to focus on the active speaker automatically to deliver the intelligent meeting experience.
The other video conferencing solutions Australia are ezTalks Onion for huddle rooms,Meet Pro for small rooms and Meet X for medium rooms.
Setting up the ezTalks Meet Mini is super easy. You do not even need a technician for this. The pre-order price is only $499 for the Meet Mini which is the most cost-effective video conferencing equipment available in Australia.
2. Cisco Webex
Previously called Cisco Sparks,this is one of the best video conferencing solutions Australia. It provides more than just a meeting room. Users can take part in video conferences,digital whiteboarding and share content. No matter what the size of your meeting room is,these equipment promise great audio and video communications. To use the Webex,you do not need to buy an external monitor. You can just video call using the 23-inch touchscreen. Whether you are in Sydney or Melbourne,there is a Cisco Webex partner nearby to provide you with the video conferencing equipment Sydney or video conferencing equipment Melbourne you need. You can buy or rent these video conferencing equipment Australia.
3. Polycom RealPresence
This is a video conferencing solution that is available in the form a desktop and mobile applications. It allows people take part in conference calls even when on the go. RealPresence is a secure and cost-effective solution. The video captured using this solution is high definition quality and lighting issues are compensated. The sound captured us clear and free from external noise interference whereas the speakers deliver crisp sound. Being a desktop application,it can be used for individual or teamuse. The video conference can be recorded for future reference on this video conferencing solutions Australia.
4. Lifesize
There are various kind of equipment by Lifesize that aim at making your video conferencing better. One is the Lifesize 450 that is a premier solution for small conference rooms. This is an integrated camera that gives clear images. Combine this with the LifeSize digital MicPod that has a long audio range so it records what everyone says even in a large conference room. The wireless media sharing device will make it possible to share with others in the room without having wires tangled up. All these devices that make up video conferencing equipment Australia are simple plug-and-play in nature so you will not have a hard time getting started.
5. RHub TelePresence
This is the video conferencing equipment Australia that brings video conferences to life. Over 30 webcams can join in the conversation and you can take charge of the meeting. You can choose the display type and size to use as the meeting goes on. The full-screen HD webcam ensures that you are clearly visible to others taking part in the meeting. A connected web conferencing server makes it possible to control conferences without the need to download and install any software.
6. Logitech Video Collaboration
This is the video conference equipment Australia that makes all the difference. It can be used for video conferencing in a room that seats up to 20 people and nothing will be missed. The noise cancelling microphones ensure the sound captured is perfect while the HD camera captures high quality footage for efficient communication. Users can even zoom up to 10x while the 90-degree field of view gives a good coverage of large conference rooms. The speakers give clear sound. Easy controls make it possible for the meeting to go on without any glitches and all parties can communicate and come to an understanding on important matters without any stress.
7. CommuniCloud
This is a video conferencing solution that provides users with the face to face collaboration they need for the success of any business no matter how far apart they are. The subscription-based payment method may not be the most preferred but this solution is really feature-packed. This solution has unmatched interoperability being able to be controlled by various software clients for best results.
These are the top 7 video conferencing equipment in Australia. Choose one and your video conferencing will be much better and more effective. Personally,I think ezTalks gets the diverse portfolio with reasonable prices that most of the start-ups and small businesses can afford. Other devices can also be the optional,despite of the expensive prices,because of the video conference equipment rental in Australia t in the various cities in the country including Brisbane,Melbourne and Sydney.
This document has been edited with the free version of the instant HTML edior. Try it here and use it every time for your projects.