How to Present a Great Webinar?
You can't throw together a good webinar overnight. You can't even throw it together over a week. If you want to host a good webinar then you need to thoroughly prepare hardware, software, guest speakers, Q&A, timing, slides, presentation, and analytics. It's hard work but if you get it right it can be extremely rewarding from a business promotion point-of-view, as you advertise your industry knowledge and innovation.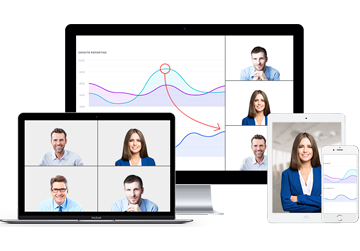 ezTalks - Best Webinar Tool
Free for up to 100 Participants
Fluent Group Video/Audio/IM Chat
Screen Sharing and Whiteboard
Webinar Recording and Polling
Webinar Custom Branding
Sign Up Free Now
What Can A Great Webinar Do For You?
Well, it allows you to promote your brand to a wider target market by showcasing your specialist expertise. You can also make critical, interactive presentations to a lot more people than you can fit in a conference room; not to mention the people you can invite from different locations around the world.
You can also host training webinars for all your employees, even if they work at branch offices spread throughout the country.
Let's Look At How To Present A Great Webinar
Step 1 Choose a terrific topic
This is your chance to shine, to establish your business as an authority in the field. You can't do that if you present a generic sales spiel. In other words, you shouldn't host a webinar for hosting a webinar's sake. You need something innovative, interesting, inspirational, original, and new. Your webinar should add value to participants. If it doesn't, try a different marketing tactic.
Finally, choose a topic with a narrow focus and keep on topic. It's better to prove your skill on one or two points rather than tackle a topic with five or more tangents, which have their own tangents, and so on.
It's a good idea to watch some webinar presentation examples on YouTube. Your best friend Google also allows you to find and follow a suitable webinar presentation template. You'll get great ideas on what to do and what not to do to create a professional webinar.
Step 2 Choose the appropriate webinar hosting software and hardware
There are several web conferencing and webinar hosting service providers; ezTalks Webinar, for example. As a webinar platform, ezTalks webinar provides a number of services to help you successfully navigate each step of the creation process. You can, for instance, use the agenda template, registration template, and thank you page template.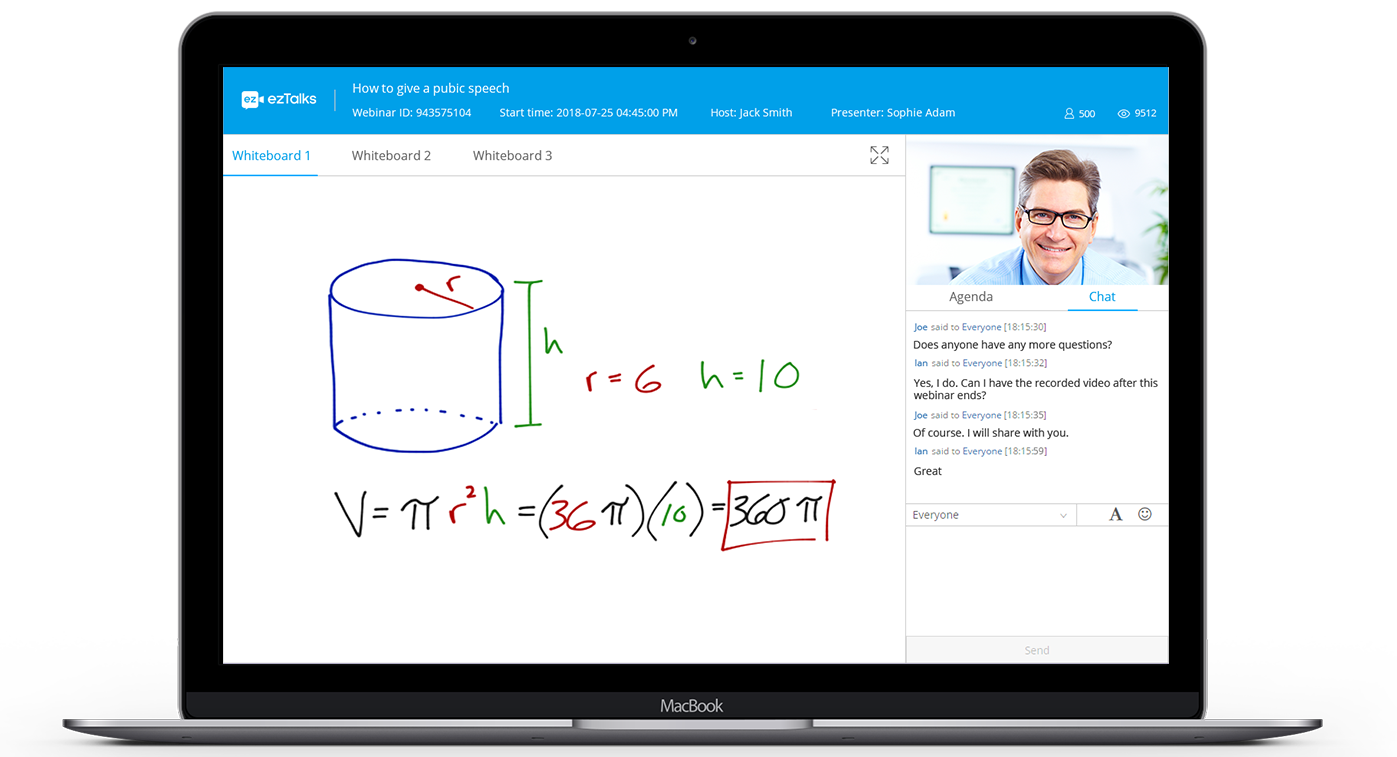 If you're a beginner at presenting webinars, ezTalks Webinar can help you make your webinar presentation engaging and interactive with its HD video and audio chat, screen sharing, annotation, IM chat, and whiteboard.
Screen sharing means that you can share all supporting media to webinar participants. Instant messaging allows everyone to communicate their ideas and questions in real-time.
The whiteboard feature has a number of easy-to-use tools, including pencil, highlighter, and eraser so you can create diagrams and add annotations in real-time.
Choose the right webinar hardware to delivery a good webinar presentation. ezTalks also provides professional high quality conference room equipment like ezTalks Meet Mini, which is the most advanced all-in-one video communication device with touch screen, HD camera, mics, speakers and built-in software. Its touch screen allows you to control your webinar very conveniently. Its HD video streams smoothly so there are no hitches or delays. Its high quality audio provides clear sound without echoes and annoying background noise. Its high quality speakers ensures lend to the "realness" of the experience.
Step 3 Decide who'll be doing the speaking
If it's for training purposes, is it something a section manager can do, or will a professional consultant do a better job? If it's to bring a revolutionary idea to the attention of potential business partners, should your CEO host the webinar, or the head of department where the idea was born?
If it's to address a common problem most businesses in the field experience, should you choose guest speakers who'll provide the proper insights?
The purpose of your webinar will dictate your choice of speaker.
Step 4 Write a good webinar script
There are times when you might get away with talking off the cuff, but presenting a webinar is not one of them. You need to keep on topic and when you're winging it, it's easy to get distracted and ramble on about something irrelevant. You don't have to stick to the script absolutely, but when you get a bit off track the script will get you back to the right path.
Step 5 Test your webinar tools
It's a good idea to use a headset with microphone and earphones rather than rely on your laptop audio system. The headset improves audio quality, which makes your presentation sound professional. Don't forget to test the connectivity. The last thing you need is to disappear mid-sentence.
On that note, bring spares of everything; spare power cords, headsets, batteries, and even a backup computer.
You should also run through your slide deck to ensure that everything is in its place and runs smoothly. Make sure you know how to pause, restart, and add animations without fumbling for keys. 
Best practices for webinar presenters include rehearsing the entire presentation, which provides a timeframe so you can plan where you have to be in the webinar at which time. It gives the whole thing structure.
Step 6 Appoint an assistant
It's handy to have someone around who can take of the practical things, manage chats, for example, and moderate comments. An assistant can also put out fires; for example, help a participant who suddenly can't comment or ask questions. Your assistant can help by identifying questions that are the most helpful, so you don't have to wade through the Q&A thread.
Step 7 Set the scene
Your audience needs to be able to see you clearly at all times, so you need to setup the camera so that it doesn't cut off your eyes, so that you're not in shadow, and so that you don't have six chins. You also need to be able to look directly at the camera, so you are, in effect, looking directly at your audience.
Create a suitable backdrop, for example, film the webinar in the conference room where everything looks clean and professional and you won't be disturbed by co-workers phone calls or chatter. Note: Turn off your own cell phone and log out of accounts so you don't get any notifications or texts.
Step 8 Test your success
You can test your webinar's success by asking your audience to complete polls or surveys for immediate feedback.
For a more objective view, use analytic reports. You can setup analytics specifically for your webinar (a very good idea) and you can setup analytics that show you how your webinar affected different pages on your website, as well as to see if it improved the conversion rate of your site's goals.
ezTalks Webinar provides a number of reporting tools, including webinar registration and participants' reports.
Two Bonus Tips
It's impossible to include every single step to show you how to present a webinar. We've give you an overview of eight of the most essential steps; the ones you need to create a truly inspirational presentation. But we have two more quick tips:
1) Consider mobile devices when you're putting your presentation together. Some people may attend the webinar via smart phones or tablets, and they should also be able to access and interact with everything.
2) Be personable. Be friendly, warm, and inviting. You might be quaking in your boots, but try not to let it show, or use your anxiousness as a way to break the ice and set everyone, including you, at ease.
Conclusion
There you go. The tools and best practices you'll need to prepare a great webinar that leaves your audience feeling enlightened and inspired. Remember, for a professional feel, use a platform like ezTalks Webinar, which takes you through the whole process, from learning from an example of a webinar presentation all the way through to reports on your success.