Sync Calendar on ezTalks Andriod and iPhone apps
ezTalks has updated the video conferencing product with a new feature,which allows you to add your scheduled meetings to your calendar on the Andriod and iPhone apps. This feature will be coming soon on the PC apps.
Part 1 What are the benefits of adding your scheduled meetings to your Calendar?
People always schedule meetings for future date and it is quite important to add those meetings to the calendar so that it can remind you before the events. Besides,the calendar helps you have an overall look of your events and activities at a quick glance. And it is more convenient to add meetings on your mobile devices which allows you to have a quick glance of your events even if you are on the road.
Part 2 How to schedule a meeting with calendar on ezTalks mobile app?
It is quite simple to schedule a meeting and add it to calendar on the ezTalks mobile app. The steps are as below:
1. Schedule a meeting
2. Turn on the option of Add to Calendar
3. Choose the pre-reminding time for the meeting.
You can make all the settings on the same page without lots of clicks as beow: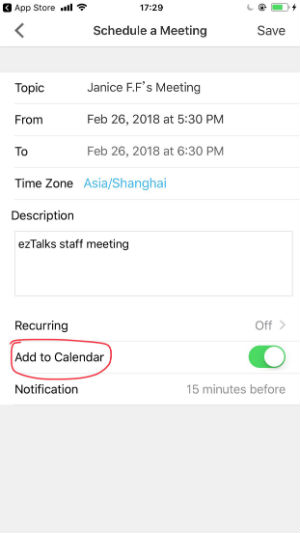 Go and download the apps to enjoy the calendar feature of ezTalks now.
ForAndroid:

For iPhone: