6 Tips for Working from Home Effectively
One of the latest studies shows that more than ten percent of employees in developed countries have decided to call their homes offices by working right from the comfort of their living rooms. Whether you work for yourself or your employer allows you to undertake organization activities at your residence, there are significant benefits you are deriving from the program. Working from home saves a great deal of commuting time, money, and employees do not need to worry about their team managers breathing down their necks. You will spend less money on restaurant lunches, and more importantly, you will have plenty of free time to have fun with your family and friends. Besides that, a plethora of virtual communication tools makes it incredibly simple to have remote meetings with your managers or other employees. Now that the entire world is fully connected to the internet, you can really do anything from anywhere.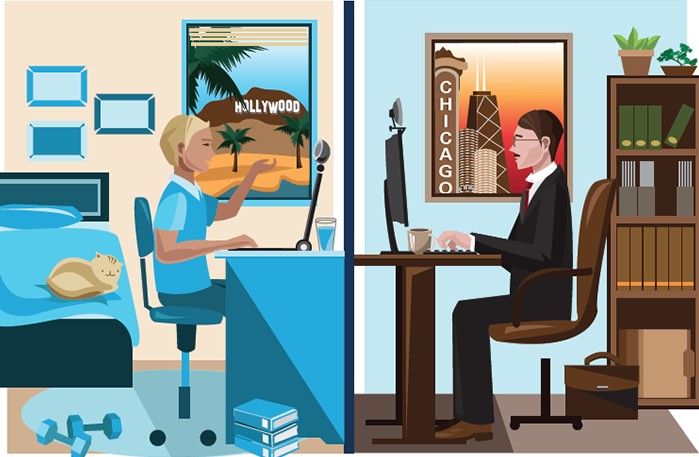 It sounds like working remotely is great on so many levels. Well, it can be, but if your self-discipline is lacking, then the idea of working from home comes with some unique challenges and pitfalls. How do you stay away from getting distracted with home-related duties? How do you manage your job if you have kids moving from one room to another? How do you handle a friend was has just paid courtesy visit without prior communication? How do you remain productive and stay focused amidst all these home disturbances? Typically, there are endless challenges associated with working outside an office. However, if you are equipped with the right productivity strategies and you are aware of the incredible tips for working from home effectively, then you will enjoy working from home. Here below are six tips to this effect:
1. Have a working schedule
One of the first tips for home office is structuring the day. Just like when working in an office environment, you have to structure and plan your day appropriately so that there is a definite time to start the day's work, time for lunch, time for short-break, and so on up to the time to stop working. It is important to note that when working remotely, it is very easy to forget about lunch-break, which often affects you in one or the other. The bottom line here is that you have to introduce a proper plan to your day, so you are at your work-desk at a given time and leave at a particular time similar to when you were in an office.
2. Set up a work space
In the introductory section, it was noted that there are several distractions when working at home, one of them being your kids. Therefore, you will not be entirely productive if you are working from the living room. In this regard, it is essential that you set up a workspace. If you have an extra room, then you can turn it your home office. Invest in a comfortable chair, desk, and even some nice stationeries just to inspire your productivity. If you do not have a spare room, you can always choose a quiet corner and set up appropriately.
3. Stay connected
Stay connected is one of the most important working from home tips for success. Experts say that prolonged isolation often lead to weakened motivation and productivity. Working remotely being one of the jobs that promote isolation requires people to put some extra efforts to ensure that they have stayed connected. If you are working for an organization, then make a point of organizing regular meetings with other teammates or the managers. The good news is that nowadays great virtual meeting apps that allow remote teleconference, video or call conferencing, live chats, and so on. One of the best you can consider investing is none other than the ezTalks Cloud Meeting app.
4. Pen down a to-do list
Maintaining a regular schedule is not only enough, you need write down a list of activities you are supposed to do during the day. Having a to-do list while working from home is one of the most valuable tips for telecommuting. Writing down is not enough either, you have to stick to it to the latter. A to-do list helps you to effectively use the scheduled time well, stay focused, and avoid giving in to distraction.
5. Maintain a professional attitude
Maintaining a professional attitude is another important work from home tips suitable for a person handling virtual clients. More often than not, you will be interacting with customers through email, live chats, and even phone calls. During this communication, be very careful to respond to them in a professional manner. A home office can be an informal environment that gives the freedom to address your clients casually, but you always need to know that whenever you are, customer interactions should include certain decorum. As such, having businesslike interactions with your customers help build confidence about the quality of work you are offering them.
6. Motive yourself
Being able to motivate yourself is one of the vital working from home productivity tips. As we all know, in an office setup, there is a co-worker or supervisor who motivates others to complete their work. However, when working remotely, you only have'yourself' to push you to succeed, which means staying motivated can be a big challenge especially due to numerous home distractions. One of the ways to motivate yourself is to spend a moment or two acknowledging what you've so far achieved. You can also reward yourself by listening to your favorite music after accomplishing what was listed on your to-do list of the day.
Conclusion
The list of tips for working remotely at home is just endless, but the above mentioned and explained are just but a few. Overall, they are among the important tips that helped many people to improve their productivity and efficiency while working from home. The bottom line is that your home-based job deserves a similar dedication and attention as an office position. Thus, following enumerated above will definitely help you to become a productive and lucrative home-based worker.