6 Effective Ways of Improving Productivity with Video Conferencing
Communication plays a vital role in the daily operation of a business. With the advent of technology, companies are looking for ways to improve their productivity using many resources and tools available. The punch line is that regardless of what industry your business is in, boosting productivity is the key to remaining competitive.
As such, video conferencing is a modern technology that can change the way people interacts across geographies and time zones by advancing the opportunity to have real-time virtual face-to-face communication. Whether you need to discuss and modify presentation, have a brainstorming session with your remote team, or woo a potential client, video conferencing provide an efficient platform.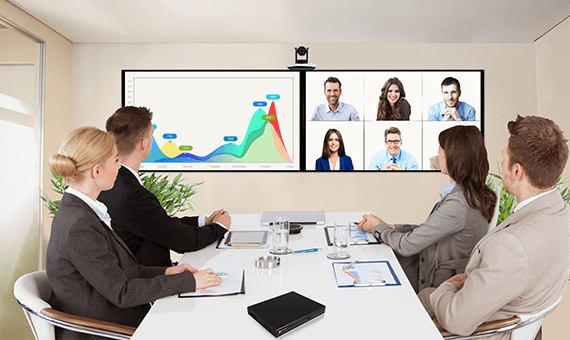 As a manager, you are interested in knowing some of the ways in which the technology helps in improving productivity. Here below are six ways video conferencing boost enterprise productivity:
1. Reduced travel
One of the ways of improving productivity is by reducing travel expenses. As a matter of fact, business travel has been an important aspect to the success of an establishment, but on the other hand, it is one of the most expensive events. Since video conferencing tools allow people to meet and talk face-to-face virtually, it can be an ultimate option to replace or reduce business trips. By so doing, it helps save money, planning, and time. Remember, virtual meetings are typically shorter if conducted via a video conference, hence contribute to regaining productive time.
2. Better communication
There are several measures to improve productivity, and one of them is better communication. The ability to pass your information correctly is a vital aspect when it comes to production, marketing, management, sales, and many other business divisions. Unfortunately, most of the business virtual communication has been done via email, voice mail, instant messages, and audio conference, which none of them show intonation, expression, or even interest level. Videoconferencing solutions, especially if you are using ezTalks Meetings software, provides the platform remote employees to communicate in real-time with clear voice intonations, live expressions, and of course, more accurately. Without a doubt, this an effective communication, which results in projects being completed on time, relationships are built, and productivity is boosted.
3. Enhancing business opportunities
The primary goal of venturing into the business world is to dominate the market and expand your operations. Video conferencing is one of the ways in which a business can build its competitive advantage since the technology provides meetings that are more efficient and allows for wider participation. Besides that, with this technology, quicker and efficient business decisions are arrived at since you are close to the customer as much as possible.
4. Improved work-life balance
Enhancing work-life balance is one of the unknown ways to improve productivity and efficiency of business employees. However, many business managers are wondering how this can be achieved! Well, video conferencing solutions, like those offered by ezTalks, can facilitate telecommuting while at the same time increase individual productivity. One of the latest research shows that workers who are allowed to telecommute give their employers a 75% approval rating compared to 65% of regular office workers. In other words, there is a reduced employee turnover with no apparent loss of productivity. In fact, remote workers are more productive because they put in longer hours since they waste no time traffic going to and from work. That being said, with video conferencing, work-from-home workers can maintain productive personal relationship irrespective of the geographies.
5. Boosting technological computer power
Injecting additional computing power in the form of video conferencing solutions is one of the many ways that productivity can be improved in a business environment. This is because it helps each worker get more work done in less time. It is widely known that a couple of decade years ago when a phone call was the sole means of communicating over a long distance with business partners and clients, the experience was quite frustrating. Issues such as call drops were frequent. However, you can now have real-time face-to-face communication with your team through a video conference. It is even good news for salespersons who are wooing potential customers located on the other side of the globe.
6. Improving business relationship
For an organization that has several offices located in different locations or even those that engage in a marketing campaign, video conferencing would be one of the best ways to connect, strategize, and report business progress. This technology allows teams to include more participants in a decision-making process to deliver faster responses. Besides that, the technology can be used maintain and boost customer relationships.
Conclusion
Video conferencing is a great business telecommunication solution that helps in improving productivity in the workplace. The technology benefits underwrite not only to the punch line by reducing travel costs, but also boosting productivity through improved morale and interaction. Video conferencing is a trend in technology that every business in the industry should see its real productivity benefits as a whole.