Top 10 Virtual Whiteboard Apps
The increasing need of getting real-time updates about the progress of the remote projects has increased the demand of various types of virtual whiteboard apps. A virtual whiteboard application allows you to create presentation for your colleagues and subordinate staff to discuss the plans and strategies in real-time by drawing graphs and sketches and sharing it online. Various virtual whiteboard applications, briefly discussed here under, are available online these days from which you can choose as per your suitability.
1. ezTalks Meetings
It is one of the best virtual whiteboard apps that supports video conferencing along with audio conferencing and whiteboard presentations to share information with other participants. The whiteboard of this app is extremely interactive so that everyone can be part of it. Its post-it features allow all the participants to post their comments on your presentation. It also allows you to invite as many participants as you want.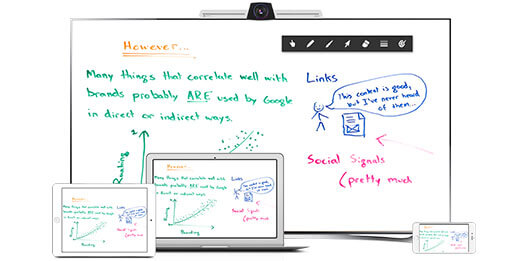 2. AWW App
This mac virtual whiteboard app can be used in two ways either free with limited functions or pay fee to use it in detail. You can use this innovative whiteboard app easily just by logging in your account to use its whiteboard for private works. It also allows you use your smartphone or PC to invite other participants. You can use its dotted grids to draw sketches or graphs and erase mistakes by using Undo feature.
3. Whiteboard Fox
If you want to use a virtual whiteboard application without any kind of setup then this app is the best for you. It generates a link to invite your guests to join you whenever you open this app. Its blank canvas divided by a grid can be used to draw sketches and write texts accurately in real-time. I this way it allows your guests to see the changes on the board instantly. You can use your Facebook account to log in into this whiteboard which makes it easier to share and save any information.
4. Web Whiteboard
You can use this virtual whiteboard app to express your viewpoints while communicating with your colleagues as this free app can be very helpful for you in such situations. You can start using it without logging in any detail. You can easily invite other participants just by sharing its link with them. It can hold your information free for maximum 21days otherwise you will have to choose its other plans to extend this holding period.
5. RealtimeBoard
You can use limited features of this virtual whiteboard application free of cost but to get the best experience you will have to upgrade its services by paying some fee. It is the best whiteboard app because it offers a number of collaborative features as compared to other whiteboards. While preparing your presentation you can use their templates in different sizes, shapes and colors to make your presentation more impressive and extremely interactive.
6. Explain Everything
It can be the best virtual whiteboard application for you if you are searching for one which can allow you narrate, animate and annotate the explanations and presentations. You can use flexible and integrated designs of this app to make your presentations, activities, tutorials and assessments powerful and interactive. It also allows you to record live annotations just by including a web browser.
7. Conceptboard
This virtual whiteboard application offers a digitalized collaboration tool tracking progress and sharing ideas about any project. This entire app focuses on the deep management of certain particular tasks along with the entire project. You can use its whiteboard to display your files, inputs and images to share them in real-time with other participants.
8. Twiddla
This virtual whiteboard app is also known as an online meeting playground as they allow you to use it without any setup. You can use its sandbox mode to be familiar with its tools, collaborating private meeting and providing complete information to all of their users. Along with using it like a blank whiteboard you can also use it for sharing screen shots, webpages, files and images with other participants.
9. Groupboard
Unlike other virtual whiteboard apps, this free application does not require any login or setup. It provides a blank canvas to share any kind of information within no time with other participants just by sharing a link with them. It also allows you to control it authoritatively so that you can use its whiteboard moderately, use it privately or stop participation of some of the participants. In this way, it restrains others from peeping-in into your plans.
10. Ziteboard
This web based virtual whiteboard application offers you a whiteboard that can be used in real-time for zooming and sharing information and presentations with other members of a team working on the same project. This HTML5 based whiteboard is light in weight as it can update your drawings in real-time without requiring any login or setup. It also allows you to come back to your old board easily as URLs of this whiteboard always remain permanent.
Thus, you can find a number of virtual whiteboard apps to choose from as per your requirements.