The Top 5 Video Conference Camera
The availability of video conferring cameras has come as a great relief for companies having offices in different parts of the world. Now there is no longer any need to visit another office or country to attend a meeting. Choosing the right video conferencing tool is critical to have successful meetings. The gadget selected for this purpose must provide excellent results and meet highest professional standards.
Let us explore the features of the top 5 Video Conference Cameras available in the market.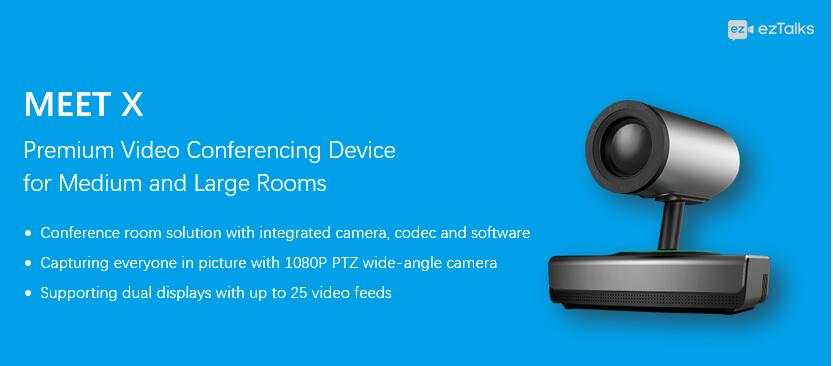 1)ezTalks Meet X
Meet X is the conference room solution with integrated camera,codec and software together. It is a premium video conference camera for conference room for large and medium meeting spaces. It has adopted an integration of 1080P PTZ Camera with 2.07 million pixels and high-quality CMOS Sensor. This integration helps in delivering superior image quality.
The High Definition camera has a huge lens at 10X Digital and 12X optical zoom supporting the flexible rotation at +/- 170-degree pan range. Its impressive hardware is one of the reasons that this video conferencing camera can easily bring everyone in focus and grasp clear details even if the space is too large. It enhances meeting flexibility to a significant extent. All in all,a good gadget for a medium and large-sized meeting room.
Pros
a) Built-in Codec for powerful processing ability
b) Convenient to install and use.
c) Flexible meeting presentation for Dual Display
d) Easy to set up and use
e) High-performance hardware
Cons
Right now no cons to report and the product has proven to be a perfect virtual conferencing system.
2)ezTalks Onion
Another product by ezTalks is ezTalks Onion. The company is a relatively new entrant in the field,but it has been quick to carve a niche for itself with its range of quality products. The company specializes in gadgets,software and hardware solutions targeted at all business levels. ezTalks Onion has been acclaimed as one of the high-performing video conferencing gadgets. It is perfect to be used for meetings in huddle rooms.
This immersive video conferencing solution has been opted by many businesses to hold a live video conference with suppliers,clients,employees,and business partners. The product enjoys high ratings and as such considered as an ideal solution for many businesses. Installation of these systems has reduced the need for flying off to other destinations for client meetings,thus saving a lot of time and money for the business which can be put to better use.
Pros
a) It's all in one design make it a unique product.
b) Very easy and convenient to use.
c) Ultra clear audio and video
d) Built-in Full HD Video
e) Interactive Whiteboard
f) Instant File and Screen Sharing
Cons
No cons reported so far
3)Logitech MeetUp
Modern offices having modern spaces need specialized tools that range from large boardrooms to specialist video conferences gadgets. Logitech's Group has come up with an extensive range of video conference cameras that meet evolving client requirements perfectly.
The latest in the range MeetUp is perfect for small meeting rooms and offers a more conventional form factor. It has impressive specifications and is very easy and convenient to use which makes it one of the preferred choices.
Pros
a) Easy to install and use
b) Wide-angle pan-tilt-zoom camera
c) Supports UltraHD 4K video at 30fps
d) Comes with Smartphone remote control app
e) Full-duplex audio subsystem capability
Cons
a) Optional Extension Mic is slightly on the expensive side
b) Digital rather than optical zoom
c) Separate download of control software
4) EagleEye
The Mini USB Camera by EagleEye completes your audio experience when installing in small room environments.
One of the best video conference cameras,it adds clear and crisp video along with exceptional audio of the Trio 8500 and Trio 8800,VVX 501/601 and VoxBox for a complete video and audio experience.
Pros
a) 1920x1080 H/V Resolution
b) 1080p@30fps Output
c) Autofocus
d) USB 2.0
Cons
a) Not compatible with EagleEye Director II
b) No Built-in Microphones
5)Lifesize Icon 450
The company aims to give you a complete conference room video camera solution. A seamless link-up of its Phone HD Speakerphone and 450 HD Camera ensures excellent cloud video conferencing service.
It is a perfect solution for any business as it can be quickly deployed and can be up and running in no time. It has a very simple hardware setup. The Phone HD and Icon Camera is connected using the 9-meter proprietary link cable. An Ethernet port supporting POE is available with the Phone HD but may not be required as the camera powers it through the cable.
Pros
a) Great Picture Quality
b) Amazing Audio Quality
c) Easy to set up and use
Cons
It does not support Microsoft Edge
Conclusion
The above video conference camera reviews of top 5 video conferencing cameras help customers to select an idea solution depending on precise business requirements.A lot of high-end specifications in these systems makes them a preferred choice right from small to large and gradually expanding businesses. Enjoy improved collaboration,better communication,and greater cost-effectiveness by choosing the right system that adds value to your business.