Five HipChat Alternatives to Try
HipChat is a team chat app designed for use with nearly every chatting function. Businesses often use HipChat for group chats,video chats,screen sharing,link uploads,and more. It makes screen sharing simple,and you can see the entire team at once when chatting. The interface is fairly easy to use,colorful,and free if you don't use too much storage.
HipChat has limited storage available on the free system,so you easily find yourself being forced to pay for the service. Although this sounds minor,HipChat doesn't use standard emojis. In a study released in January 2017,it was found that 80% of people used emojis when texting! The absence of this feature is eliminating a common form of communication. If you choose the right combination of services,you can easily find a better solution than HipChat. These are five HipChat alternatives.
1.ezTalks Cloud Meeting
ezTalks Cloud Meeting is one of the best alternatives to HipChat. More than anything,ezTalks Cloud Meeting gives your business a professional look for allvideo conferencing services. It is actually better than a face-to-face meeting because of the ability to switch between sharing options. Instead of worrying about scheduling and reminders,ezTalks Cloud Meeting does this for you. If you are in an eZtalks meeting,you can invite up to 100 people,viewing from any device,and make use of these features:• Use of the innovative whiteboard
• HD Video and Audio
• Instantscreen sharing
• Instant content sharing
• Public or private instant messaging
•Online meeting recordingand playback
• Set a presenter role for the meeting
• Mute all viewers
• Lock the meeting to keep the irrelevant outside
• Kick out participantsChoose ezTalks Cloud Meeting if you want to freely host up to 100 participants on your interactive online meetings,group chats,and more.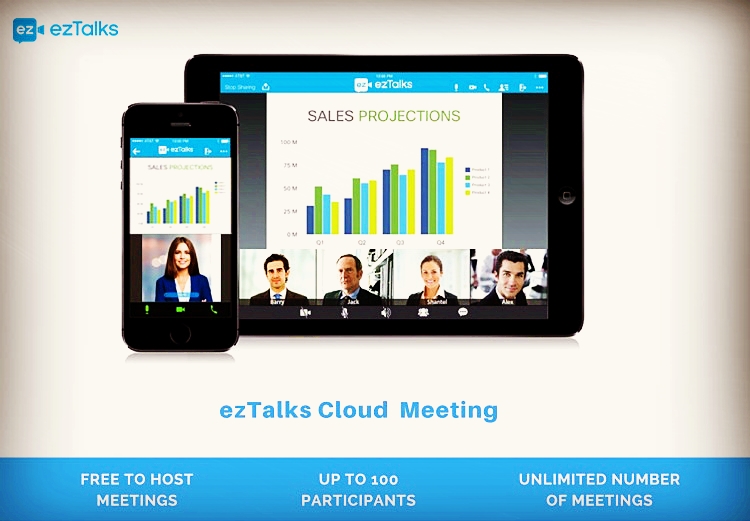 2.Troop Messenger
Troop Messenger stands out as one of the best Hipchat alternatives to many business chat applications currently used in the corporate world! The simple yet powerful application brings people,groups,and teams together to ensure effective business communication across distinct domains of the organization. It comes with a simple user interface where a novice user can try their hands-on application without any expert help. Troop Messenger allows the user to retrieve all kinds of data such as images,videos,URLs,team contacts,and location from advanced search filters feature.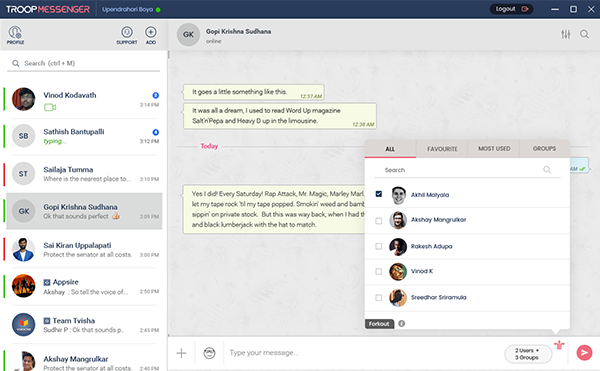 The pricing of the application makes it stand-alone from other competitors of the market. If you are using Troop Messenger,you can make unlimited groups with unlimited members in it. It is considered highly effective for teams who rely on team calling for routine work updates. This application provides the best combination of services including:
• One-on-one messaging
•Voice Calling
•Video Calling
•Audio Messaging
•Advanced Search Filters
•Private conversation window
•Fork out ( Sending a single message to multiple participants and multiple groups at once).
Choose Troop Messenger for seamless work collaboration.
3. Slack
Slack is a well-know alternative to HipChat because of its chat functions. This program was first designed for chat between people within a company. It has a polished interface that is easy to use with search features if you want to find a specific conversation in your chat history. Slack integrates with other tools,so you can always see what is coming up.
The disadvantages of it include no ability to video chat with others. Also,it isn't really designed for external participants,only internal team members. Slack easily increases in price if you don't pay attention!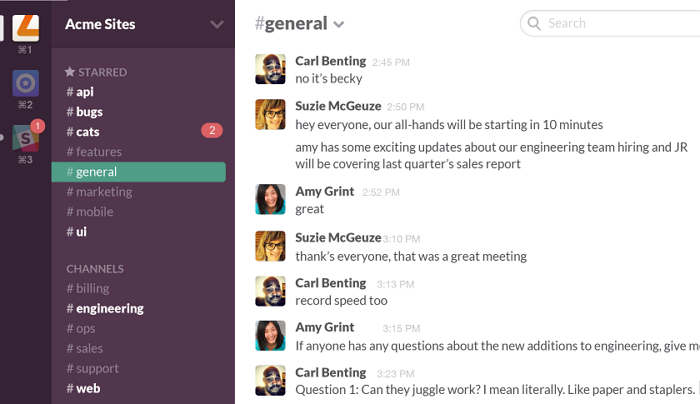 4. join.me
join.me is a HipChat alternative client with a limited number of features and no frills. This option is great if all you want to do is share your screen with another person or a small group of people. It has no cost,no plug-ins,and screens are shared nearly instantly.
The disadvantage of this client is its limited number of features. You can pretty much only use it for screen sharing and it does slow down when you have more users logged in. You can add other features,at a minimum cost of $18 a month.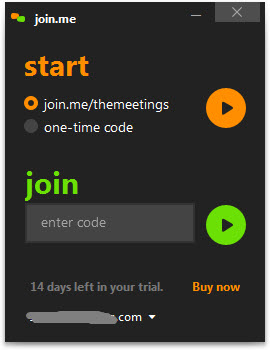 5. GoToMeeting
Another HipChat client alternative is GoToMeeting. Millions of businesses use GoToMeeting,but right away you find yourself paying for the service. For $19 a month,there are 10 participants allowed on the system. If you only want to host online meetings with little to no features and a max of 10 participants,this is the right option for you.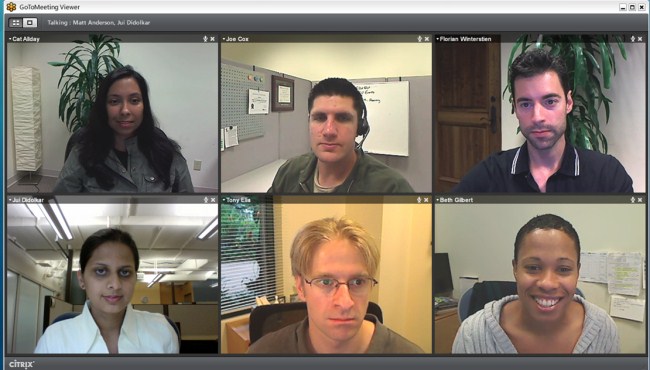 6. UberConference
The last alternative to HipChat client - UberConference is a free conference call tool. It is easy to login,allows you to share screens,and doesn't require a PIN. UberConference calls you to remind you of the scheduled call. This is a feature not available on most conferencing options.
It is effective for people focused on meetings and conferences. If there is a presentation to be given,it is not always flawless in functionality. Also,if you use the free UberConference account,every caller must listen to an advertisement before joining.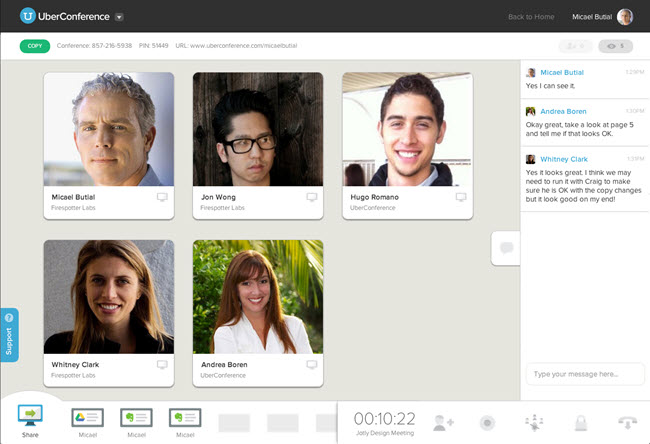 Conclusion
After learning about these five HipChat alternatives,there is one option far and above the rest. For businesses of all sizes and with chatting,conferencing,and even webinar needs,ezTalks Cloud Meeting is the right solution. Try out this free option when you're ready to make a change in the way your business operates.