The Best 10 Webcast Software in 2019
In essence, webcast software brings with them immense power as it has been reported by various companies that have used them. In regard to this, they have been known to do the following. To begin with, they save both your money and time. Secondly, they have the capacity to bring the entire globe within your grasp easily enabling you to reach your target audience in real time. Here, you will be introduced to the top 10 webcasting software in 2018.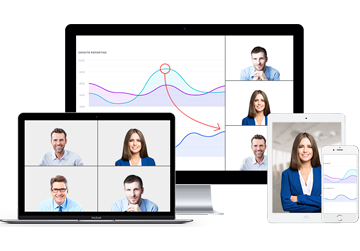 ezTalks Webinar Tool
Free for up to 100 Participants
Fluent Group Video/Audio/IM Chat
Screen Sharing and Whiteboard
Webinar Cloud Recording
Webinar Custom Branding
Sign Up Free Now
1. ezTalk Webinar
This is one of the top ten webcasting software that is currently available. Being among the top webcast software, it is widely used. One of the advantages that ezTalks webinars bring with them is enabling you to strike a rapport with your audience easily. They have inbuilt collaborative tools that enable you to interact with much ease with your participants. Ideally, the ezTalks webinar was launched due to the need to reach and engage the audience better. So far, it has managed to do this which has made it be ranked as one of the best webcast software. ezTalks allows users to have a free trial with 100 minutes for free to experience the rich interactive features like screen sharing, online whiteboard, polling, cloud recording etc. Furthermore, the customized invitation will also boost the audience engagement for your online events.
2. WebinarJam
This has been billed as the world's best software for webcasting. Its launching marked a dramatic improvement in live casting, live event streaming in addition to webinar broadcasting that had never been seen in the public domain before. This makes it appear as one of the top ten webcasting software that is currently in use globally. One feature about it that makes it be a top webcast software is its flexibility relative to carrying out its duties.
3. Gotowebinar
Gotowebinaris a top webcast software that is widely used by online businesses and sole proprietors. It currently ranks as one of the top ten webcasting software used in this area. As one of the best webcast software, gotowebinar helps the businesses and sole proprietors to cater to the needs of their customers through the creation of video conferences with much ease. In essence, the applications of this top webcast software are vast and wide.
It gives the business ventures and other organizations the ability to reach their target audience without necessarily having to meet them physically. Here, these companies are able to reach their intended audience through audio conferencing, video conferencing and through various online platforms. One of the features on gotowebinar that is seen during such activities is how user-friendly it happens to be. This user-friendly feature is one of the reasons it is ranked as one of the best webcast software in the world.
4. ClickWebinar
Clickwebinar is one of the best webcast software that is available in 2018. This top webcast software offers webinar services via a simple interface. However, it possesses basic chat and presentation features for a good webinar. It also possesses some extras like chat-translation capabilities. One of the main features that rankclickwebinar among the top ten webcasting software is its ability to support a live chat. In essence, this feature is especially useful within some international companies that source their customers from multiple nations. In regard to this, it is able to translate various languages that dot the world. As such, by using it, you are able to communicate with utterly anybody in the world provided that their language is supported by the clickwebinar.
5. GetResponse Webinar
This platform is majorly used for email marketing. It comes with almost excellent webinar features making it a top webcast software. The features that make it rank as one of the top ten webcasting software are outlined below.
·Youtube integration: You are in a position to better engage your audience through youtube integration.
·Security: You are able to decide whether to keep your webinar open for everyone to access or one needs a password to gain access to it.
·Engagement: This platform offers, among other features, live chats and one is able to make live presentations to his or her audience.
6. Demio Webinar
Demio has been taunted as one of the best webcasting software. It competes against other top webcast software like WebinarJam which have already carved a niche for themselves in this area. Marketers perceive it as being the best available webcast software and mainly use it whenever they need a dedicated webinar tool that has the capacity to replay what has already been presented. It comes with the advantage of capturing live events too. Its features are as follows;
·Live Replays: Usually, it automates replays of your webinars in order to create email lists.
·Analytics: It offers some insight into the performance of your webinar.
7. Ever Webinar
Ever webinar ranks highly among the best webcast software. It is a top webcast software and is majorly used to build email marketing lists. It has powerful features, and some are captured below;
·Automate webinars: It usually sets the webinar to operates based on given intervals like after every one hour.
·Analytics: Gives some insight into the performance of your webinar.
8.WebEX Webinar
This is a complex and one of the best software for webcasting. In essence, it is more than just a mere webinar. This is because this top webcast software performs a wide range of activities in comparison to the other software thought to among the top ten webcasting software. WebEx has the capacity to hold online meetings, training sessions, team collaboration, events, and presentations. It is mainly used by businesses that need a powerful video communication tool. One of its main features is its ability to support video conferencing.
9.Live Stream Webinar
This is ideally set in a way that it is able to create studio-like live streaming. Unlike the other top webcast software which has deep marketing connotations, this is mainly concerned with the shooting and streaming productions of the highest possible quality. Thus, it features include:
·Advanced editing: These include the production of the picture within a picture and graphics overlays.
·High-end production: These include live streams during film production
10.Zoom
This is a general purpose yet one of the best webcast software currently available. It is mainly used for video conferencing purposes during business meetings and collaborations. It offers an interactive platform to its user and ranks as one of the top ten webcasting software that is available in 2018.
Conclusion
Webcast software has proved to be of great significance in modern society. They, however, come in different shapes and are able to influence human life differently. As such, they can be ranked based on their capacity to influence human activities positively.