How to Plan a Webinar?
Have you ever attended a webinar where you're given a chance to address the audience and the audio headset or even the software starts acting up? Or you just wind up the presentation and later realized you've omitted one crucial topic? Well, it happens and it's not one of the good experiences. Without proper planning, you can easily bring in confusion and your audience won't be comfortable sharing with you. With the right conferencing tools, up-to-date software and an ordered list of priorities, holding a webinar is more of an excursion in your favorite park.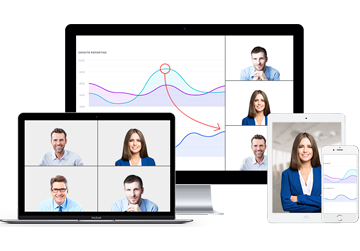 Best Webinar Planning Tool
Free for up to 100 Participants
Fluent Group Video/Audio/IM Chat
Screen Sharing and Whiteboard
Webinar Cloud Recording
Webinar Custom Branding
Sign Up Free Now
Importance of Planning a Webinar
Webinars are the modern online classrooms where people get an opportunity to engage their minds, share ideas and clear any doubts about a given subject matter. It's an effective way to convey information to a geographically dispersed audience without incurring the cost of travel, time and other inconveniences.
Planning adequately for the webinar guarantees confidence that will see you host the webinar successfully. Mastering the webinar planning template will allow you to communicate without relying solely on the notes or even the slides. This helps you look confident, smart and well-prepared before the audience.
Preparing for a webinar is a key step for having an orderly and productive webinar session. It's a critical aspect that every company, marketing firm or business organization do not take for granted. It holds the cards as far as proper communication among customers, stalk holders, employees or corporate officials is a concern. It's though proper planning of webinars that a company can generate leads, launch new products/services and even build their brand authority.
If you're looking forward to some of the tips on how to prepare a webinar and successfully run an online conference, below is a webinar planning checklist. Read on to get started. 
Tips for Planning a Webinar
Pick the Right Topic
You should ask yourself, why am I hosting a webinar? Am I trying to solve a problem, or even communicate a matter of great urgency? If yes, then you should select the most appropriate topic from which the presentation and ideas are based. The topic should resonate with the audience themselves, the issues surrounding them and their problems if any. If you can't find the problems, you can find what your audience is best interested in. Filter the irrelevant ones and source one topic of great inspiration. 
Schedule the Date and Time 
One of the greatest challenges when it comes to hosting a webinar isn't technology or the doubt whether your audience will turn up for the session; but, it's the planning process, including scheduling and logistics. An example of a simple yet limiting challenge is time. You could ask, what is the best time for webinars? Well, the answer could be; there's no best or perfect time, but you can create that perfect time through proper communication and planning.
You can schedule a webinar with an overseas audience having a different time zone, and due to negligence, you fail to obey the law of the time. Here, you violate international datelines and you'll later find out that your Wednesday webinar is a Thursday webinar for the audience. To avoid such and similar semantic problems, it's important to prioritize in a well-defined webinar planning template. 
Before making up your mind on the time parameters, communicate with your audience and seek to understand their schedule. Do some sampling to know which days would have the lowest turnouts and avoid fixing the event on such dates. Where possible, the webinar should be scheduled on weekdays during the normal working hours. If a part of your audience is inconvenienced by the conflicting time zones, you could make a horse-trade on some standards to ensure at least a majority attends the webinar.
Pick the Right Tools
Choosing the right web conferencing tools can be a daunting experience- especially in the flooded market. The choice of your webinar software should accommodate all the participants without compromising on the quality of conferencing. One of the reputable web-conferencing companies that offer the best of webinar software is ezTalks. It prides itself as a self-reliant and competitive asset in the modern conferencing world.
With ezTalks Webinar, you can host or join a webinar through a simple and hassle-free registration. The software can hold live-virtual events with up to 100 interactive participants and in excess of 10, 000 audience per given session. Here, you can run a webinar interactively with various participants via HD audio/video collaborative tools. You can also enjoy the convenience of collecting feedback easily with quick polls and survey. 
Some features offered by ezTalks Webinar
. Multiple interactive functions- include text chat, collaborative whiteboard, free screen sharing, HD audio/video chat, and polling.
. Easy customization- you can personalize the webinar waiting room with a registration page and email notification feature. You can also rebrand your webinar if necessary.
. It supports live webinar recording and playback and allows for sharing of the content by links to other social media platforms so as to enhance your webinar impact.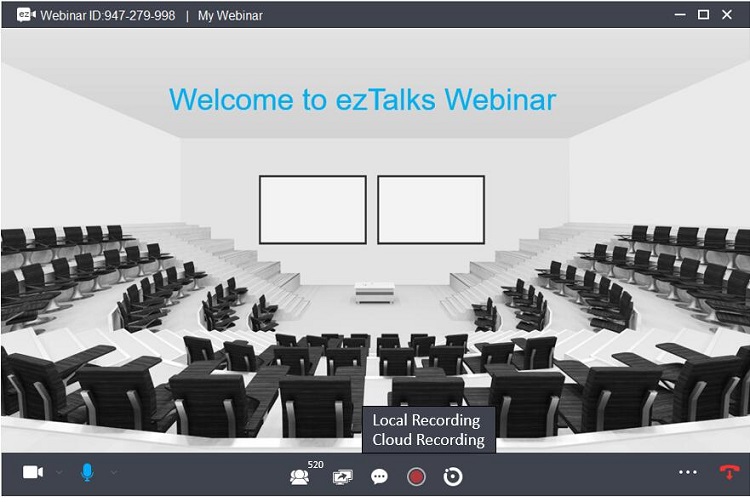 Schedule a Practice Session
A few days before hosting the webinar, make sure to schedule a practice session for 20-30 minutes. This early-preparation technique will keep you on track before the eventful day. During such sessions, you'll have a proper introduction to the webinar tools and its features. You'll also have an opportunity to review your agenda, topics, and even the visuals. 
Promote Your Webinar
Once you have set the dates for the webinar, it's important to have a few marketing strategies in place so as to publicize the occasion. Some of the good places to promote the event include the social media platforms including Twitter, YouTube, Facebook, your website, and even via emails. You can create a landing page where interested parties sign up for the webinar. One way of getting more people to sign up is by running a contest or awarding the first members and including some giveaways for the same.
Choose the Right Format
The flow of ideas in every webinar should be clear and non-ambiguous. There are various formats in which the webinar can assume for that well-coordinated communication and interaction. You don't want the webinar to look like a mourning congregation or even worse, a marketplace-where everyone yearns for attention. Below are some common webinar formats.
. A one-speaker- this will have one presenter demonstrate something and even answer questions from the audience. It can be done in shifts where each speaker is allocated a given time span. An interview-style format-here the interviewer asks a set of pre-determined questions and the interviewee answers them accordingly.
. A moderated panel discussion- multiple people handle a topic with a moderator in charge. This format can blend in well with an interactive format where everybody contributes to the topic but via instructor-led exercises.
Conclusion
Webinars are rapidly taking over the traditional conferences and inconvenient meet-ups. It's with proper planning and composure that the advantages of webinars can be exploited. With all these factors kept into consideration, there's not much left to do apart from going forward and running the thing.