Onstream Webinars Review and 8 Best Onstream Webinars Alternatives
Onstream Webinars Reviews
Onstream Webinars Software is a useful webinar tool that supports live and on-demand audio and Video Webcasts, and can be used for education & training, corporate communication, virtual meetings, session webcasts, etc. It's a cloud-based webinar software that doesn't require any software or hardware installation. Kindly note, Onstream Webinars Pricing starts with $49/month that includes up to 50 participants.
Despite such positive features, Onstream Webinars Platform also has some problems that may result in an annoying and unsatisfying experience. One of the major problems of this software is that the audio quality sometimes becomes extremely choppy and poor. Furthermore, the participants or attendees often experience frequent dropouts from the Onstream Webinar session. Some users have also complained that It lacks flexible branding and customization options for webinar waiting room, follow up mails or notifications.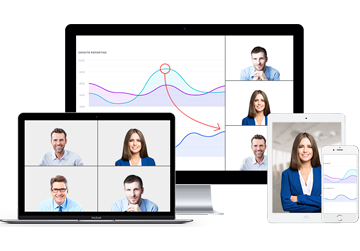 Best Onstream Webinar Alternative
Free for up to 100 Participants
Fluent Group Video/Audio/IM Chat
Screen Sharing and Whiteboard
Webinar Cloud Recording
Webinar Custom Branding
Sign Up Free Now
Considering the unsatisfying factors in Onstream Webinars Reviews, are you now interested in some great alternatives to Onstream Webinars that offer better features? Well, if yes, then please check the following sections and reveal eight best Onstream Webinars alternatives (with detailed information of their respective features, prices, advantages, and disadvantages).
Eight Best Alternatives to Onstream Webinars Recommended
1. ezTalks Webinar
ezTalks Webinar is the best alternative to Onstream Webinar tool that lets you connect with 100 video participants and an unlimited audience per session. This advanced webinar software comes with many innovative features like hassle-free registration process, an easy-to-use interface, options for sending customized meeting room invitations, screen sharing, whiteboard, online chat facility, and more. On top of that, it offers an exceptional level of video and audio quality so that your participants always have a fully satisfying experience. 
Advantages:
1) Offers high-quality HD audio and video experience.
2) Webinar local recording and webinar cloud recording with 2 GB free storage.
3) Flexible webinar customization including webinar rebranding, custom webinar room, custom registration page and custom email notification, etc.
4) Many interactive functions such as whiteboard, online chat, polls & survey, screen sharing option, and more.
5) Detailed webinar report helps you analyze and improve your webinar better.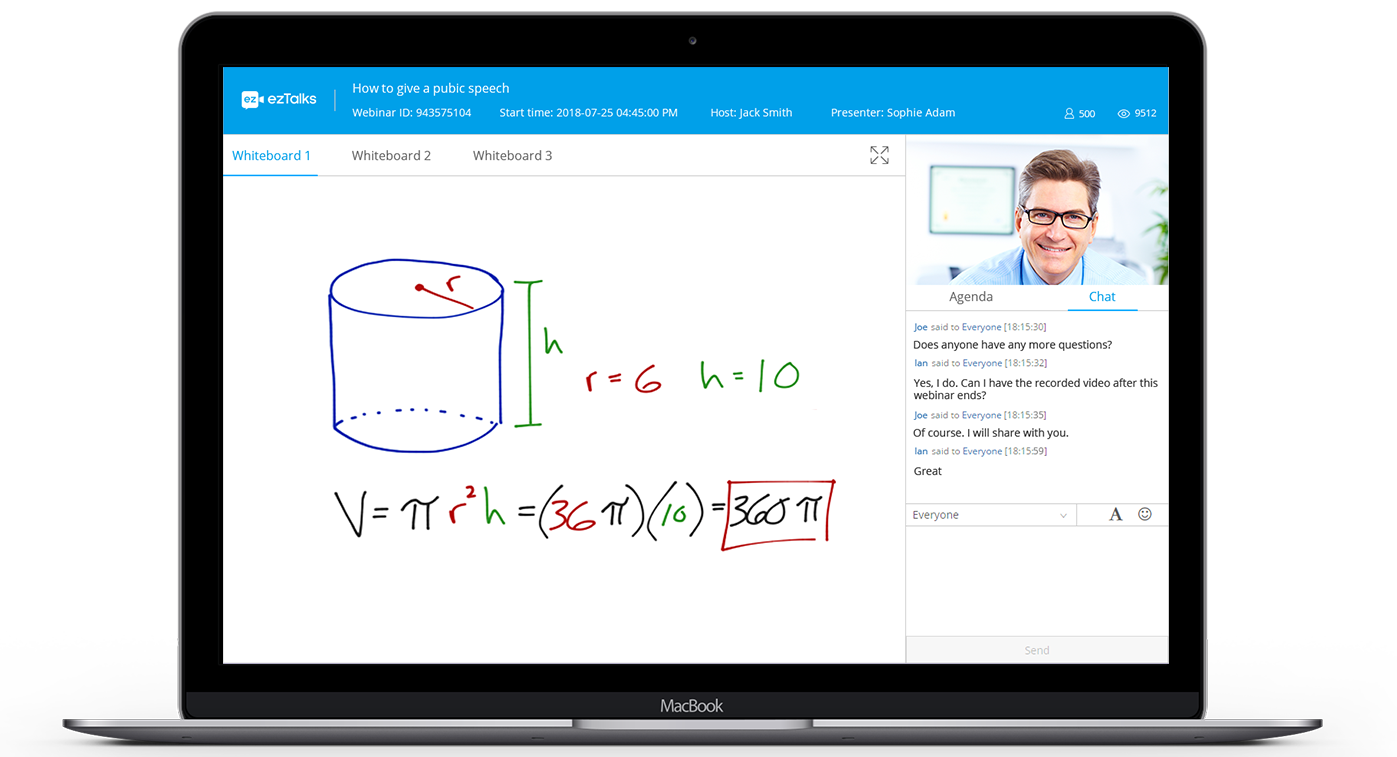 Disadvantages:
Its free webinar trial are only available for 100 minutes, however this is enough for you to figure out how this webinar software works and enables you to try it whenvever you want.
ezTalks Webinar Pricing:
The basic plan for ezTalks Webinar costs $40/month or $400/year with one host and hundred participants. However, the user has the provision to customize the basic plan and add more hosts and participants as well.
2. WebEx Webinar
WebEx Webinar claims to offer the users an interactive online meeting experience with options for screen sharing, online collaboration, video conferencing, and more. In fact, it's widely considered to be a leading web and video conferencing tool that's developed by CISCO. Although, this software is packed with some intriguing features; however, you can't simply ignore some of its negative sides that are revealed below.
Advantages:
1)WebEx Webinar is a well-known tool for setting up online meetings, video conferencing, live communication, and more.
2)WebEx Webinars are easy to invite attendees via outlook email and make webinar reminding via outlook calendar.
Disadvantages:
1) According to many users, WebEx has now become a mediocre software that is both overpriced and under-featured.
2) Sometimes, you may face annoying lags while sharing information and connecting to other computers.
WebEx Webinar Pricing:
The basic plan for WebEx Webinar costs $24/month that allows only eight participants to join.
3. WebinarIgnition
WebinarIgnition is one of the great options for Onstream Webinars Alternatives. It lets you organize live and automated webinar funnels. Apart from that, the software has some additional features, such as chat integration, live video feed integration, and email reminders.
Advantages:
1) The software lets you create both live webinars and automated webinars.
2) Few other features are also available with this webinar toolkit, such as Q&A integration, live console, and customize your email list.
Disadvantages:
1) Available feature lists are quite limited.
2) Audio and video quality needs to be improved.
Webinar Ignition Pricing:
The Basic plan of Webinar Ignition tool comes with a price tag of $97 that lets you host unlimited attendees.
4. WebinarNinja
WebinarNinja is another excellent software that lets you set up a webinar just in ten seconds. It's easy to use as it doesn't require any software/hardware installation. It lets you create automated, live, series, hybrid webinars and summits.
Advantages:
1) Webinar Ninja can be used to run automated, live, series, hybrid webinars and summits.
2) Easy and fast installation process.
Disadvantages:
1) The audio quality sometimes becomes quite laggy and choppy.
WebinarNinja Pricing:
The Starter plan for WebinarNinja costs $39/month with a limit of hundred live webinar attendees.
5. Zoom Webinar
If you are looking for Onstream Webinars Alternatives, then Zoom Video Webinar software can be a possible option for you. This video webinar software is packed with some awesome features like host control, HD screen sharing, post-webinar reporting, and questions and answers dialog box etc.
Advantages:
1) Zoom Video Webinar is easy to use.
2) It comes with a bunch of scalable packages where you can customize the number of participants.
Disadvantages:
1) Call stability issue is one of the major problems of this software. Even if you have an extremely speedy and steady internet connection, video calls may get dropped frequently.
Zoom Webinar Pricing:
The basic level plan for Zoom Video Webinar comes with a price tag of $54.99/month for hosting up to a hundred attendees.
6. StreamGo webinars
StreamGo webinar software is another best Onstream webinar competitor. With StreamGo webinars, you can launch webianrs and online meetings for a seamless communication experience. Using StreamGo webinars is also quite easy as it requires no app installation and download.
Advantages:
1) Quite seamless and hassle-free setup process which doesn't require any app download/installation.
2) It lets you make an interactive event and engage your audience by holding Q&A session and running polls.
Disadvantages:
1) Some users have complained that StreamGo webinars software often fails to offer a stable and reliable performance if your internet speed isn't that high.
2) Pricing details are not clearly mentioned on their website.
StreamGo webinars Pricing:
This software comes with three pricing packages, such as One-Off, Regular, and Power User. However, they haven't revealed the pricing details of these three packages. Rather, users are requested to contact their support team to get a quote.
7. EverWebinar
Are you looking for an alternative to Onstream Webinars? If yes, then you may consider using EverWebinar software to launch your online meetings. Some features of this toolkit include the advanced scheduled system, live chat simulator, dynamic attendee display, and more.
Advantages:
1) A reliable software for setting up online webinars.
2) The platform offers an excellent customer support team for promptly handling your queries and concerns.
Disadvantages:
1) The pricing of EverWebinar tool is extremely costly.
EverWebinar Pricing:
The price for purchasing a license of EverWebinar tool can normally cost you $597.
8. StealthSeminar
StealthSeminar is another Onstream webinar competitor. You can use this webinar tool for fostering a smooth and seamless web conferencing experience with your remote participants. The software lets you host four types of events, such as automated webinars, live webinars, live chat webinars, and hybrid webinars.
Advantages:
1) It's a good alternative to Onstream Webinars software.
2) Based on your requirement, you can launch four types of online events using this tool.
Disadvantages:
1) The number of features is quite limited.
2) Users need to pay a one-time initial cost (along with monthly subscription fees) to use this webinar tool.
StealthSeminar Pricing:
The initial cost for using StealthSeminar webinar is $97. Apart from that, you need to pay the monthly fee of $69.95 USD too.
The Final Verdict: 
What's the Best Alternative to Onstream Webinars Platform?
With this, you have revealed a total of eight best Onstream Webinars alternatives. Considering the features, pricing, advantages, and disadvantages of these Onstream competitors, ezTalks Webinar is the most recommended webinar software among them. Not only it's integrated with many innovate features that will make your webinars interactive and engaging, but also it renders an HD audio cum video quality. Thus, do not hesitate to use ezTalks Webinar tool to ensure a fully satisfying experience for both hosts and participants.