Main Features of Video Conferencing From ezTalks Meetings
Video conferencing is now becoming a popular collaborative tool to keep your organization more productive,effective and efficient. No matter where you are,video conferencing provides an easy-to-use platform for you to communicate with your customers,co-workers and colleagues. To achieve this purpose,you should select a professional video conferencing solution,and ezTalks is such a good option for you.
ezTalks,a leading video conferencing solutions provider in the globe,now expands its free cloud meeting capacity to 100 participants. It means that you can have a point to point video conference or online group video conference with other 99 attendees,either. This might have a great impact on the video conferencing industry due to its large free meeting capacity as well as its rich features.
So,what are the main features of video conferencing from ezTalks Meetings?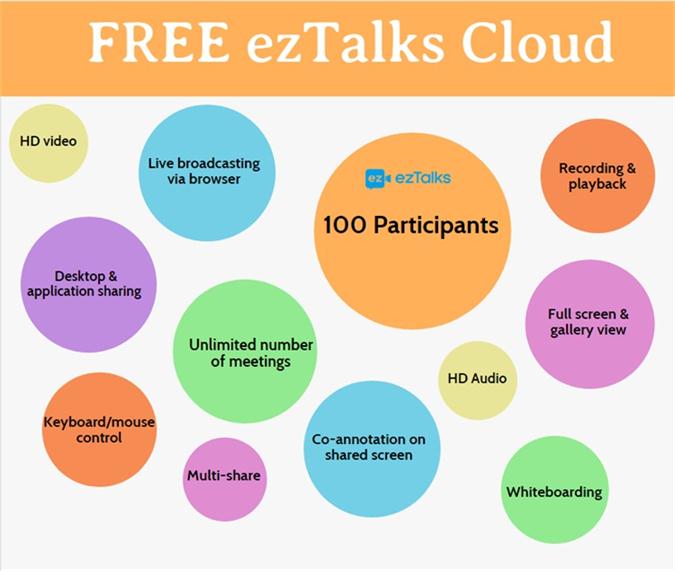 As Large as Meeting CapacityezTalks Meetings now offers a free version of video conference which allows up to 100 participants to be involved in the meeting simultaneously. It is not a trial,but a permanent IP-based video conference service free of charge. Besides,it supports unlimited number of meetings and unlimited cyclical meetings. Of course,there are also other options such as 50,100,200,300 and 500 participants that are scalable to the growing of your business. HD Face-to-Face CollaborationezTalks Meetings vividly imitates traditional face-to-face communication to move it online across the screen by utilizing ultra-HD video and crystal-clear audio. By taking conventional collaboration out of the fixed office spaces,ezTalks establishes sound business relationship and maintains interactive & productive collaboration regardless of distance. Real-Time Private and Group ChatBesides two-way video and audio transmission,ezTalks also supports instant messaging (referred to as IM) such as private chat and group chat. It is a kind of real time communication in video conferencing. If you have any questions during the video meeting,you can send a message in text to the one you want to talk or to the group chat room,so as to not disrupt the presentation of others. Easy Sharing and DiscussingAnother important function of video conferencing is its powerful sharing function,including conference room screen sharing and interactive whiteboard,as well as file sharing. Screen share video and whiteboard enable users to share their proposals or ideas freely and meanwhile permit participants to co-annotate for fast decision making. File sharing supports the transmission of various file formats like word,excel,PPT and txt,etc,which makes information sharing and collaboration easily. Useful Recording and PlaybackezTalks Meetings allows users to record the whole content of video conference,which will be very beneficial to staff training and online learning. Users can record all the content or some important content for playback later,thus they can pick up the missed information or reinforce the key one. Seamless Meeting From Desktops and MobilesezTalks Meetings works well on Windows,Mac,iOS,Android-based devices respectively,allowing users to meet mobile and making video collaboration anytime from anywhere a reality. You can also use have a live broadcast or join in the video conference via browser. Picture source from Clipartkey,PNGitem,KindPNG.The above here are just some of description of video conferencing from ezTalks Meetings,and actually its features are far beyond this. If you want to know more about features of video conferencing from ezTalks Meetings,feel free to visit www.eztalks.com.