How to Structure A Webinar Effectively?
A webinar solution like ezTalks Webinar offers you an important platform to be able to share not only important documents but also facilitate interactive presentations. Even with the importance of a webinar for a large event, it is important that event attendance is boosted to realize maximum benefits. Employing the use of the best webinar structure will minimize the chance of people feeling disgruntled and considering your event as just having been a waste of time. Online you can find a webinar outline example to help you to hold a successful webinar. Consequently, here is the general webinar outline template that you can employ its use even if you are using ezTalks Webinar.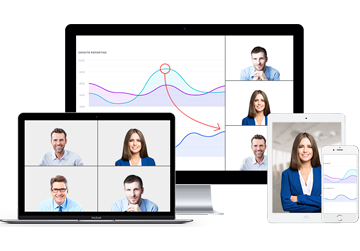 ezTalks Webinar Tool
Free for up to 100 Participants
Fluent Group Video/Audio/IM Chat
Screen Sharing and Whiteboard
Webinar Cloud Recording
Webinar Custom Branding
     Sign Up Free Now
1) Choose the perfect webinar topic
Managing to choose your perfect webinar topic will have a positive impact on the rate of show up and webinar registration and the first step of how to structure a webinar. It is important that your ezTalks Webinar is able to provide a solution for a particular audience problem. For that reason, you should be able to identify the biggest pain points and what the targeted audience struggles with. It is also important that you ensure that the topic chosen is really precise. The topic should concern itself with just one element of an issue that is broad. This will serve to draw the attention of the audience to your topic.
2) Create a webinar online
It is advised that before starting to structure a webinar that you create a webinar content outline. To be able to create better headlines, it is normal that you will find yourself often changing the title or just carrying out some fine-tuning.
You should be able to compose a copy for your registration pages, ads and of course, onboarding emails that are stronger. If you may have problems writing on-boarding emails, then you can check online how to accomplish that.
You do not have to provide a lot of information to your audience on the ezTalks Webinar. Your content should be planned in a manner that it takes people from one point to another and also in the process adds value. What is more, it is essential that you avail some of the best stuff for free. The best free stuff serves to attract your audience as they become curious about just how good your paid stuff can be. Most importantly too, consider that a successful webinar is indicated by the audience thinking that they got a good value from their event attendance.
In terms of the actual webinar structure template as for how to structure a webinar, here is the way for you to do that.
a) Observe the 80%-20% rule. Remember that you should spend about 80% of the time on your audience while only use the 20% time for promotion purposes. Most of the unsuccessful webinars often observe the rule vice versa, not as advised.
b) Welcome people. It is important that you are able to welcome your audience first. You can ask the audience attending live where they are located, joining from, to be able to create a level of engagement and excitement.
c) Inform our audience in advance whether they are in the right place or not. Inform your audience whom the webinar is meant for and who it is not most likely for.
d) Make the audience want to stay until the end of your webinar. For example, you can award a bonus to only the attendees who are able to stay until the end.
e) Set the webinar agenda. The attendees of your virtual event must know in advance the webinar agenda to help them know the value they are likely to get.
f) Introduce yourself as the presenter and inform the audience about your story. The information that you share with your audience should be brief, relevant and one that they can relate to.
g) Provide content promised. Try the best you can to give your audience actionable steps that they too can follow to be able to realize results.
h) Transition into your pitch effortlessly. Tell your audience about your paid offering and also inform them about the benefit to them. You can earn pitch right by giving away content for free.
i) Share case studies. Share with your audience real-life case studies that they are able to see themselves achieve.
j) Have a short question and answer session. You can respect the time of your audience by informing them that it is okay for any of them to leave the webinar early.
Conclusion
In conclusion, from any given webinar structure template that you are supposed to use, it is important that you also stress greatly on creating a very good presentation. You must show people that you mean business and that you know what you are talking about. Creating a professional and attractive presentation and executing it perfectly will help you make a good first impression. Moreover, it is important that you employ the use of a lot of slides for presentation. Hopefully, it is my wish that the webinar content outline provided here enables you to have a successful webinar to realize the immense associated benefits.