How to Set Up A Webinar
A webinar is meeting that is transmitted over the Internet. The meeting can be a discussion, demonstration, or presentation. Participants follow webinars through computers, tablets or smartphones. Webinars are usually limited to a small audience to allow for personal contact among attendees and facilitate joint activity. As long as it's used effectively, webinars can be an extremely powerful tool, especially for businesses looking to market their products or grow their customer base.
Just as with launching a live seminar, webinars require proper planning. Planning a webinar can seem like a daunting task, but the truth is that it is not. Providing you choose the best platform, you can start hosting webinars in no time.
Preparations before Setting Up a Webinar
Setting up a microsite is arguably one of the first tasks that you will have to complete when launching your webinar. Spend some time designing the landing page to match with the content and imagery of the webinar as this will serve as your first contact with your audience. Be sure to create the contact form to get the information from your target audience. Before you create the form, consider your target audience and what info you need to get from them. Long forms seem like a daunting task, and it is because they are. So be sure to create a shorter form.
When it comes to video and audio settings for your webinar, there are three options – VoIP, teleconferencing and simulcast. Your preferred choice is dependent on the preference of your audience, your platform of choice and your budget. Realize that some platforms include teleconferencing and VoIP on their plans for free, while others charge a small fee. Whatever your choice, make sure that you know how to use them during the live event. You don't want to encounter glitches during live presentations.
Now that you have a platform, a microsite and the audio and video option, you need to embed your meeting space. If you are considering hosting the webinar from your home-office, make sure that your kids and pets won't interfere with the meeting. If you are hosting the webinar from the office, find a silent room. Finally, run a test before you go live. Don't assume that things will run smoothly during the webinar without testing your tools in advance. Do one or two run-through a few days before the live webinar to ensure that all your tools are in perfect working condition.
How to Set Up a Webinar?
The process of setting up a webinar starts with selecting a webinar platform that you will host your webinar. There are a number of webinar platforms out there and each comes with its unique features. If you have been hosting live webinars, odds are you have heard about ezTalks Meetings. This is one among the best webinar platforms on the market. You can set up webinars for free with this feature-rich platform. Here are some of the features that this platform is equipped with.
• Offers useful tools like online whiteboard, screen sharing and more for enhanced interaction.
• Supports a webinar of up to 100 people for free.
• Runs on any OS like Android, iOS, Windows and Macintosh OS X.
• Comes with a recording feature to record webinar for future reference.
• Allows to notify participants on the forthcoming webinars' themes and times.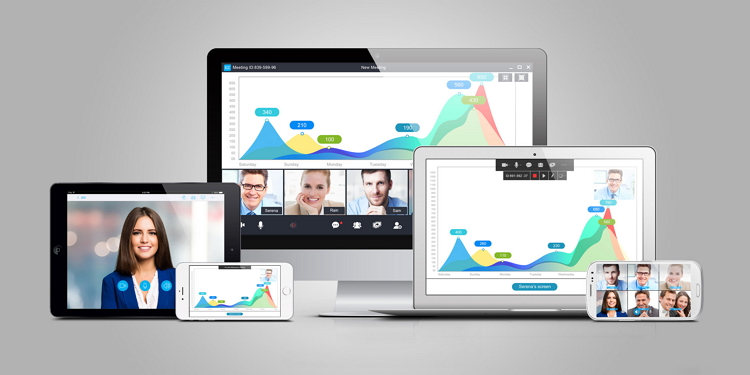 An Easy Guide on How to Set Up a Webinar for Free
While there are many platforms out there, few live up to their promise. ezTalks Meetings lives up to its promise of giving you the full control of the live webinars. Where this platform shines is its ease of use. Launching your live events with the platform is super easy as long as you know how to go about it. Below is a step-by-step guide on how to set up webinar for free with ezTalks Meetings.
Step 1. Install ezTalks Meetings
First and foremost, you will have to install ezTalks Meetings on your Windows computer, Mac, iOS or Android device. If you use a Windows computer or Mac, simply go to the Download center to download install the Windows version on your PC. As an Android or iOS user, you can download the app on Google Play or App Store.
Step 2. Register for free plan
Once you have installed the program, a page will pop-up for you to key in your log in details. An email will be sent to an email address while signing up. Go to your email and click on the link and your account will be activated.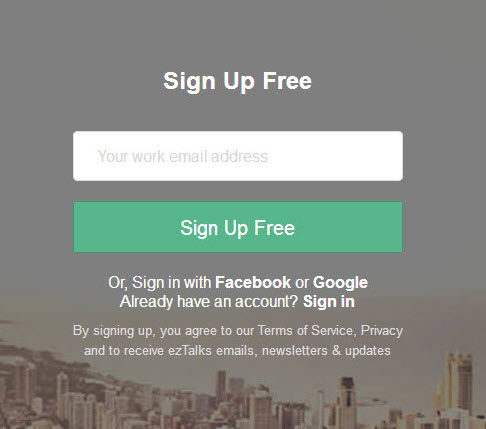 Step 3. Set Up a Webinar
Before you set up a webinar, get your camera, microphone and speaker ready for the live webinar. Login and click on "Start a Meeting" button to enter your meeting room. To invite attendees, click on "Invite" button and a window will pop-up where you'll be requested to enter email addresses of your attendees.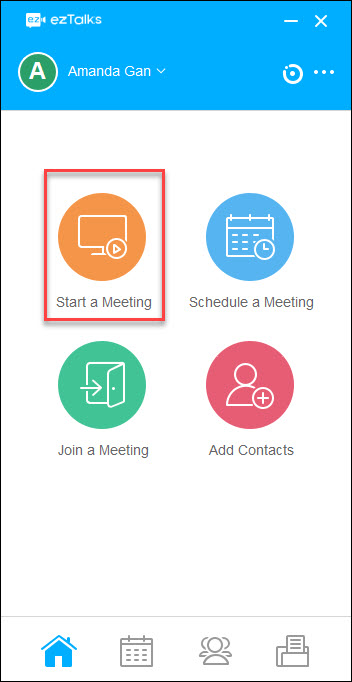 Conclusion
As stated earlier, webinars are powerful business tools and there are countless reasons why a business should deploy them. Whether for presentations, discussions, or trainings, webinars will give your business a competitive advantage.