Join by Computer/Mobile Device for Video and Telephone Call-in for Audio
ezTalks has updated the video conferencing service with a great feature,which is to bind the audio of the telephone and the computer/mobile device. This feature has been available on Windows,Mac,Android,iPhone and iPad apps. With the new update,ezTalks video conferencing service is more user-friendly and flexible to use.
Part 1 Why joining by computer/mobile device and telephone at the same time?
In general,participants join a meeting either by telephone call-in or from the computer/mobile audio. If joining by telephone dial-in only,participants can listen and talk to others,but they cannot watch the video or screen. If people need to video talk or share screen,they usually join with a computer/mobile device. However,there are cases that people need to join in both ways at the same time:1. There is no speaker/microphone on the computer/mobile device.2. The performance of the device audio is not good enough.Joining by computer/mobile device and telephone in the same room will cause audio feedback,therefore,to bind the audio from the device and telephone is a great way to avoid echo.
Part 2 How to bind the audio of computer/mobile device and telephone?
If you join a meeting by telephone call-in only,you can dial a telephone number and type in a meeting ID. However,it is additionaly required to type in a participant ID in order to bind the audio of the device and telephone.
Each device which has joined a meeting will be provided with a unique participant ID. The participant ID changes from time to time when joining different meetings.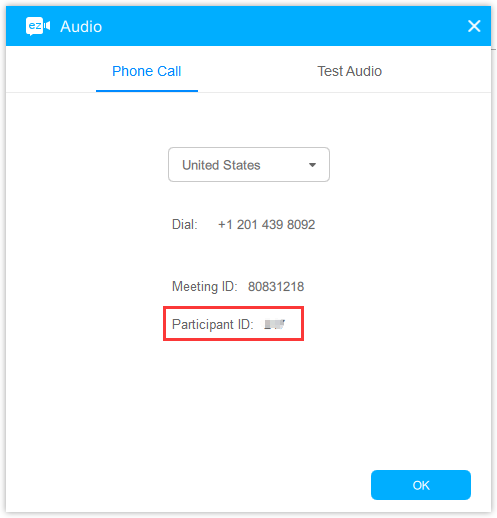 Learn the detailed steps about how to bind the audio of device and telephone.
Download the app and enjoy the new feature now!