Gotowebinar App Reviews: Features, Pricing and Alternatives
Webinars are the driving force of a successful sales business, helping establish a close interaction between entrepreneurs and prospect customers, by introducing products and services, so as people get motivated to buy them. GoToWebinar is equipped with a rich set of tools, allowing you to create powerful presentations, and manage your results, by tracking your webinar performance, and analyzing attendee reports. Each GoToWebinar app review, features customers, who mention how the app helped their businesses grow rapidly and thrive.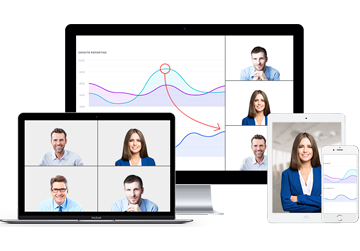 Best GoToWebinar Alternative
Free for up to 100 Participants
Fluent Group Video/Audio/IM Chat
Screen Sharing and Whiteboard
Webinar Cloud Recording
Webinar Custom Branding
 Sign Up Free Now
GoToWebinar Features
1) Simple Planning. A virtual online event planning will not give you headaches, as it is an extremely easy and entertaining thing to do. The platform boasts a simple dashboard that allows for an effortless navigation and comfortable use of the toolbar. You have to choose the date, your life event or series will take place and adjust the settings by few clicks. If you already made some presentations, you can adjust the settings automatically, according to your previous webinars.
2) Branding. In order to be more competitive and engaging, you have to do some branding magic, to attract more people into attending your webinars. For that, you got access to a smart selection of features, to have your presentation intriguing and worthy of attention. By means of available drawing tools, you can create your own customized webinar background, picturing your business logo, brand colors and images.
3) Email Automation. GoToWebinar app has an intelligent customized email invitation that sends automatically notification about upcoming events, and offers useful information and promotion material to customers through interactive follow-up emails.
4) GoToStage. If you want your business to inspire crowds and be known by millions, you can use this revolutionary feature embedded in GoToWebinar app. GoToStage is a full-fledged tool allowing the promotion of your webinars to a wider audience. Millions of people wait for idea-driven webinars on GoToStage to be published. One of which could be yours. If you manage to create an engaging channel page, brand it properly and hit demand-driving webinars, you will be granted extra exposure, and provided extended target market prospects and SEO tools that will make your page easily reached by others.
5) Engagement and Fun. GoToWebinar app is fully equipped with interactive tools to have your presentation flow easily and spark interest with the attendees. You have in front an engagement dashboard, with a timer and performance figures, then six presenter webcams that help share winning smiles and inspiring mood with your viewers. Also, you can create surveys and ask live questions to your audience, to make them feel part of the webinar.
6) Attendees Comfort. GoToWebinar provides maximum comfort to attendees, allowing them to enjoy a quality product presentation. They experience an instant GoToWebinar app download from their browser, and encounter no delay in the real time streaming. Moreover, each attendee can take a turn on the mic or webcam, to express their opinions and ask questions. This can be made both from PC, and while on the go, via gotowebinar mobile app.
Pricing Compared to Other Webinar Apps
GoToWebinar app has relatively acceptable prices, being in strict accordance with its high quality and plentiful set of advanced features that bring the customer's business to a whole new level. GoToWebinar charges $199 for a monthly plan of 500 participants, which is significantly more than Clickwebinar's offer that charges $135 for the same option, but with limited perks and lower-quality technology. A similar plan is provided by ezTalks Webinar that submits a monthly bill of $120 for an event plan of 500 participants, with the same quality and advantages for the customer. They both imply reliable user management, event reporting, screen sharing, advanced audio options both from PC and phone, and close interaction with the attendees.
For the beginners, GoToWebinar app has a starter option that features a monthly 100-participant plan of $89, with such facilities as: custom branding, email automation, live surveys, and GoToStage. This kind of offer is present, also, at other webinar developers. Clickwebinar charges $25 for such a plan, while ezTalks Webinar grants this option for free.
Advantages of GoToWebinar
1) Easy Planning. With just few clicks, the event is set up. Flexible scheduling and quick registration are a common trait of leading webinar apps, among which is ezTalks Webinar.
2) Custom Branding. This option provides an extra edge to your webinar, attracting larger crowds.
3) Mobile App. GoToWebinar web app is highly accessible, being available both from PC and a mobile device. You can enjoy outstanding quality and features while using gotowebinar app android, or when launching a webinar from gotowebinar app for ipad. 
4) Large audience recognition. GoToStage helps promote your webinars in front of millions of prospect customers, giving your business greater chances to succeed.
5) Audience engagement. Each attendee has a role in the webinar, being given the opportunity to turn on the mic and voice his/her thoughts. You can find the same feature in ezTalks Webinar. It is a quality app, with modern technology that can be used as a reliable alternative to GoToWebinar.
Conclusion
As a whole, GoToWebinar is a top-performing, marketing platform, where you can plan online events to stimulate your business growth from the above Gotowebinar App Reviews. You can draw the attention of crowds through powerful presentations, which are made using quality technology, inspiring custom branding, automate email promotion, and easy management that allows you to track your success.