5 Best Webinar Service Providers
Today, the Internet has become more accessible in many countries. Modern computers and handheld devices have a powerful processing power which enables them to support webinars. There are many webinar service providers online. However, some of them are very expensive while others either support fewer features or they limit the number of users. Therefore, it's vital to choose the most suitable one to maximize the webinar effect after careful comparison.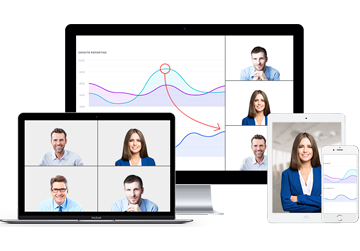 Best Webinar Service Provider
Free for up to 100 Participants
Fluent Group Video/Audio/IM Chat
Screen Sharing and Whiteboard
Webinar Cloud Recording
Webinar Custom Branding
Sign Up Free Now
Webinar Service Providers Comparison
1. ezTalks Webinar
ezTalks is one of the reliable free webinar service providers, which offers web conferencing, instant messaging, document sharing, screen sharing and other services. It helps you to record your meetings, webinars or trainings and share them with more followers. ezTalks Webinar automatically checks if you have connected your camera, microphone, and speakers and notifies you if one of the devices is not working properly. It has an intuitive user interface and its simple design makes it easy-to-use.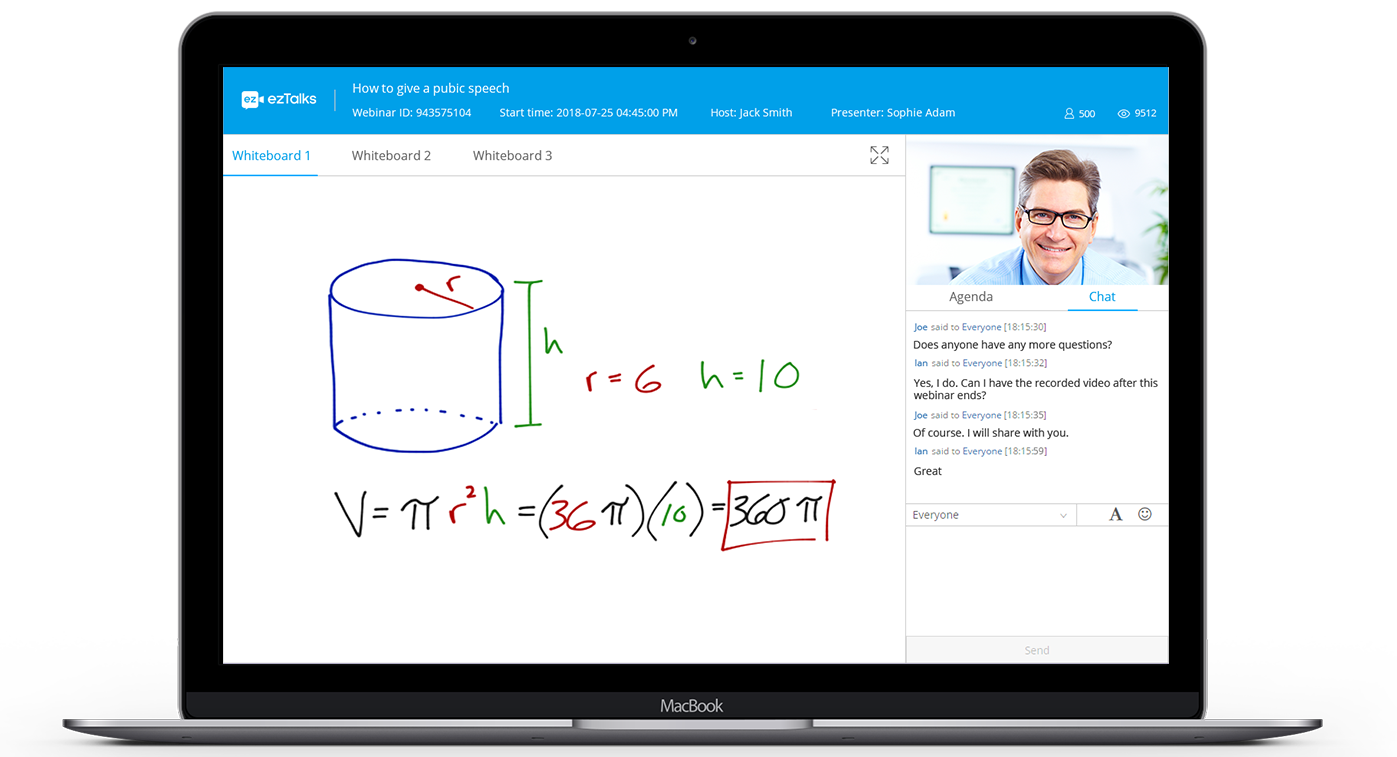 Features
· Video conferencing: This webinar features all-in-one conferencing tools. It offers high-quality cloud-based conferencing solution and on-premise or room-based video conferencing feature. Web conferencing is achieved using a microphone, camera, and speakers on your device.
· Instant messaging: The webinar has a chatbox which enables you to communicate with people in real-time. Participants can send you private messages and you can respond immediately without refreshing the page.
· Ultra-clear video and audio: ezTalks offers HD video and audio which has minimal noise. This allows you to communicate with your audience with ease. The video has the right resolution and there is no lag in the stream.
· Screen sharing: You can share your screen and even mirror the screen or camera with your audience instantly. Whether you need to share a slide deck, help someone troubleshoot a technical issue or give a presentation of something on your device or from your camera, this will satisfy you.
· Real-time file sharing: You can share pdf documents, Microsoft Word documents, PowerPoint presentations, all types of images and other types of files in real-time. This feature enables you to make your presentation live and interactive.
· Supported by various devices: You can use ezTalks on your computer, your tablet or your smartphone. This webinar works on various operating systems such as Windows, Mac, Android, and Linux. ezTalks is frequently updated to incorporate the latest tools to keep up with the times.
· Free and paid plans: The free plan allows you to use the webinar without paying a dime. However, if you would like to hold a big event, a paid plan is better since it can support many participants and tens of thousands of customers.
· Unlimited webinar durations: Unlike other webinars, ezTalks does not limit the length of your webinar. This feature makes it suitable for both short and long activity.
· Cloud storage: You can record your webinar and save it on cloud storage for future playback. Cloud storage allows you to share your work with people in different parts of the world. The amount of space that you are allocated depends on your plan.
Cons
The free version has the webinar duration with only 100 minutes. If you need longer duration for totally free, you may try ezTalks Meetings as an alternative. Otherwise, you need to pay for the pricing plan for the dedicated webinar service.
2. GoToWebinar
GoToWebinar is one of the most popular free webinar providers. GoToWebinar provides reliable services and it is easy to use. This webinar software works in all devices around the world and it has an intuitive user interface. Unlike other webinars, it has a unique feature known as "pass the control". You can use this tool to give any participant your mouse or keyboard control. It also allows you to share files, screens, presentations and even desktop applications.
GoToWebinar also allows you to carry out online surveys and live polls, share eBooks and course materials. This webinar offers you several amazing tools that are needed to host different groups of people. What's more, you can choose from a variety of pricing plans depending on the number of attendees.
Cons
· Expensive pricing plans. Though GoToWebinar has the free trial version for 30 days, its basic plan is the Starter Plan which costs $89 per month.
· According to user reviews, sometimes the connection isn't very good when using phones to host a webinar. The connection may cut in and out occasionally.
3. Adobe Connect
This webinar has the most interactive user interface with advanced webinar tools. It has whistles and bells which notifies you if there is a new activity on the platform. Adobe Connect adds interactivity with smart Q&A, multiple poll types, quick status options, and more. One of its highlights is is holds an engagement dashboard which provides insight into participation and level of interest.
Cons
· Expensive pricing plans. Cheapest plan costs $130 per month which is a lot and the renewal fee is equally high.
· The reporting fails to be updated to a fresher look, especially when exporting data into a spreadsheet.
4. Google Hangouts on Air
This Google product allows you to create a powerful webinar that offers you video conferencing, instant messaging, phone calls, built-in chat capability, Google calendar and more. Google Hangouts on Air enables Google+ users to stream video live via YouTube, which has proven to be effective in either one-on-one implementation or in a group. However, you need multiple accounts before you can set up your webinar. You have to sign up for Gmail, Google+ and YouTube.
Cons
· You need a Gmail account, your own YouTube channel, and a Google+ account to create a webinar. Therefore, setting up a webinar is time-consuming.
· Google Video and Voice plugin are required. You have to install this plugin so that your microphone, speakers, and camera can be detected.
· Google+ invitation is required. People without the invitation link can't access your webinar.
· The chat feature shares the messages with everyone in the hangout. You can't send a message with sensitive information since everyone will read it.
5. Zoom
Zoom is a general video conferencing tool that caters for business meetings, collaboration and dedicated webinar solutions. You can broadcast your video on YouTube and Facebook live. It scales up to 100 interactive attendees and up to 10,000 viewers. Zoom Webinar not only allows you to share screens from tablets or smartphones but also allows you to split your display into two so that you can view the panelist/small icons and the shared screen side by side. Furthermore, it includes polling and chat features to interact with audience members for better engagement and supports HD video/audio which is good for video conferencing.
Cons
· You can't remove attendees. People who behave inappropriately can't be blocked.
· The user interface is a little bit difficult to use. The menu area and the video settings should be redesigned to improve the user experience.
Conclusion
A few products mentioned above come with options for hosting your webinar. Whether you need a webinar platform for family/school tutorial instruction, marketing, technical support or casual/formal event, ezTalks Webinar happens to be the best webinar services for those needs.