Best Way of Meeting People Online for Free
Online dating sites provide one of the most convenient ways to meet new people from all over the world and establish relationships. When building a relationship through online dating, it's always important to have a proper channel of communication. While there are sites that provide random chat room apps for linking new people, they do not offer a real-time chatting experience. However, with reliable online meeting software, you can easily establish a connection with other singles from all over the world and communicate via live streaming. That provides a platform where you can get to know each other deeply as you progress in your dating. 
Benefits of Using Free Online Meeting Software to Communicate with New People 
Meeting new people online is as exciting as it is rewarding. However, for you to establish a reliable way of communicating, you need to consider using online video conferencing software. Choosing to use this option means you'll enjoy cheaper, more convenient and more reliable channel of communication. All you may need to have is a HD camera and stable internet connection and you'll be good to go. You can start communicating with new people, share in your experiences, talk about your lifestyle and get to know each other's interests and hobbies.  
Apart from being the easiest channel to connect with people, it provides an opportunity for you to enjoy instant, real-time video communication. You can't find this anywhere except online. Hence online meeting software is the best alternative to meeting new people and singles out there for a date.
Here are some of the benefits of using free online meeting software to meet with new people:
-Allows you to meet and chat with people from anywhere in the world at any time
-Provides real-time communication experience for free
-Makes the process of meeting your ideal man/woman online more convenient
-Allows you to know the other person in detail unlike just chatting online or via an app 
-Provides a perfect platform for sharing experiences and personal stories in real-time 
ezTalks Meetings: The Best Way Of Meeting People Online for Free
ezTalks Meetings provides one of the most robust online meeting software you can use in meeting singles online for free. This software allows for face-to-face screen communication with high-definition video and audio. The ezTalks Meetings free or trial version, allows you to enjoy unlimited live video streaming experience at no cost. All you need to do is simply download the ezTalks Meetings software, launch it, sign up and you'll be ready to communicate via a video conferencing system. The free version of this software comes with a number of features that make meeting new singles online fulfilling.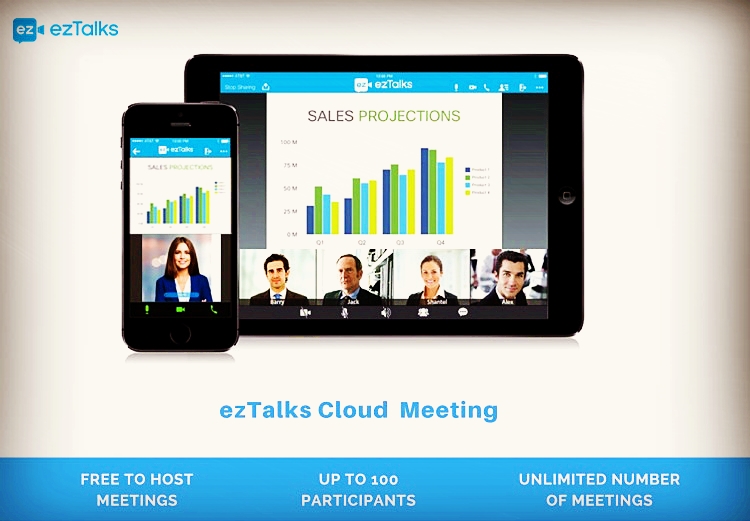 Here are some of the key features you can expect from ezTalks Meetings free version:
-Instant connection with the person on the other end;
-Ultra HD video and crystal-clear audio;
-Up to 100 participants and 40 minutes of live meeting;
-Instant sharing of photos;
-Private and group text chat;
-Video recording and playback ability.
ezTalks Meetings software allows you to establish a live meeting with another person using any device and operating system. You can use your PC, smartphone, tablet or any other device to enter into the live meeting. The software is also compatible with Windows, Mac OS X, android, iOS and more. Using a reliable browser, you can get online and start a meeting with anyone from anywhere in the world. Upon logging in to your ezTalks account and entering into a virtual meeting room, you can invite the other person to join you. If he/she accepts the invitation, you can start communicating live via video streaming.
Conclusion 
Online meeting software provide better and more convenient options for people to meet online. With such powerful meeting software as ezTalks Meetings, you can enjoy unlimited features that can make live video streaming enjoyable. The software's free version can instantly connect you with another person and allow you to get into a real-time video communication or live private chatting experience. This provides a perfect opportunity for you to talk face-to-face on the screen and get to know each other in detail.
The best thing about ezTalks Meetings free version is that you can enjoy connecting with several people at once for a live meeting. It also allows for up to 40 minutes of free meeting time, which is enough to get you started. As you connect regularly over live video streaming, you'll progress fairly in your relationship and establish a strong bond in the long run.