Top 6 Virtual Event Platforms That Every Business Should Consider
A virtual event is like a face-to-face meeting,except it takes place online. The technology allows individual users and business to share information,deliver content,connect with employees and engage in projects of common interest. Whether you are looking to set up a sales meeting,an online learning event,press conference or a training session,the technology allows you to clearly communicate your message to your audience.
Like any technology,the platforms you use to conduct your meetings play an important role in realizing your goals. A universal best would be more difficult to choose as features vary from provider to provider. Below is our list of top virtual event platforms that we think are worth trying.
1. MegaMeeting
MegaMeeting is an intuitive and user-friendly virtual event platform. The platform gives users the ability to share files in real time. That's not all! Participants can make use of a broad range of video technologies and telephony modes to access their online meetings,without having to install any program,install an app or reconfigure its platforms. MegaMeeting supports meetings of a limitless number of participants. For higher-end virtual event,MegaMeeting provides an Enterprise version that offers features such as private branding as well as private server access. When it comes to customer service,MegaMeeting is one of the best.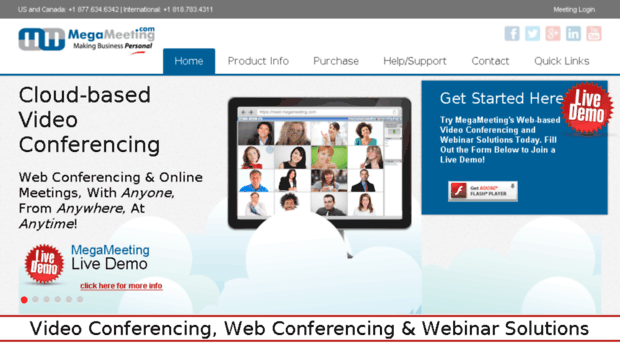 2. ezTalks Meetings
ezTalks Meetings is one among the most popular and best virtual event platforms in the market thanks to its user-friendly features. This is a platform that guarantees users the finest service,which is why it is among the most preferred platforms by most businesses and learning institutions.
One of its key features is the ability to support an event of up to 100 attendees free of charge. The platform is reliable,with superb video and audio quality,interactive whiteboard,instant messaging services and useful screen sharing. These and other great features make this free virtual event platform a perfect choice for any business or institution out there.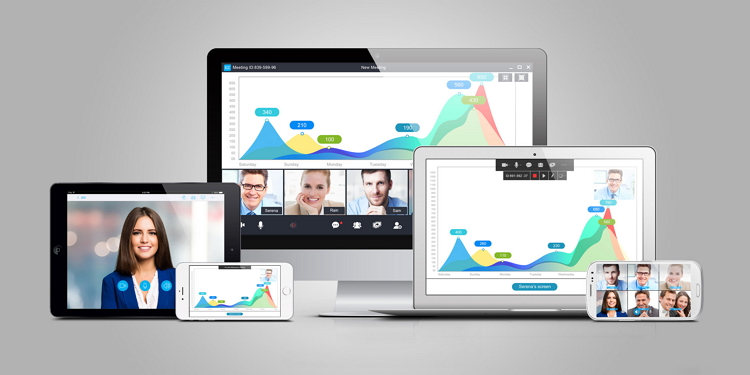 3. ClickWebinar
ClickWebinar is a virtual event platform that comes equipped with features to make your event a success. The platform allows for screen sharing,attendee phone-in,multi-language interface and preview slide during the presentation. Moreover,it gives users the ability to customize the look of the platform to match their company's logo,color and graphics. Where the platform impresses is that it includes a tool to create live discussions between the host and the participants. The live discussion can be moderated by the host so that meeting attendees can view it,or the host can do it privately with his/her attendees.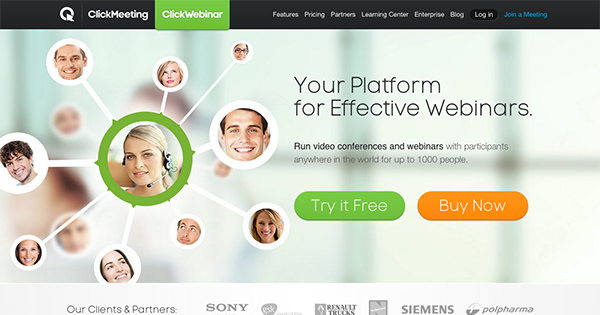 4. GoToWebinar
GoToWebinar is another one of the best virtual event platforms. The platform makes it easy to launch and deliver video and audio meetings. With GoToWebinar,users can share recordings,send automated emails to attendees,share files,and live chat with members of the audience. What's more,audience members can even join the discussion,ask live questions and answer polls during the presentation. GoToWebinar employs its default application for your attendees to join the conference by default. But if you subscribe to a higher plan,you can as well run Broadcast conferences that run in your browsers without having to install anything.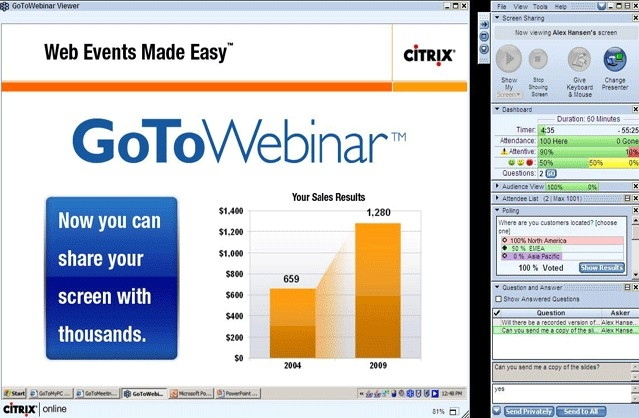 5. Cisco WebEx
Cisco WebEx is one of the most popular virtual event platforms. The platform is reliable,with integrated video,audio and content sharing. The platform allows users to record online meetings,mute or unmute participants. You can integrate it with everyday business apps and processes. Participants can smoothly join conferences as there's no need to fumble with endless codes. With Cisco WebEx,you enjoy more productive and fruitful meetings with fewer disruptions. The platform comes with a built-in intelligence to detect background noises like passing vehicles and barking dogs.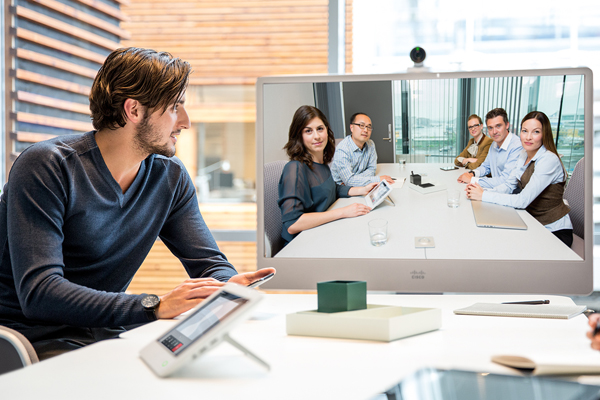 6. Adobe Connect
If you are looking for a feature-rich platform,Adobe Connect is your best option. This platform for virtual events comes equipped with features such as video sharing,webcam capabilities and a simple way to make course materials. This virtual events platform is user-friendly,somewhat modular and super-easy to download files. Recording and screen sharing is done easily. The call quality is crystal-clear and speakers are well understood. The best thing about this platform is that its ramp-up time is longer than that of most of its competitors. Besides that,it also integrates smoothly with all Adobe products.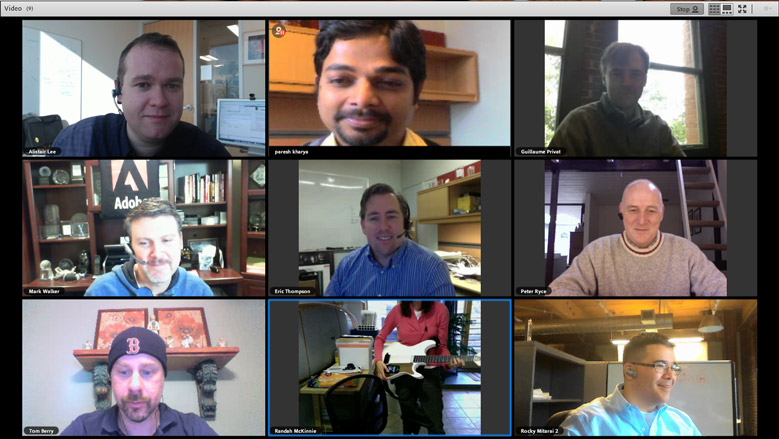 There you go! The five best virtual event platforms that you need to consider. With these platforms,any company can lower the cost of meetings by eliminating the costs associated with travelling. Before you settle on any of these platforms,though,be sure to identify all your business needs.