Business Benefits of Private Cloud
Without a qualified web hosting solution,a business will not achieve success in their online business endeavors. Fortunately,businesses now have a web hosting solution that is effective,flexible,and affordable. More businesses are moving to the Private Cloud.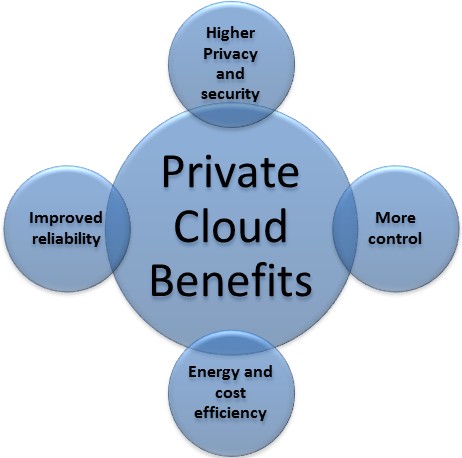 A Private Cloud is a computing platform that includes a private network,private server and storage hardware. The entire computing platform is dedicated exclusively to one client. Resources are allocated on an as-needed basis. Businesses of all sizes and types are migrating to this platform because of the web hosting solutions this innovative web hosting solution offers.
When a business moves to the private cloud,users can configure their cloud platform for their unique business needs. Also,users can customize and configure the cloud platform to meet their specific enterprise computing needs. As well,there is the reduction in the use of physical servers because of visualization that amounts to significant cost savings.
Another benefit of the private cloud is the cloud host will provide a team of expert technicians that manage all of the technical aspects of the cloud. Down time is reduced or eliminated ensuring high performance and high availability. Customers will always have access to the business's website. As well,dynamic scalability and flexibility greatly benefits business. Users can scale up and down as needed which enables the server to efficiently manage sudden spikes in traffic by migrating data and resources to another virtual server.
With the private cloud,in almost an instant a user will receive essential resources. The cloud server,bandwidth,memory,and storage space are constantly monitored by a specific piece of software which will detect when more resources are needed. Resources are automatically re-allocated when needed,and they can be turned off when no longer required.
The private cloud offers businesses complete protection. There is no need to worry about lost data due to efficient backup and disaster recovery technology. If one server fails,everything will migrate to another server,so there is no loss of data. Also,a business will satisfy SOX,HIPAA,and PCI compliance standards. The cloud host provider offers the latest security technologies. This ensures protection against worms,Trojans,viruses,unauthorized intrusions,DDoS attacks,and more.
The private cloud offers businesses significant cost savings. With it,resources are charged on a pay-per-use fee structure that is billed on a monthly basis. The payment structure is similar to how you pay your utility bill. You will not pay for more resources than you need which amounts to cost savings. The benefits of the private cloud and the business solutions it offers make it a popular choice for all types of enterprise.
In short,whether you are a small or large corporation,you will utilize cloud computing technology. Several larger corporations such as Amazon not to mention Google have got the vast majority of their IT resources within the cloud. Regardless your volume,it will save you on cost,potential,space plus time. If cloud computing might be a too tough for you to comprehend,be diligent or hire someone to aid you. You will be happy if you did visit this site (https://www.eztalks.com/).