How Can HR Benefit from Video Conferencing?
Online interviewing is a trend on the rise,and HR is constantly having to reinvent itself to keep up with modern technology trends. Tools like web and video conferencing have transformed the possibilities for traditional human resources activities such as interviews,onboarding,orientation,benefits presentations and more.
The new analysis was conducted by Redshift Research on behalf of Polycom,found that about 56 per cent of respondents indicated video would be their most preferred method of business communications,surpassing email at 49 per cent and voice conference calls at 32 per cent.
According to the related statistics,online job interviews have increased by 49% since 2011;66% of candidates prefer to use video during the interview process;6 in 10 HR managers use video to interview candidates; and up to 93% of communication is non-verbal,giving video interviews a significant advantage over traditional phone interviews.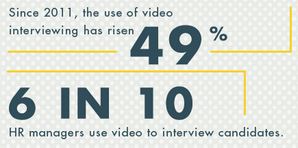 Proving that the benefits of video for HR functions are well understood,the survey of business decision makers in 12 countries revealed that almost all (98%) of the HR executives participating in the survey believe video conferencing removes distance barriers and improves productivity between teams in different cities and countries.
Video is becoming more pervasive for Human Resources teams across the globe. When asked to choose their preferred methods of business communication today,HR respondents ranked video conferencing as a top-three tool for communications,placing third (46%) after email (88%) and voice/conference calls (62%). Other methods of business communications these HR executives said they use included Web conferencing,instant messaging and social media.
Generally speaking,HR can benefit a lot from video conferencing,like job interviews,benefits communication and new hire orientation:
Job Interviews
Sometimes job interviews can be a lengthy process. Scheduling a time that works for everyone can potentially take days or even weeks. It's also important to consider the extra time and added cost of planning and paying for travel arrangements for a long-distance candidate.
Many companies don't have the time or resources it takes. With online meeting tools like ezTalks Meetings,you are still able to meet face-to-face with candidates no matter their location. Do you want to involve other decision makers that cannot make the scheduled time? All you have to do is record the meeting and others can playback the video when they are available. With virtual interviews,distance no longer matters.
Benefits Communication
Health fairs give employees the opportunity to learn more about various health benefits. Instead of using valuable resources to host multiple benefits fairs across the globe,HR departments can host one virtual health fair.
Not only will you save time and money,but the virtual fair will be more effective because more employees can attend. Various online meeting rooms can be dedicated to specific insurance plans and health topics that employees can join in as they see fit. This option makes it more convenient for employees who work in smaller offices or from home. For those who are unable to join the online meetings,they can later download fliers and other handouts at a more convenient time.
New Hire Orientation
New hire training and orientation can be overwhelming when you're trying to include employees from all over the world. But it doesn't have to be. ezTalks allows a large group of people to come together at one time,which helps create a sense of community. This feeling can help make a very good and strong first impression for employees new to a company.
ezTalks can also help save time by allowing larger groups into the online meeting. HR no longer has to spend extra time repeating the same information over and over again to different groups. This frees up their time to do other things. Do you have employees that work from home? No problem. They too can join an online meeting and not miss out on group activities because of their telecommuting status.