The Top 3 Alternatives to Hello Video Conference
It has been many years since the telecommunication technology evolves to make remote teams and partners getting closer and even for "face to face" conversations. The big names in this industry like Polycom has made great contributions to this improvement and already takes up a large market. However,more and more new players pour into this market and find the niches to deliver new ideas to move unified communication forward. Hello video conference,the powerful video communication device is one of the best examples. On the other side,it can not be avoided that there is some weakness in this renowned Hello device so we have listed the top 3 alternatives for our audience in the following article.
Part 1 Hello Video Conference

Hello is an all-in-one device that enables you to present ideas,collaborate and share thoughts with your remote team through video conferencing. This device is suitable for huddle rooms with 3-5 people using pre-installed communication apps. Users can have video conferencing,audio conferencing,group video chats and screen sharing features through this device. It is great because the all-in-one feature that allows you to set up quickly without any hassles. Hello was hot once on the crowdfunding platform and won many backers for that campaign according to hello video conferencing review. The feedbacks for this device are not as well as expected and leaves a lot to be improved. The screen often freezes during a meeting which causes the interruption of conferences. And some of the ports on the device are not matched with stated manuals. The software experience is satisfying neither because of the incompatibility between the hardware and software. These annoying issues make some users quit and try to find alternatives to Hello video conference.
Part 2 Three Alternatives to Hello Video Conference
Here are listed three alternatives to Hello Video Conference and the features of each solution are also described to offer the best options for our audience.
1. ezTalks Huddle Room Kit (Meet S + T-Voice 100)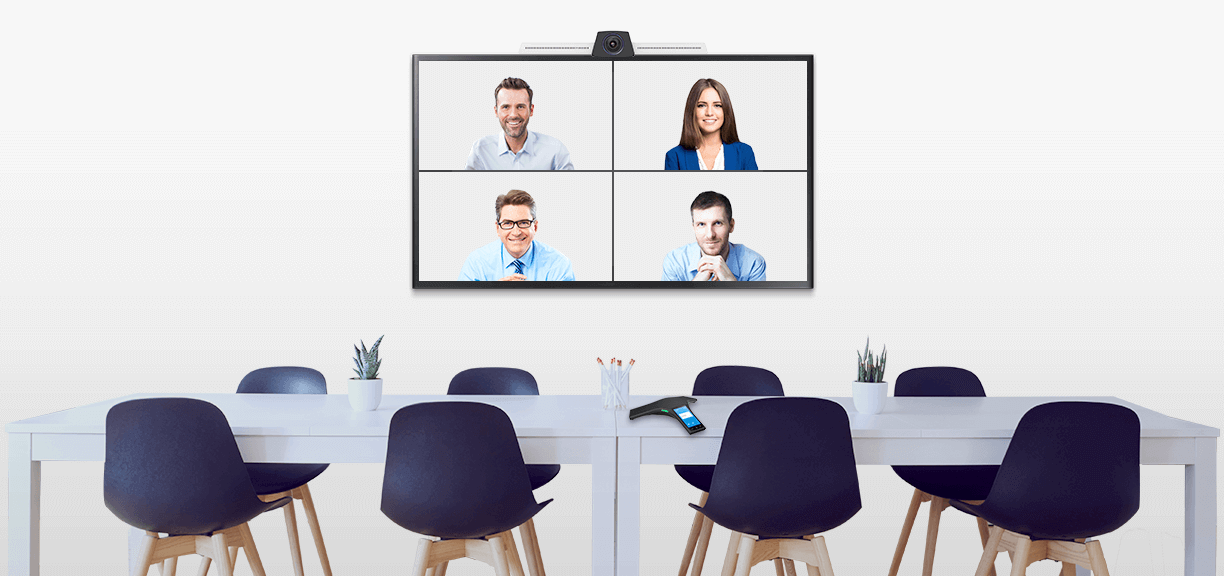 ezTalks Huddle Room Kit includes ezTalks Meet S (formerly named ezTalks Onion),the all-in-one video conferencing device and T-Voice 100,the smart conference speakerphone,together with ezTalks software to deliver the optimized conference experience for huddle rooms. It has the following features:
(1) Flexible to Install Your Favorite VC App
It is possilbe to make full use of your video conference software at hand like ezTalks,Skype for Business,Skype,Zoom,WebEx,GoToMeeting,BlueJeans,Lifesize,Google Hangouts,Facebook Messenger,Microsoft Teams,etc. You can expand and upgrade your conference room with both such a piece of powerful all-in-one equipment and your current vc software at hand flexibly within a few minutes!
(2) Quick to Set Up
The all-in-one design makes it easy to set up only in a few minutes and no need for instructions of professional technician anymore. This saves you time and makes your work efficient.
(3) Crisp Audio Experience
The T-Voice 100 captures voice from 360 degrees with 5 pick up range and thus provides the crystal clear voice experience for all the meeting participants.
(4) Collaborate from Anywhere
Users can share,present and send from any of your device including mobiles,desktops,and tablets with the software downloaded on the device at any time.
(5) Powerful Pre-installed Software
The pre-installed ezTalks software allows participants to enjoy rich functions like group/private video chats,remote screen sharing,instant messaging,recording and more to connect remote teams effortlessly.
Besides the above mentioned,the T-Voice can be used as a pure microphone or as the "controller + microphone" to maximize the meeting experience. It is the easiest way to equip your meeting room and also one of the best alternatives to hello video communication device.
2. Highfive Hardware
Another all-in-one device from Highfive is also listed as the alternative to Hello Video Conference because they fulfill similar functions for business teams.
The hardware is suitable for huddle rooms with 3-6 people and it is also easy to set up because of the all-in-one design. With this hardware,users can configure and join a meeting effortlessly to reduce IT headaches. Hignfive is in cooperation with Dolby so from this point of view,Highfive could deliver clearer and better voice for the participants. Users can chat,share and present using this hardware and its embedded Highfive software. It does not have compatibility issues but the workflow seems not stable. Participants may have to login for several times to continue the meeting and the sharing seems to lag in some cases. It is a good product but can be better if the stability can be maintained.
3. Cisco Spark
Cisco Spark is the small to medium-sized room kit for team collaboration which is integrated with microphone and camera as well as embedded software and can be controlled from any Cisco Spark app-enabled device. The hardware is optimized to run on a cloud platform and users can enjoy video conferencing,screen sharing and other collaboration for presentations,meetings and remote support.
Cisco is the big name in telecommunication industry and the video conferencing technology has developed for years with widespread global use. However the cost is too high compared to the above-mentioned products with the same meeting experience. It may not be cost-effective if you are in a start-up and the budget is limited. Anyway,it is worthy of recommendation to all of our audience.
Remote work is the future of every business and it is can't beat tendency to equip the collaborative tools and devices. Hello video conference is the easy but not perfect solution. With the above-mentioned alternatives to hello video conference,our audience will have more options to choose from and try any of these to figure out the best device or tools to empower team collaboration.