Future of Online Education
Education, particularly higher education, is transforming in a big way today. It is embracing the digital growth and now information sharing and collaboration has become much easier, all thanks to the computers, smartphones, and tablets. Now students and teachers get to interact with each other online, teaching and problem solving is also done online, and this certainly proves to be very beneficial for the students. When we compare online education and traditional education, we will find that online education is becoming a trend.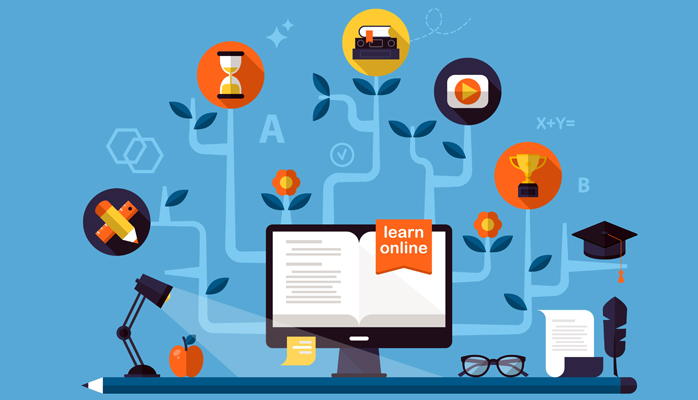 Reasons Why Online Learning Is the Future of Education:
Owing to the rise in the cost of living, students now prefer to also earn while still continuing with their education. However, a usual school or college has normal working hours, and if you choose the same you will have to attend classes during those fixed hours. But an online school is different. It allows you to choose the hours you wish to study at. You may study during the day or at night just as it suits you. This thus gives you the freedom to continue with your job and your education at the same time. Especially the revolution of free online education have saved lots of money for people who have no enough budget for study. 
You may not have a good institution in your city, and thus to pursue your chosen course you will have to move to another city. This will require you to bear the costs of the institution, hostel fees, and other expenses. All this can prove to be very expensive, and together with it will also be the daily conveyance charges. If, however, you opt for online education, you can get enrolled in any online school of your choice, and continue your education while still staying in your city. Not only your city, you will be completing your course from your home itself, and thus save conveyance charges as well.
The future of online education is also strong because there are many institutions that offer you a degree on completion of a course that holds almost a similar value to the degree you would earn in a traditional school. So, once you complete your online course you are likely to get your dream job easily.
What Is the Future of Online Education?
The future of online education is strong indeed and there are many changes you are likely to see.
1. Improved Consistency
As more and more individuals seek online education, there is a growing need to follow a universal standard of quality. Presently, online programs do follow some standards, but the level of academic quality and strictness differ from instructor to instructor or school to school. But, consistency is what every student seeks, and this is what the future of online education will allow them to enjoy.
As per new researches, online education can prove to be as effective if not more than the brick-and-mortar schools. In fact, a certain study showed that students studying in online institutions performed better than those who were a part of the traditional schools. So, to help improve things further, online schools are trying to employ tools that will bring in more consistency.
2. Quality of Content or Course
The next thing that will get attention in the future is the content and course quality, which of course is of utmost importance. Scopes for improvement are there, but what kind of improvement can be expected? The system will be such that will create content for each student keeping in mind their abilities, and techniques will then be used to drive achievement. Online learning will challenge the students and let them progress at their own pace, resulting in better academic satisfaction and more success.
Students will be evaluated in a number of areas like answer confidence, grades, task, time, satisfaction, and information retention, and then a plan will be formulated for them. The old style wherein one course would fit all will no longer be followed. The new method will allow the instructors to evaluate the progress of each student and then optimize their course in a way that would prove more beneficial for them. This will always help improve the quality of the program and course content.
3. the Instructor
It is an instructor who has the biggest role in determining the success of the students. However, most professionals feel that the future of online education will make their role narrower as technology will have a greater role to play. The fact is that technology never can completely replace an instructor, even in online schools. Improvement in technology will only offer the instructors better way to teach their students which will ultimately prove beneficial for the teacher as well as the students.
With the growth in online education, the requirement of tech-savvy instructors can certainly increase. These instructors will be required to use technology as much as is possible to change the way the students are taught and to benefit the students in the best possible way.
4. Better Way of Teaching
Teacher-to-teacher and student-to-student collaboration tools are already being used and they have indeed made a big impact on online education. Various tools like ezTalks video conferencing software, blogs, wikis, user-generated content, and social networking is changing the way online institutions are teaching students. The changes include students collaborating online to complete group projects, professors teaching in various mediums, eBooks replacing printed textbooks, and so on.
Most systems are already offering different types of video conferencing tools, and this is helping students enjoy new opportunities in a more flexible and accessible environment. The learning system will eventually transform from an educational platform to an environment that actually helps students grow, and will prove immensely beneficial for the students in the long run.
The future of education is online, and it indeed is a bright future. More and more number of institutions will start emerging, and the kind of education they provide will help create a brighter future for the students. So, if you too plan to continue your education, online institutions will prove to be your best bet. However, just make sure to choose an institution wisely. Opt for one that is well-known, offers the kind of course you are interested in, and offers a degree that will be accepted by the employers you wish to join. If all these seem to be okay, your future, together with the future of online education is indeed very right.