5 Disadvantages of Online Education
So many people have embraced online education . Because there are many benefits of online education associated with it. While everyone is buzzing about this trend, nobody seems to be giving a thought about the possible disadvantages of online education. It is a great alternative to the traditional form of education but is it really providing the same quality and skills? How is studying online more challenging than sitting in a classroom? These are serious concerns that you need to take into consideration before you decide to study for your diploma or degree online. Here are 5 disadvantages of online education: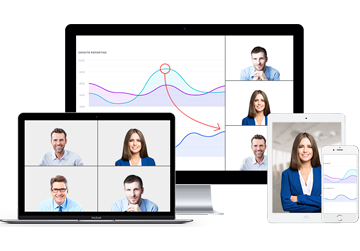 Easy & Free Online Education Tools
Free for Up to 100 Participants
One Click to Join In
HD Video & Audio
Screen Sharing & Whiteboard
Recording & Playback
SIGN UP NOW
1. Online Education Requires Immense Self-discipline
In the traditional form of education, there's usually a set of guidelines and rules that all students are bound to follow. This is a crucial aspect as it gives students a sense of purpose and the discipline to stick to it. They, therefore, mostly end up covering lots of the tasks and assignments delegated to them. When it comes to online education the story is different. Here the student has a lot of freedom to do whatever they want without worrying about a teacher or lecturer showing up. This sort of freedom can quickly ruin a student's focus. Online courses come with strict deadlines on submission of assignments and tasks. If you cannot manage your time well to balance your life priorities and study times, then you are bound to fail. It is, therefore, up to you to ensure that you are disciplined enough not to procrastinate or lag behind as you could easily find yourself dropping out.
2. Lack of Direct Interaction with Your Teacher
There has been an argument that online education creates a monolog instead of dialogue form of learning. This is a vital concern because the importance of direct interaction between a student and tutor cannot be overlooked. When you are learning from a teacher in front of you, they can monitor your body language to ensure you remain focused; they can tell when something is distracting you, when you haven't grasped a topic or when you are not interested in a particular subject. None of this is possible when you are learning online. Moreover, physical teachers can spur the interests of students using that direct contact to keep them motivated. Online education barely provides that opportunity, and this is a huge challenge.
3. Lack of Company from Other Students
The importance of the company of students that one interacts with during his/her studies is hugely underrated. These are the people who can help to boost your interests towards pursuing particular subjects. It's also from such classmates where the flame of competition can light up within you motivating you to work harder so as to make a good name for yourself. Furthermore, it is such a company that you can get good friends who can be of significant help in building your future career. Therefore, when you decide to take online courses, then it means that you will be studying in isolation with no one to brainstorm with. If you choose to look for individuals doing similar online courses, then it means you will be spending, even more, time on the internet which can get tedious.
Learning institutions offering online education realize that they cannot effectively monitor the day to day activities of their students. This is a massive challenge as it risks putting to question the quality of education they are offering. To solve this problem, they end up giving more tasks and assignment to their students. In most cases, these tasks are so many surpassing the workload typical in traditional education. You will end up spending more time reading and writing papers. This workload problem gets bigger if you lack self-discipline and enough commitment.
5. The Online Learning Institution Might Not be Accredited
Cases of individuals having graduated from online schools only to realize that they are not accredited are not rare. There are lots of scams online which pretend to be offering courses, yet they are not licensed. This is why even in job interviews they scrutinize online degrees and the institutions where they come from more strictly before you are considered for a position. To save yourself from this kind of problem you have to conduct a thorough research to determine whether the institution is accredited before you further commit yourself.
Everything has its up and downside, and online education is not any different. Some challenges, however, can easily be solved by tools such as  ezTalks Meetings which can significantly boost your online education experience. This is a platform that can help to bridge the gap between a student and the tutor ensuring that monitoring and consultations can be conducted easily. With such a tool and if well conducted, online education is undoubtedly very beneficial.