How to Share Desktop over Internet for Free
It is well known that effective communication is at the heart of any business progress and expansion. Although face to face communications always result in a better illustration and understanding of a point, there are some cases where it is just too expensive or impractical. For instance, travelling miles for a business meeting is something that most businessmen do and in fact accounts for up to 15% of all the commuting trips made.
With a piece of desktop sharing software, online business meetings can be attended from anywhere in the world and there are no impeaches to privacy or confidentiality of the meeting. There are several software applications in the market that can allow you to share desktop over Internet and organize free web conferences, but what can this benefit a business?
Why Share Desktop in Business?
As aforementioned, businesses require effective and efficient communication channels that allow swift information sharing. Video conferencing, emailing and video calls have their unique advantages. However, the ability to share desktop over Internet free of charge simply takes communication to another level. The benefits of desktop sharing for a business are quite obvious and straight forward. They include the following:
Swift secure communications
Cost effective (saves the travel and commuting expenses
Efficiency (allows you to illustrate your communication by using graphs and charts
Enable to remote access and control to connected desktops
Essentially, free share desktop over Internet involves sharing the current desktop session between computers that are linked. With software packages like ezTalks Meetings, this can be done over the Internet free of charge. With this possibility, business can achieve real time collaboration among different departments and colleagues through online communication by sharing the same desktop content (images, articles, charts, reports…).
Desktop sharing over Internet also enables web conferencing and online presentation. The one presenting simply invites others to join and view the same screen as they are taken through the presentation just like a lecture. This can facilitate employee training and online support since everyone invited to join the meeting can view in on the same screen. Remote access and control takes it a notch further and it's more like having different heads by using the same computer to facilitate a process or finish a task.
Most desktop sharing options offer secure encryptions, making them safe for the confidential nature of businesses. They are also very reliable as all you need is Internet connectivity. What's more, businesses can share desktop over Internet freely by using free software applications like ezTalks.
How to Share Desktop over Internet with ezTalks Meetings
Ever since the inception of ezTalks Meetings, more businesses have jumped at the opportunity to freely share desktop over Internet free of charge. ezTalks Meetings is definitely the leading provider of online video conferencing in the world. It can be used from anywhere in the world and comes integrated with features like HD video conferencing, screen and online whiteboard sharing, audio conferencing and remote control among others. The platform is built to meet the needs of various industries and facilitates activities like online meeting, training/teaching, webinars and video presentation.
It is quite simple to achieve this feat, only involving three main steps. Firstly, you need to sign up for a free ezTalks account. Simply visit the official site and sign up for an account by using your email address or Facebook account. Once you have an account, download the free ezTalks app and install it on your PC. The last step is to run your app and start making those free web communications and meetings. Sharing desktop over Internet for free involves the following simple steps.
1. Download and Installation
Already explained above, download the ezTalks app on your PC or mobile phone and then sign up by using your email address, Facebook or Google account. Install the app to open the main window.
2. Host an Online Meeting
When you are able to access the main window, click the "Start a Meeting" icon/tab to bring you to the personalized meeting room. You can now invite people to the meeting by sending an email invitation or the meeting room ID.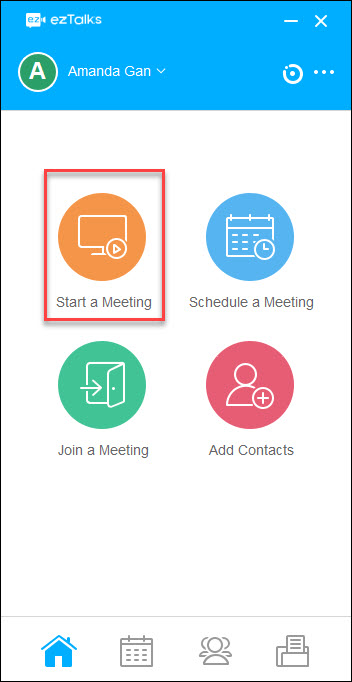 3. Desktop Sharing
Once everyone has joined your meeting, click on "Share" on the bottom of the meeting room window. Two options will be given: share desktop and share whiteboard. Click on "Share Desktop" and voila! You are ready to go. All the participants will be able to view your current screen session.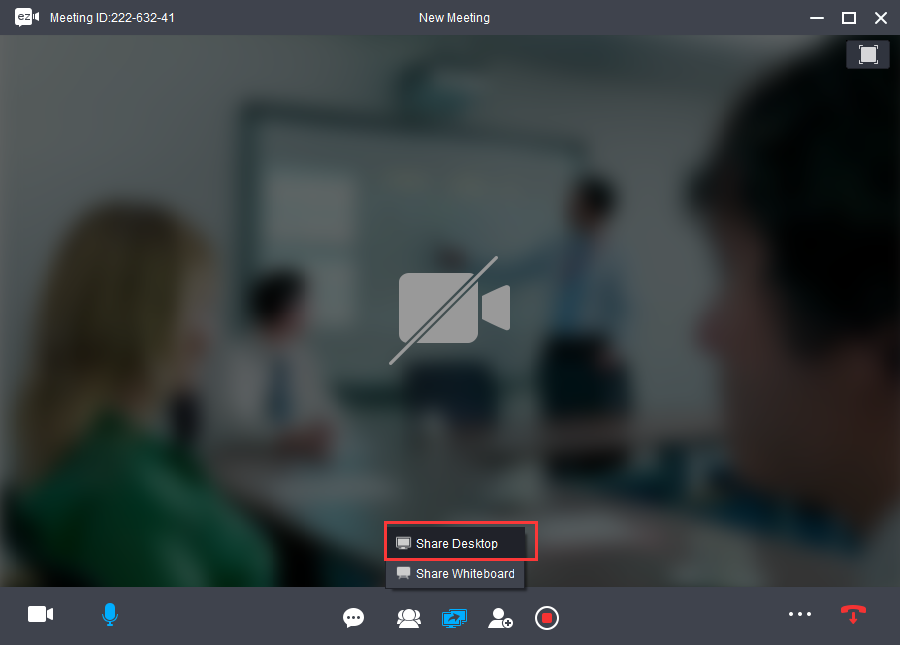 4. Sharing Interactive Whiteboard
You can also share whiteboard and use the interesting features like muting if you want to focus on other things without hearing the audio from a meeting. Whiteboard also helps you during presentations as it allows screen annotations.
Summary
ezTalks Meetings has really made it effortless to share desktop over Internet free of charge and this availability does a lot towards enhancing the efficiency of business communication. Not many free share desktop over internet offers can emulate what you achieve with ezTalks Meetings. You can pause or stop a meeting, eliminate people, make annotations for presentation, use charts and graphs, host video conferences and join various meetings at the same time. This level of inter-computer remote access over the Internet can save a business a lot of money in terms of business meeting facilitation and calls. Emergency meetings can be called at any time and you do not have to be physically present. Moreover, it is absolutely free. All you incur is the cost of data bundles used for Internet connectivity.