The Best Video Conferencing Etiquette You Should Follow
Business meetings are conducted more often to achieve a specific goal, and in the past, most of these meetings have been done face-to-face within the premise of the organization. However, in this modern era, employees work from home, and business partners are hundreds of thousands away from the organization's head office. Besides that, the internet has brought about the issue of having a global market, where you sell your products to customers outside your continent. Therefore, the luxury of meeting all the stakeholders in person is no longer feasible. Hence, the need for remote communication tools that supports video and audio chat.
With the advent of remote communication technologies, virtual meetings have become a lot easier and efficient. But despite its unique contribution in simplifying business operation, many individuals and organizations alike make major mistakes during a video conference. The result is wasted time, incorrect information, frustration, and of course, losing the attention of your audience. Video conferencing etiquette sets some of the rules, tricks, tips, do's and don'ts for effective remote communication. In the subsequent segment, we look at the vital etiquettes that every remote meeting participant should know.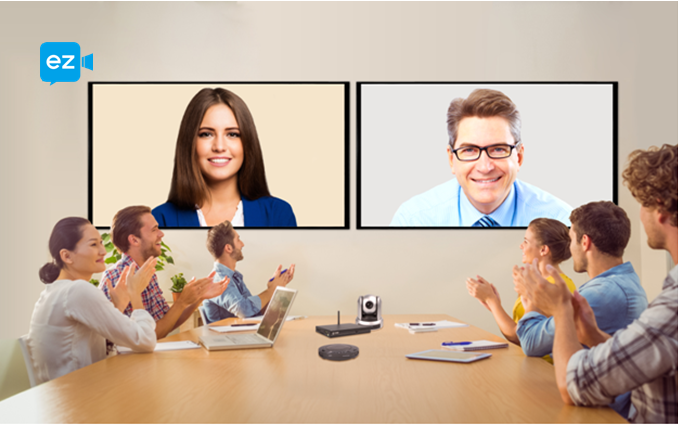 Part 1: Outstanding video conferencing etiquette practices
Be prepared for the meeting
The most important video conferencing etiquette is to be fully prepared for the meeting. You need to look clean and of course, well groomed. Ensure you have a drink of water to clear your throat. Sit up straight right on the camera and put a smile on your face.
Ensure your desk is clean
It might seem something obvious, but having a clean communication room and equipment is one of the video conference best practices. Ensure there's nothing between you and the webcam that is disorganized or messy. Remember if there are dirty things behind you, the attention of your participants might be altered a little bit.
Set up your background
Ensure you close the curtains or blind if you've a sunny window directly on your back. If some people are working on the background, then you can move to a silent room with no distractions.
Have the meeting agendas in advance
Another essential practice for effective video conferencing is to attend the meeting when you perfectly understand the theme of discussions. If you're the one organizing the virtual meeting, then you need to ensure that all the participants know about the same well in advance. It is a good practice to send at least two reminders: one, a day before and the other, an hour before the start of the meeting.
Part 2: Video conferencing do's and don'ts
Do be courteous to other attendees
Be logged into your computer ready for the meeting a few minutes before the scheduled time. Start off by introducing yourself before speaking so that all the participants know you and can proceed to address you by your name.
Do keep your body movements as minimal as possible
If you are the kind of a person who talks with plenty of body movements, then it is important to minimize them. As we all know, most people are fond of hand, head, and jerky movements, but in a video conferencing, such motions can distract your audience.
Do make the entire process fun
Being yourself during such meetings is important. Always relax and try to have fun. Engage your audience as much as possible; perhaps you break the silence with a cracking joke that makes them laugh and so on. Remember, the more jokes you interject, and the more your audience will pay attention and stay focused in what you are delivering.
Do speak seamlessly clear
Before the virtual meeting starts, it is imperative that you check the audio and other connected equipment to ensure your audience hears you clearly. When speaking, make sure it comes out natural and each word is pronounced correctly.
Don't shout
It comes a time when your audience cannot hear you well. In this case, you should avoid yelling, and instead try adjusting the sound level of your microphone. Shouting may cause your viewers to turn down their sound volumes and perhaps to miss what you have to deliver.
Don't interrupt other presenters
If you want to add on something or need more clarification from the speaker, then follow the right procedure. That is, raise up your hand or any other rules you may have devised for such interruptions, and you will be given the opportunity to say what you wanted to put across. However, cutting down other speakers sounds rude and unprofessional.
Don't engage in other side conversations
Just like when in a face-to-face meeting, you do not participate in side conversations. Similarly, in a video conference meeting, you should refrain from turning out of the current conversation to talk with other people outside the meeting, perhaps to send a text message or pick a phone call. Such practices jeopardize the effectiveness of virtual communication.
Part 3: Tips for effective video conferencing
There are endless video conference tips and tricks, but here below are some of them:
Assemble all the necessary equipment before the scheduled time; so you will enough time to test the system and perhaps resolve any challenges before the meeting starts.
Choose the right platform, and one of the best video conferencing solutions is ezTalks Meetings app. This is a professional video conferencing software that allows you to host online meetings with others at any time, from anywhere.
If you are conducting online presentation, then pre-check your documents and ensure they are in the right form.
Show some enthusiasm. It is very important that all the attendees are passionate and engaged in the conference.
Give out enough time for questions and answers. This is a very important session during an effective video conferencing.
At the end of the meeting, always say goodbye and ensure to send a follow-up email summarizing the action items discussed.
Conclusion
Putting up a video conference is sometimes a daunting task, but it always pays many dividends if it is done right. The only way to do it right is by practicing proper video conferencing etiquette, some which have been discussed above. By and large, if rules, practices, and tips mentioned in this article are followed to the latter, then expect to your next video conference will be a success.