How to Set up a Webinar for Free?
It's no wonder many people are searching for how to make a webinar for free. Webinars are essentially online seminars, which are an effective way to impart know-how while building trust and loyalty with the audience. By seeing and hearing you rather than reading anonymous sounding text on a screen, viewers are more likely to build a relationship with you and continue to follow your work. Webinars are the closest technology for you to enjoy a face-to-face video collaboration experience with your audience. As a great way to stand out amongst the others in the marketplace, it's also the future of content marketing.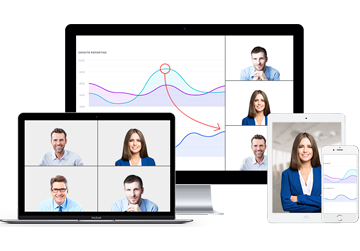 ezTalks - Best Webinar Software
Free for up to 100 Participants
Fluent Group Video/Audio/IM Chat
Screen Sharing and Whiteboard
Webinar Cloud Recording
Webinar Custom Branding
Sign Up Free Now
Where Webinars Fit In?
Webinars are simple how-tos that help millions of people with their daily lives. People use them to stay productive, learn professional skills or consolidate old ones, and better themselves. They all go to the Internet to do so. Free online webinar software is one of the best ways to meet your audience where they already are: online.
But finding the best free online webinar platform or learning how to set up a webinar free for users are often trickier than many of the entrepreneurial-minded would imagine. Plans and platforms get confusing and it is often hard to know if you're reaching the right target people. Beyond that, it is not always easy to know how to write a script, craft engaging content, and growing a loyal following along the way.
Best Free Online Webinar Service
Fortunately, webinars don't have to be costly or confusing to create and maintain. ezTalks Webinar may provide the best free online webinar service available on the market.
# Easy Accessibility
You can start producing content right away using its free plan. It only takes a few minutes to create an account and get to your viewers. Also, ezTalks webinar is accessible on both mobile and desktop devices, and across multiple operating systems such as Android, iOS, Mac, and Windows.
# Robust Free Features
Other webinar services do offer free plans but these are usually limited. However, ezTalks allows you to host a free webinar with 100-minutes duration and up to 100 interactive video participants without spending a cent. There are also great tools available beyond simple hosting: you can utilize online screen sharing tools with your audience, or use a collaborative whiteboard to help markup, annotate, and better explain as you go along.
# Flexibility
It can't be the best free online webinar service without an ease of use. This platform allows users to schedule, record, edit, and upload webinars so you can be as prepared as you need to be. In this way, you can better manage your schedule as well as the expectations of your participants, and reach the goal every time.
How to Set up a Webinar for Free?
Download the ezTalks Webinar Application
You can find this on their official website, and it's relatively quick and easy to download and install on various devices. If you prefer to use a mobile device that supports iOS and Android, you can find the application in the App or Play Stores, respectively.
Sign Up for the Free Plan
Once you download the application, you will be asked to create an account and sign up. ezTalks has Google and Facebook integrations for the ease of use. You'll receive an email for requesting verification, just click on the link provided and your account will automatically be verified.
Craft Your Message
It's easier said than done, but ezTalks has a lot of great free resources about developing your script and crafting engaging content. You can read up on their website to help you plan how webinars will fit into your larger content marketing strategy. There is also a lot of content available on the website; guides that help you write scripts, figure out what people want to hear about, and how to maintain and grow your audience. It is always better to be prepared and leave a great first impression. Take advantage of the free tips and tools of experienced webinar masters to break up big ideas into smaller messages vividly and clearly so that you can bring the greatest value to your audience.
Build Your Audience
Once you know what you're going to say, figure out your invite list. Ideally, you've been designing messages with this audience in mind, but now it's time to specifically collect and list the email addresses of people you will be addressing. Keep in mind you can reach up to 100 people on the free plan and make sure to add all your contacts into the application. It's easy to invite the audience by sharing links, email notification, webinar ID and so on.
Check Your Microphone and Camera
You definitely want to do this first, rather than risk any surprise once you're operating live webinar. Make sure you look good and can be heard clearly, and that there isn't any distracting noise or visual in the background. You want to be well-lit and approachable, as the aim here is to build trust and relationships.
Start Recording
Once you're ready, just start a webinar or schedule one in the ezTalks application. Once you do, you can invite your audience to come and view. Webinars allow view-only attendees, but they are able to interact via instant messaging chat. Moreover, you can make some participants as the panelist, which can interact via video/audio, screen sharing & whiteboard via the ezTalks webinar app.
Conclusion
Setting up a webinar for free is not complicated. Following the aboved tips and basic best free webinar hosting services instructions will ensure that you can start a quality webinar successfully.