What Is Video Conferencing?-Definition and How It Works
When you come across a new industry like video conferencing,the first thing you might be interested in is the meaning of video conferencing and how it works. This article here will explain video conferencing to you in three parts,namely,video conferencing meaning,how it works and the categories of video conferencing.
Part 1: What Is Video Conferencing?
Part 2: How Does Video Conferencing Work?
Part 3: What Are Categories of Video Conferencing?
Part 1. What Is Video Conferencing?
According to the explanation from Wikipedia,video conferencing refers to the conduct of a video conference (also called a videoconference or videoteleconference) between two or more people distributed geographically through the Internet network to transmit audio and video data for the purpose of communication and collaboration in real time.From the above videoconference definition,we can know that video conferencing includes point-to-point and multipoint videoconferencing systems. Point-to-point refers to a direct connection between two participants. It works much like a video telephone call. Each participant needs a video conferencing software,a computer with webcam and microphone speaker equipped,and a fast Internet connection.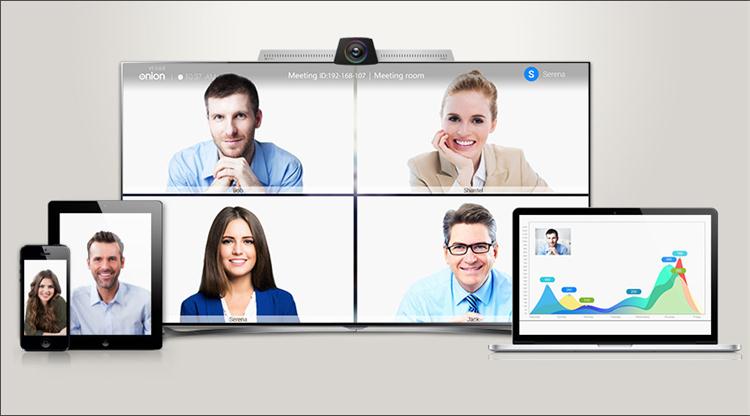 Multipoint allows three or more locations to be involved in the same virtual video meeting at the same time,just as if they were talking to each other face to face. Similarly,each party in different locations also needs a set of video conferencing equipment,so that a video conference can be conducted through the Internet.
Part 2. How Does Video Conferencing Work?
It is a difficult task to explain how video conferencing works. Here we try to interpret it in a simple way. As you may know,video conferencing system consists of endpoints (including main peripheral equipment for endpoints,such as cameras,microphones and other A/V processing equipment),MCU (multipoint control unit,equals to a server) and network connection.
Before you commence an online video meeting,you need to install a video conferencing software like ezTalks Meetings first. Now you're sitting in front of a computer and start running the software. When you talk to the screen before you,your voice and image are going into the software in analog form. The server will transform it to the digital form when accepting the message you sent through the software,and then transforms it back in analog form to the receiving end. This is the situation for point-to-point video call.
For multipoint video conference,it will be much more complicated. With the help of scalable video coding technology,the server can send each participant a set of video streams,so that every receiving ends in different locations can receive the optimized voices and images.
Part 3. What Are Categories of Video Conferencing?
Video conferencing can be divided into three categories,that is to say,hardware-based video conferencing,software-based video conferencing and hybrid one. In the past,many player are offering hardware-based video conferencing solutions which is extraordinary expensive and hard to deployed. American Polycom,Tandberg in Norway,Israel VCON and Huawei,ZTE in China are such representatives. Now,the industry has shifted to the software-based video conferencing solutions,with key players in the video conferencing market including Cisco,Lifesize,Zoom,ezTalks and Vidyo,etc. Of course,there are also enterprises who offers hybrid video conferencing solutions.
In this article,we go over the definition of video conferencing,how it works and the categories of it. With the rapid development of technologies,the increasing powerful features and low cost make video conferencing possible to be utilized by organizations of all size. More and more businesses are willing to use this practical collaborative tool because of its abundant benefits. So,what are video conferencing advantages and disadvantages? You could get the answers at ezTalks.