How to Make Webinars More Engaging and Interesting?
A webinar is simply a web-based seminar, lecture, or meeting held on a facilitating online platform. Webinars can be hosted from virtually anywhere and at any time. The online webinar tools allow you to add and invite your team of attendees to a conference or meeting. Engaging webinars are more interesting and effective in communicating with the audience. Unfortunately, most amateur webinar makers make the mistake of organizing their webinars in a speech format where they only deliver information in a lecture-like manner without caring about the active engagement of the attendees. People learn by interaction and action, not just through listening. Therefore, it is important to make your webinars more interactive so as to engage and capture the interest and appeal of your attendees.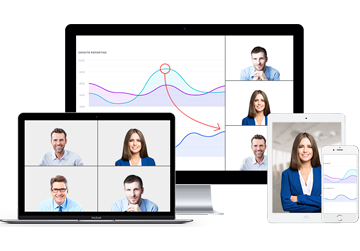 ezTalks - Best Webinar Tool
Free for up to 100 Participants
Fluent Group Video/Audio/IM Chat
Screen Sharing and Whiteboard
Webinar Cloud Recording
Webinar Custom Branding
Sign Up Free Now
Here is a list of insights on how to make your webinars more engaging: 
1. Create an animation or simulation to make engaging webinars
Graphics and other diagrammatic aids can help you considerably in the explanation of complex ideas. It is prudent to take your time in developing animation and simulation content, which can properly illustrate complex or vague ideas. This enhancement makes your content more beneficial to your attendees because they are able to learn from it because of its engaging and illustrative nature. Ideally, don't go for simple PowerPoint animations. Instead, try different software and sites, which allow you to develop animations as an amateur or novice animator. If you are unable to develop simulations for your webinar you could outsource this task to online freelancers on online freelance platforms. These freelancers are highly skilled and they can break down your processes and ideas into a meaningful simulation.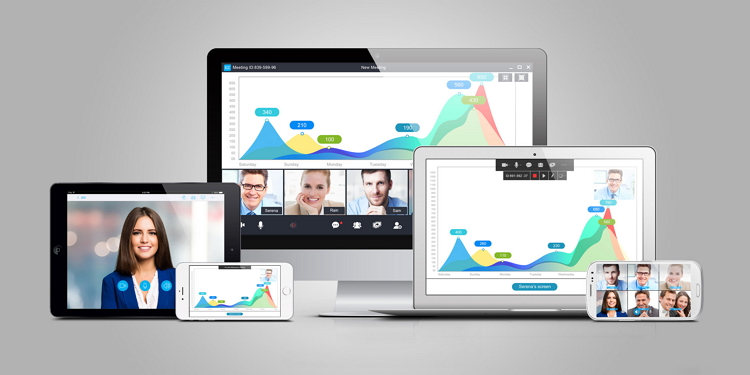 2. Create some element of spontaneity in your webinar
Perhaps one of the best ways to improve spontaneity is by conducting instant polling and surveying among your audience. You can generate interest in controversial or important topics by going a step further and creating an interesting poll based on compelling and thought-provoking questions. The captivating thing about this approach is that you can display instant tabulated results on the screens used by your attendees. The screen sharing feature on the ezTalks webinar and conferencing platform allows easy sharing of such content. You could use various online polling platforms, which facilitate the creation of surveys such as ezTalks webinar survey tools, Survey-Monkey, Poll-Everywhere, and Maestro-Conference. However, you should ask relevant and value-adding questions that resonate with your attendees so as to remain relevant and attract more interest and engagement.
3. Use live videos for your employee engagement webinar for a wow effect
Unfortunately, few webinar presenters often use videos, and most of the presenters that use videos rarely use live videos or pay attention to how the embedded video enhances their webinar presentation. The HD video/audio collaborative tools on ezTalks webinar are ideal for such a purpose. However, it isn't enough to just get a video off the web to use as part of your webinar content. The use of live videos such as those captured on Periscope or Facebook Live has been found to improve audience engagement because attendees anticipate a new turn of real-life events. This happens because they know that the video is live and not just some old content, which they may have even watched. Some of the best strategies that you can use in this regard include live streaming of a live performance or an important event related to your webinar. The events you select may include product launches or promotional campaigns among many others.
4. Start a breakout panel discussion
In most cases, some webinars often feel like a lonely engagement just between one attendee and the presenter. This is common in webinars, which don't foster lots of audience interaction. The perfect way to develop a spirited and lively webinar is by introducing a discussion panel consisting of specialists and sometimes a few members of the audience. You could also invite an attendee to get on camera with you and give them a chance to ask questions and make suggestions. This gets you thinking on your feet and responding to live and emerging issues. The ability to engage more than one speaker allows the issue under highlight to be reviewed from varying perspectives that complement or differ. This enriches your presented content. Such engagement attracts more attendees who are seeking a varied opinion on a specific issue of concern, and they are likely to be more attentive as they analyze the content presented by each member of the panel. You could also improve the engagement by leveraging on additional tools such as virtual Q&A's, webcams, or group chats linked to the host or panel.
5. Create a sense of intrigue by using gamification
The inclusion of gamification as part of the audience engagement techniques is a trending and more and more popular webinar enhancement approach compared to other engagement present ideas. This process uses the addictive and fun elements inherent in gaming, but in this case, they are used in a non-gaming context to improve audience engagement. Gamification techniques can be applied to many elements of your webinar. For instance, you can introduce levels, badges, and points and the individual attendees can acquire points, badges, and level upgrades as they engage in different activities. In the end, the highest badge or point-earner can get a prize. Quizzes and puzzles whose content focuses on your presentation can also be another way to engage your attendees and ensure that they stay focused on what you present. Setting aside rewards for the highest scorers on these puzzles and quizzes could be the only way to foster some interest and attentiveness, which improves overall engagement. 
6. Include some chat
A number of technological platforms, which facilitate webinar hosting such as ezTalks webinar have a chat feature that allows you to engage your audience in general chats as well as group-structured chats. These chat sessions are interactive in nature and they allow your audience to share their perspectives on ideas. Webinars become more engaging if attendees cease to be mere listeners and get a chance to air their opinions, ideas, and experiences relating to the presented content.
Bottom line
The old manner of presenting your webinars where you deliver your speech and the attendees listen has become ineffective. The audience easily switches off because of a dull presentation. As such, you need to improvise and be creative to stay ahead of the perk. The best way to do this is by including activities to engage audience and capture their appeal to retain their interest in your presentation. Webinar presentation tools such as live chats, screen-sharing, and polls and survey features provided by various conferencing platforms such as ezTalks webinar help in enhancing audience engagement significantly.