Introducing 5 Best E-learning Tools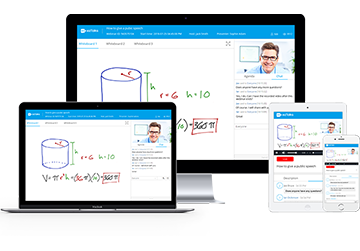 ezTalks- Best E-learning Tool
All-in-One E-learning Solutions
Fluent HD Video/Audio & IM Chat
Screen Sharing and Whiteboard
Rebranding and Reporting
Recording Courses and Online Playback
Sign Up Free Now
In virtually, organizations and businesses across the globe are coming to the realization that through the implementation of digital strategies; they can significantly save time and money. The same happens for e-learning arena. While conventional teaching is majorly based either in or out of typical classrooms, e-learning uses various technological platforms such as the Internet and computers to ensure learning can take place anywhere at any time.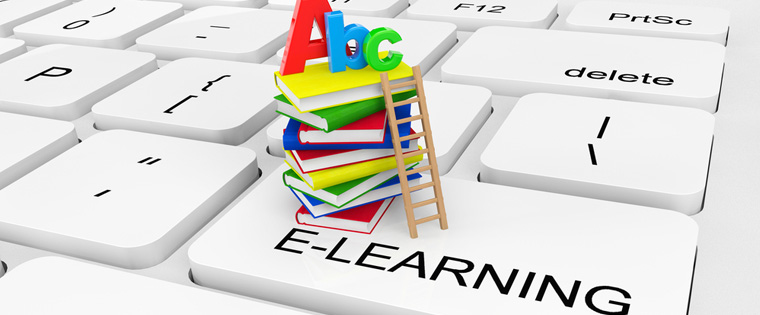 By using digital means, learning is simplified to just a tap! There are several available options with respect to eLearning tools, with each precisely designed to suit your learning needs. Here are 5 top elearning tools.
# 1 ezTalks Webinar
ezTalks Webinar is one of the unique tools that facilitate effective e-learning. As we know, e-learning has become a crucial technique of gaining knowledge and information across the globe. ezTalks Webinar with a series of useful features comes to cater to this trend, which drives you to deliver wonderful presentations.

★ Multiple Choices
Now you can choose to conduct live streaming courses via YouTube and Facebook Live to boost more leads, automated courses to present the pre-recorded perfect ones at a scheduled time, on-demand courses to help viewers reach the recordings whenever they want, and paid courses to monetize the presenters' expertise.
★ Free & Smooth Communication
Aside from allowing the user to host online training courses that comprise 25 participants at no cost, it offers a smooth audio and HD video coverage that allows simultaneous and quality learning for every present member.
★ Friendly Compatibility
It is one of best electronic learning tools that can be compatible with Windows, Mac, iOS and Android. That means, you can flexibly achieve online education on the desktop or mobile device.
★ Easy Access for Learners
The learners who join the courses are not required to download the app or register but are rather required to key-in their names to enjoy the benefits.
★ Plenty of Useful Features
During the e-learning course, the trainer is able to share content on his individual screen and even draw concepts using the tool's online whiteboard feature. Finally, it also allows recording the course and lessons to allow members to view them online directly or download. Other features include rebranding, reporting, instant messaging and so on.
Totally, what ezTalks Webinar has can sparkle and enrich your every e-learning course!

# 2 Adobe Captivate (V9)
In the realms of business software and solutions, Adobe is ever at the forefront, a feat that extends to e-learning. Captivate is their newest attempt into penetrating the e-learning realms. V9 Captivate is available both for Mac and Windows computers and, provides a wide assortment of features. By using the responsive design and HTML functionality, the software allows you to build courses which run on Smartphones, PCs, and tablets.
It supports scalable HTML, mobile themes, and playbar and gives you the liberty to not only pause but resume work anytime you want. In addition, you are able to import storyboards off Captivate Draft-free on all iOS devices-, and also work effectively on PowerPoint-based projects. Finally, it retains all audio, text plus other functionalities.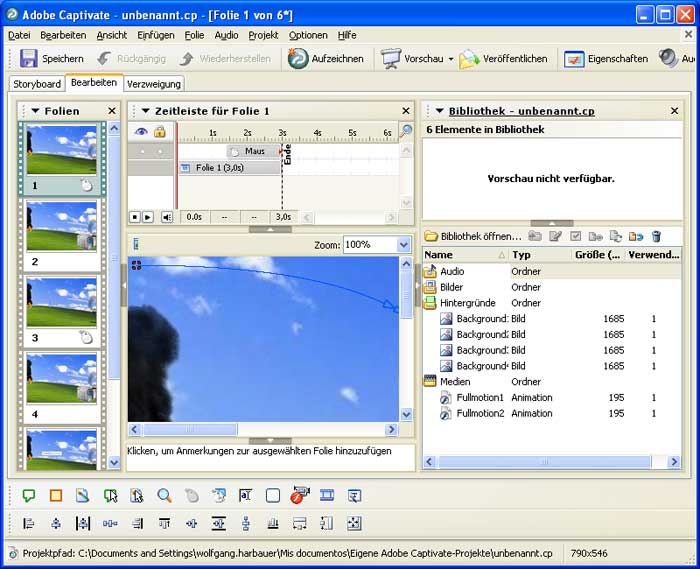 # 3 Articulate Storyline
While most of the e-learning tools come with responsive capacities with respect to catering for diverse screen sizes, Articulate Storyline is precisely designed for individuals that prioritize mobile learning. This tool allows you to establish visual and highly interactive courses for virtually all devices devoid of any tweaking. Simply click Publish and it automatically guarantees your course is completely mobile-ready.
Besides this, touch-screen gestures are supported by every course and its inbuilt player conceals sidebar menus to solely focus on your multimedia content. What's more, you need no technical experience to create a course. Instead, you are spoilt for choice from its collection of themes tailored for diverse applications.
It also has an image and text editor ensuring you polish everything prior to making your course public. And after you have made changes, each job is safely stored in the cloud. Amazingly, it also comes with an exclusive review system that allows educational experts to review your work. This system supports several languages like Chinese, French, Spanish, and German.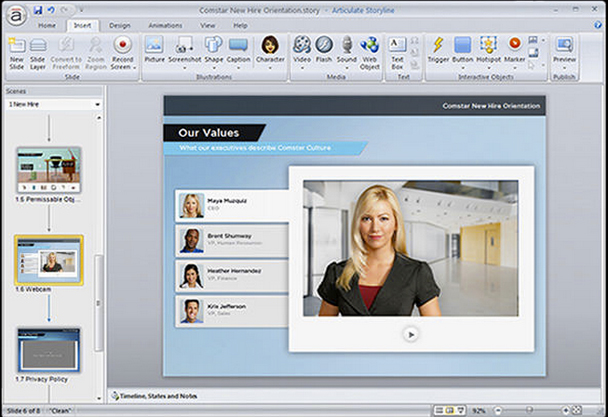 # 4 iSpring Suite 8.1
A powerful Power-Point-based e-learning tool, iSpring allows you to quickly create their courses. Similar to its competitors, it needs no special training rather than conversance with PowerPoint. It is a mobile app (free) that displays all content in full-screen besides allowing subsequent saving into the device. In addition to typical features, it offers unique features not offered by its competitors including:
• Dialogue simulation trainer allows training of a team.
• iSpring conversion technology drives PowerPoint authoring and also assists you in transferring all details of your exclusively original PPT to your course.
• Quiz Maker: for assignment creation.
Finally, it works seamlessly with all LMS and provides linked e-learning services (LMS) and online presentation sharing.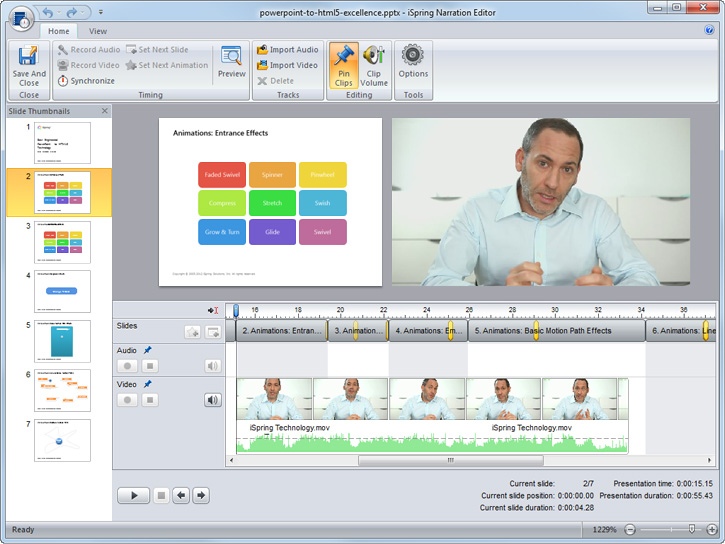 # 5 Lectora Inspire
Lectora is the tool that describes itself as the ultimate"mobile learning game changer,"that promises to change your learning. It integrates cutout people Library, interaction builder and Brothers e-learning template library, cut-out people Library, and interaction builder for effective e-learning course authoring. Moreover, it enables you capture, import and edits both video and images into tour content. Finally, you can blend flash animations, textual content, video, and audio among others in a single module publishable into an e-learning system.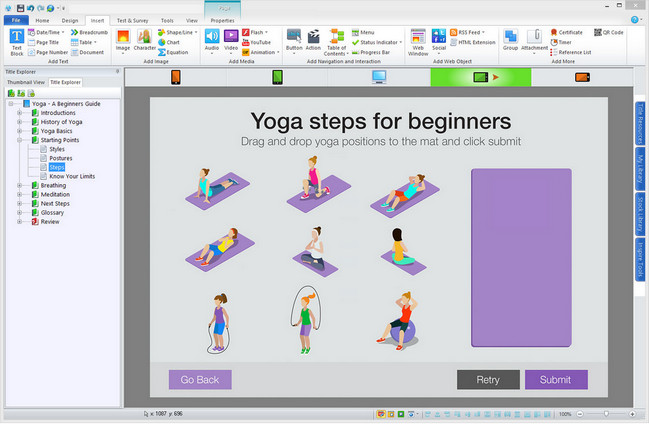 Summary
The popularity of E-learning has over the years extended even to higher education. Numerous institutions are exploiting their technological capacity to provide online courses across the globe. Regardless of time or location, you can retrieve and gain knowledge and skills using any internet enabled device. All these tools serve a similar purpose in e-learning, but depending on your preference and needs choose your most ideal tool.