How to Download Free Webinar Software for Windows?
Online webinars are taking over in reaching clients and other target group online. One of the popular webinar provider is GoToWebinar. This is an amazing webinar and you definitely require it especially if you are a business person. Most of us understand the need of installing this software in the operating system, but do we really have the perfect knowledge on how to download and install it on our windows?
Well, if this is your situation then you need not to worry anymore as this article brings into light the various guidelines on webinar software free download for windows 7. Discussed herein is a guideline on how to install GoToWebinar for different operating systems.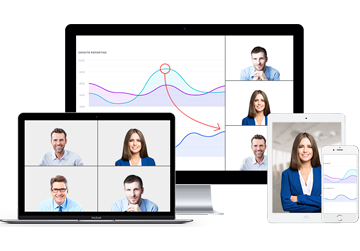 Free Webinar for PC
Free for up to 100 Participants
Fluent Group Video/Audio/IM Chat
Screen Sharing and Whiteboard
Webinar Cloud Recording
Webinar Custom Branding
Sign Up Free Now
1) Logmeinsupport
Webinar software free downloads for windows are available at various platforms. The first site to download the app is LogmeinSupport.
The steps for the installation are as follows :
a) You firstly search for either GoToWebinar download windows 7, gotowebinar windows 8 or gotowebinar windows 10. The Logmeinsupport site will pop up among your searched results. 
b) Navigate to the system requirements of the software to ensure that they are compatible with your browser.
c) Next, click on the icon that gets you started.
d) A prompt will appear on your screen asking you to install GoTowebinar and a default support app launcher. Follow the prompts and download the software.
e) The sign in panel will launch from the tray of the system and you can sign in appropriately either as a host or client. 
2) Softonic
As for the platform for webinar software free download for windows 7, this is yet another site for gotowebinar download windows xp,citric online launcher windows 10 or any other windows operating system. You can choose to type either gotowebinar windows 8, gotowebinar windows 10 or any search related to downloading the gotowebinar software. This site is either the first or among the first three results for your search. It is also recommended to use chrome, Firefox or internet explorer as your browser. It is easy to download from this site as it provides a download icon with a remark that gotowebinar is not compatible to every software and it hence chooses the right one for you. 
3) Microsoft Store 
This is one of the easiest ways to download and install gotowebinar download for windows 10 or any other windows operating system. In order to easily go through this process, you require a strong internet connection. After your device is fully connected, go to the Windows store and search for the software and download it. 
To get a better experience for the GoToWebinar app, you may download and install the citrix online launcher windows 10 or citrix online launcher download windows 7 depending on the Windows version that you are currently using. It is also available on Microsoft Store or you may decide to try it at getintopc.com. Citrix online launcher will help you customize the GotoWebinar app and have a better control over the app. 
Undeniably, there are many webinar providers but GoToWebinar app is such an outstanding software to go for. This webinar provider has proved itself to be better among its peers in terms of its operation, set up, costs incurred and sharing of windows among other amazing features. The key features of the software that make it better than others include:
a) Live Recording Support    GoToWebinar allows you to record a presentation at the time of your choice. It therefore does not restrict you to a certain time when you are supposed to carry out your cloud recording. You can then send it to attendees at the scheduled time.       
b) Interactive    This webinar provider provides an assortment of ways to interact with attendees. You can share multimedia files, initiate conversations with other people, and have poles with your clients. This gives it even a better impression of personal appeal during a presentation.  
c) Notifications   To ensure attendees do not miss your webinar, GoToWebinar then sends them a notification via email to remind them of the presentation that is just about to begin. This can help you increase your attendance percentage.   
d) It carries out an analysis on the effectiveness of using the webinar style to reach various clients.           
e) It is also easy to log in. Once you launch the app, a custom homepage comes with a number of navigation and easy to understand icons that allows you to easily get access of your account and conduct your operations on time.
Furthermore, the ease of log in can greatly improve the number of attendees you have. 
As mentioned before, there are other various webinar providers. These can also act as alternatives to GoToWebinar. They include the popular ezTalks webinar and the Demio among other webinar providers. It also has widely known prolific features such as video conferencing in HD and recording support. Just in case you want to try a different webinar provider, the ezTalks is the ideal alternative for GoToWebinar. Clipart & PNG image source from pngkey, nicepng, pikpng, pinclipart.
As aforementioned, the world has really changed technologically. Do not stick to the old methods of carrying out your business operations. They might be the reason you are losing your market command. This is the prime time to consider GoToWebinar for your online presentation needs. This article has explained how to download it and install it in your PC. Take the bold step and follow any of the prior mentioned ways for webinar software free download for windows 7 and enjoy the unquestionable benefits of GoToWebinar.