The Main Uses of Cloud Computing in Business
Cloud computing consists of software and hardware resources that have been made available on the internet and as managed third party services. Cloud computing services heavily rely on high-end networks of server computers and advanced software applications. There are several types of cloud computing, these include network storage, software and virtual information technology. Generally, cloud computing systems are designed to provide support to large numbers of surges and customers in demand. Many cloud services companies allow users to store data that is inclusive of media files, documents emails, contacts and calendar information but very few are as robust as ezTalks Cloud.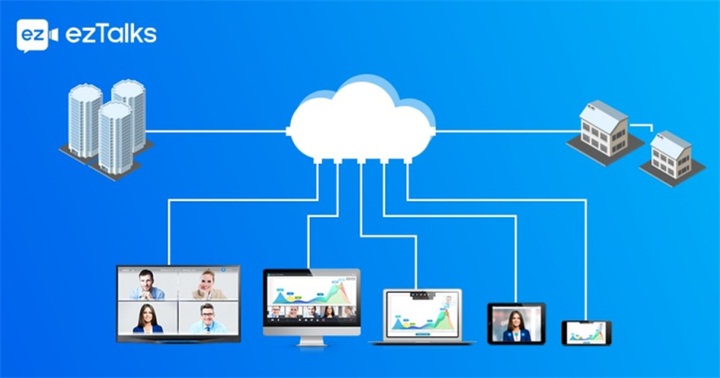 Where Cloud Computing Is Used?
Elasticity, optimal resource utilization, cost reduction and superior flexibility have allowed cloud computing to be recognized. Cloud computing is used literally everywhere around the globe, some of the main cloud computing uses in business include the following:
IaaS and PaaS
Companies are increasingly using Infrastructure as a Service (IaaS) to save on charge of investing to obtain an IT infrastructure, maintain as well as manage it. Organizations are quite keen on enhancing the speed of development on ready to use platforms for installation of applications.
Private Cloud and Hybrid Cloud
Hybrid clouds allow for the testing of application workloads. Furthermore, hybrid clouds have the skill to enhance during times of incomplete peak usage. This is better than hosting big infrastructure that is rarely of use. In today's business landscape, data security is paramount. Learn how to enhance your data protection with hybrid cloud security solutions to ensure the safety and reliability of your cloud-based operations.
Development and Test
The use of cloud computing is the most ideal in a development and test environment. This encompasses securing a financial plan via physical assets for setting up manpower, important time and your environment. Cloud computing technology has opened up accessibility to environments for specific needs at the fingertips of users. This usually combines mechanized provisioning of physical and virtualized resources.
File Storage
This is undoubtedly one of the major areas where cloud computing is used. Cloud computing facilitates the easy storage, access and even retrieval of files. Normally these files are sourced from any one of the many web-enabled interfaces. The interfaces for these web services are quite easy. This is because, at any time and place, a user can enjoy security, high speed, scalability and availability of the environment. Businesses only pay for the storage cost of what they are actually consuming. This eliminates worries associated with supervision of daily maintenance of the infrastructure used for file storage.
Backup
The use cloud computing has significantly simplified backing up of important data. This is because it is an easy operation and is not time-consuming. People easily store items in the cloud and still access them. It is beneficial because it does not run out of space to backup media.
Back up that is cloud based is a very powerful solution because automatic scheduling is possible. Storage of information is in a remote and secure location. The stored files are always available and it is impossible to exceed storage capacity. This is the main reason why cloud computing has increased in popularity as data can easily be backed up on cloud platforms. Backup through cloud computing only needs one to dispatch data automatically to a location of choice through the wire.
Growth Planning
This is a unique use of cloud computing. Businesses can use cloud computing to plan for growth without an expensive upfront investment. This is facilitated by file sharing, cloud management systems and data analytics.
Disaster Recovery
Small business experience great difficulty when it comes to disaster recovery, this has caused many to go out if business following important data loss in a disaster. This is a critical instance where cloud computing is used as it can host important data for organizations to protect them in the case of an eventuality.
Disaster recovery with cloud computing is much more effective, cheaper and faster compared to the traditional disaster recovery sites that were characterized by high costs, rigid procedures and fixed assets. Disaster recovery that uses cloud computing uses a mesh of various physical locations.
Big Data Analytics
When cloud computing is leveraged, an important aspect that is offered is that it becomes possible to tap into huge quantities of data that is both structured as well as unstructured. This harnesses the advantage of business value extraction. Suppliers and retailers are readily extracting information that has been obtained from the buying patterns of consumers. This allows them to strategically target both marketing and advertising campaigns to a specific population segment.
Social networking platforms are currently providing an analytics basis on behavioral patterns, which organizations are utilizing to obtain meaningful information.Picture source from pngix, pinpng, jing.fm, trzcacak.
The list of cloud computing uses explained above in detail is far from exhaustive because there are many more.
Conclusion
The above insightful information about where cloud computing is used should give an incentive to the utilization of this service compared to the traditional alternatives. This is what will allow for the enhancement of IT infrastructure flexibility and leverage on mobile computing and big data analytics.