5 Notable Video Teleconferencing Companies Around the World
In recent years,video teleconferencing has continued to grow in order to meet the ever-increasing market demands. More and more video teleconferencing companies are focused on the research of innovative technologies to upgrade their video teleconferencing products. Today,we will briefly introduce you five notable video teleconferencing companies around the world,so you could select a right video conferencing tool for your business.
1. Cisco WebEx
One of the most notable video teleconferencing companies is Cisco WebEx. It is ranked a leader in video conferencing services,with almost 52% share in the global market,according to the report. Cisco WebEx provides a specialized portfolio of video conferencing solutions for meeting online,holding events and webinars,teaching or training,or remote tech support. The products are delivered over its own cloud---Cisco WebEx Cloud,which is capable of protecting your privacy and confidential information during the real-time video meetings. It is worth noting that WebEx Meetings pricing is a little higher compared with other counterparts in the market.
2. Polycom
Founded in 1990,Polycom,Inc. is a leading American corporation that is dedicated to the development of video,audio,content communication and collaboration technologies. The firm offers HD video conferencing,voice conferencing and Telepresence solutions to help organizations worldwide to defy the distance and do things together. Polycom video teleconferences are always hardware-based ones,which are suitable for large enterprises or governmental departments. Characterized by the high-quality voice & video and secure data transferring,the products are also extremely high priced.
3. ezTalks
ezTalks Technology Co.,Ltd is a one-stop video conferencing solution provider that offers free cloud video conferencing,on-premise video conferencing,web conferencing,online meetings and screen sharing to collaborate in real time. It provides brilliant,cost-effective video conferencing solutions for companies of any size.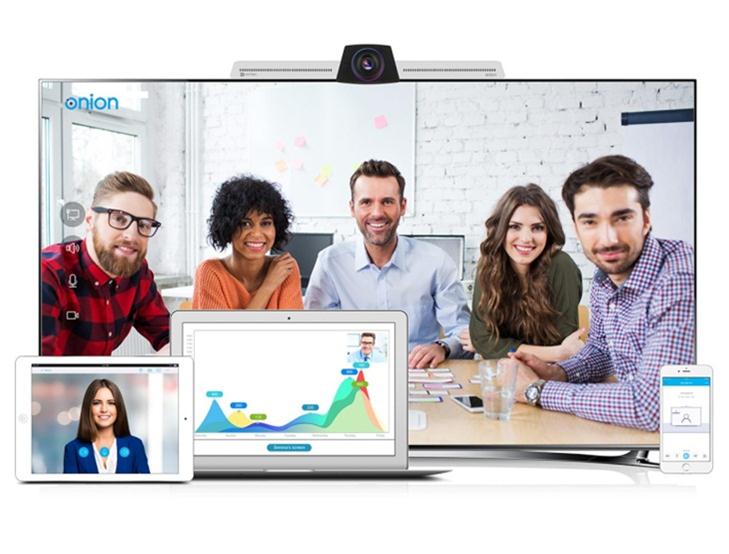 The free cloud-based videoconferencing software ezTalks Meetings now has been upgraded from previous three to 100 participants at most,so it is very suitable for small businesses. You can also customize your own video conferencing software with ezTalks to meet your own demands privately and safely. Apart from these software-based videoconferencing solutions,ezTalks also provides meeting room-based video conferencing solutions,like all-in-one video conferencing equipment ezTalks Onion and various video conferencing endpoints for different conference rooms.
4. Lifesize
Headquartered in the United States,Lifesize is a telecommunications company which provides high definition video,audio and web conferencing solutions,software and equipment for enterprises and businesses. Lifesize adopts the advanced conferencing technologies to enable organizations to communicate and collaborate with colleagues,customers,co-workers and suppliers productively and effectively. Lifesize cloud-based app is ease of use,you can easily have a video call anytime,from anywhere with a single click after installing it. Besides,it is also interoperable with other famous collaboration tools,such as Skype for Business.
5. Skype
Skype Technologies is an American telecommunications corporation which is engaged in the manufacturing and marketing of Skype (an instant messaging software) and related Internet telephony services. The software provides a VoIP service and video call for you to chat with your friends and family members. You can use it to have one-to-one video & voice call or group call with anyone in the world,for free. If you are looking for a more professional video conferencing tool,Skype for Business might be a good option for you. To get more information about Skype video teleconference,you can refer to 3 Ways to Start Skype Video Conference Call>>.
The above are just a brief introduction about the current five notable video teleconferencing companies for your reference. If you want to learn more about them,go to their official websites respectively for details. After carefully measuring different audio video teleconferencing companies in the market,you will definitely find a right video conferencing tool for your business.