6 Best Virtual Whiteboard Software for Business
The virtual world is the new and most innovative way to connect your business with fellow stakeholders, investors, partners, and more. A virtual whiteboard is a go-to method of brainstorming, explaining, planning, teaching, and more. Whilst many productivity tools have made their way to the online and virtual world, virtual whiteboard software is still the best tool you can use.
Find out more about the best virtual software programs below and what their features include:
ezTalks:
ezTalks is not only a virtual whiteboard software but also a video conferencing software as well. What is said to be the best virtual software on the internet, ezTalks allows you to create meetings with other people with their easy screen sharing, virtual whiteboard, and instant messaging. Not only that, but they have rooms in which you can set up flawless audio and video chat, an awesome custom video platform that is specific to your demand, HD video, and audio, file and screen sharing, video webinar, a smooth and interactive virtual whiteboard, meeting controls, and instant messaging. ezTalks is an easy solution to collaborating through the virtual world, and you can also get this virtual whiteboard software free download from the official website.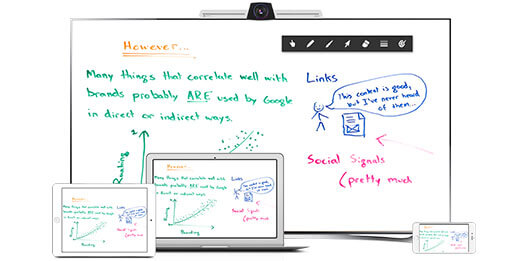 Aww App:
Aww App is a virtual whiteboard that is great for those on-the-go meetings or collaboration. The free virtual software allows you access to the online whiteboard and invites various participants to freely draw and add content, while still keeping virtual whiteboard private from others who use the software. With the basic layout of the white background, Aww App has a dot grid to aid you in lining up your text and drawings so they are more uninformed, and an easy swipe eraser which allows you to target a specific area. Compatible with Microsoft and iPhone, this virtual whiteboard is a simple, responsive, and precise piece of software.
RealTime Board:
RealTime Board is one of the best virtual whiteboard software that breaks the physical limits of the plain white background and adds a spark of color to the collaborative nature of the software. Instead of writing your content directly onto the virtual whiteboard, RealTime Board provides you with a variety of templates to help structure and organize your content. This piece of software is great to use when collaborating through ezTalks as it has advanced organizational functions, building a product roadmap the further you continue down the virtual whiteboard software. This free virtual software is compatible with Microsoft and can also be saved as images, PDFs, downloaded to Google Drive, and more.
Whiteboard Fox:
Whiteboard Fox is another great virtual whiteboard software as it is very quick and easy to use with no setup required. All it takes is to navigate to the website and begin a new virtual whiteboard which will be a blank canvas. The options of the Whiteboard Fox software are very simple, with functions and navigations situated to the left with basic drawing, navigating, erasing, undo buttons, and test. Whilst this free virtual whiteboard software is simple compared to other options, it is effective, responsive, and extremely accurate whilst getting the job done for you and those you are collaborating with.
Web Whiteboard:
The Web Whiteboard is a free virtual whiteboard software that is very similar to the Whiteboard Fox in the instance that it is easy to use, allows the individual user or team to jump straight online rather than go through a sign-up and set-up process, and has all the basic tools needed to create an effective collaboration online. Unlike the Whiteboard Fox software, Web Whiteboard software does not focus on longevity, only holding whiteboards for 21 days. This function can be removed, however, if you upgrade to another plan. However, if you only need a virtual whiteboard software windows for those spur of the moment ideas or collaborations, then this software may work well for you.
Conceptboard:
Concept board is an online virtual whiteboard software that is similar to the real-time Board software. As a more visual based virtual whiteboard software, Conceptboard is great for sharing ideas and tracking your progress through a visual medium rather than through text and drawings like other online virtual whiteboard software. The software allows the individual and collaborators a visual nature where they can input images and files, draw, write text, pin notes, and more. The free virtual whiteboard software is all about user presence, integrated board chat for those quick conversations, and in-depth project management for long-term and short-term projects.
Virtual whiteboard software is becoming increasingly popular amongst big business and more as it is an effective collaborating tool. Not only are all of the above virtual whiteboard software's online, but all of them are free to start using. The best virtual software for you will depend on what it is you require from the software, and how it can benefit you in your collaboration and project building management.