Best Huddle Room Equipment List 2019
Since the modern workplace is increasingly changing,this has necessitated the need for video conferencing systems that are room-designated. A huddle room,a small conference area,has numerous benefits including offering a flexible communication system and reduced up-front performances expenses. By equipping a huddle room with audio and video systems,participants'interaction,ideation,and agile collaborationcan be achieved.In order to prevent you from experiencing the difficulties associated with choosing the best huddle room hardware,below is the best huddle room equipment list2019.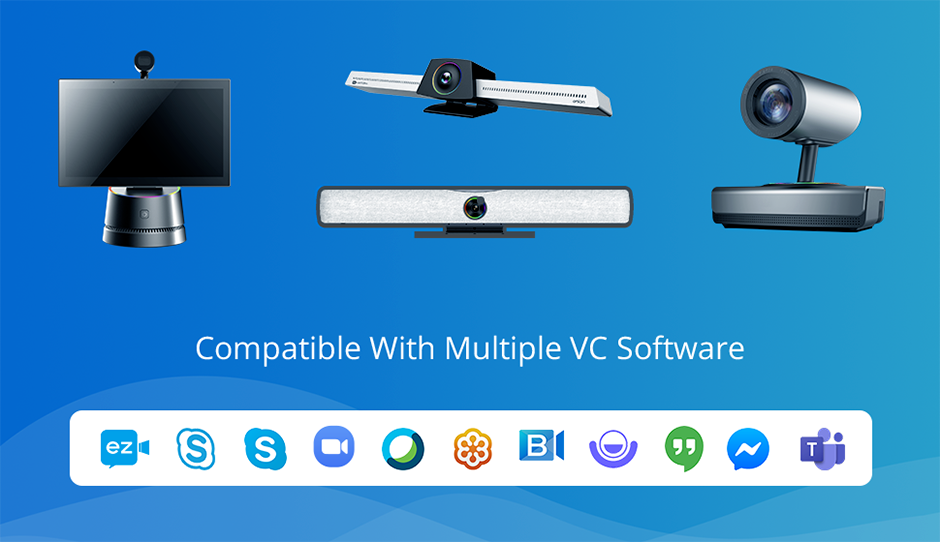 ezTalks Hardware
Supports Multiple VC AppsezTalks all-in-one video conferencing devices work with most popular VC apps like ezTalks,Skype for Business,Skype,Zoom,WebEx,GoToMeeting,BlueJeans,Lifesize,Google Hangouts,Facebook Messenger,Microsoft Teams and more as you require.Request A Demo
1. ezTalks Meet S
ezTalks Meet S is rated to be among the top video conferencing hardware in 2019 because of the fact that it has outstanding features. ezTalks Meet S is not just a webcam,butthe video conferencing equipmentable to deliver a simple and quick meeting experience. This video conferencing equipment works in a way that it enables your business meeting room to be perfect.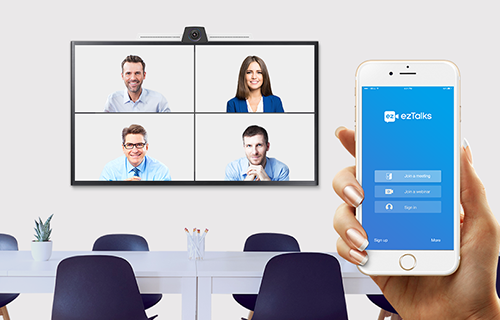 Pros
★Work with Multiple VC Software
Meet S is compatable with the most popular VC apps like ezTalks,Microsoft Teams and more as you require.
★ All-in-One Design
This video conferencing equipment integrates with microphones,speaker,camera,dedicated software,and codecs to let you enjoy a smoother,faster and more securemeeting.
★Ultra HD Video and Audio
The huddle room equipment incorporates the use of a 1080p camera with a wide-angle lens of 120°. The 1080p camera guarantees high-quality video and the wide-angle lens enables the capturing of all the participants within a room. The dual microphone grantsyou a marvelous sound for an enhanced connection.
★Simple installation
ezTalks Meet S is designed in a simpler manner to enable you to set up and use it without the help of a technician. You are simply required to place the huddle room hardware on your display and then connect simple cables and launch the program on your devices.
★Multiple features
Some of the multiple features that this video conferencing solution offers include screen/file sharing,an online whiteboard,cloud recording and storage,and control and management.
★ Reliable and affordable
This huddle room equipment is available for only $899,a one-time fee for your permanent use,and thus helping your business reduce expenses.
Click here to upgrade and refresh your huddle conference room!
2. VidyoHuddleRoom
The Vidyo huddle room delivers to you a system that supports dual-screens,HD encoding/decoding,and multipoint conferencing. This patented platform integrates with almost any application device,network,and environment to deliver to its users an experience of the highest quality. A superior experience is important for building trust,strengthening teams,solidifying relationships,and enhancing everyone's quality of life.
Pros
a) Relatively easy installation and set up
b)A simple chat feature enables high engagement
c)Ability to share screens and document
d)Stunning audiovisual quality (dual 4K monitors)
Cons
a)A little pricey
b)May experience constant glitches or breaking down when connecting with a huge number of devices
c)Less intuitive icons and interface
3. WebEx HuddleRoom
The Cisco WebEx is available in different price plans and therefore,it can suit different businesses and organizations. Cisco Webex huddle solutions can be easily deployed and scaled to meet all your huddle space needs. What is more,WebEx huddle room is among the video conferencing solutions available that does not require you to download and install an application before one can use it.
Pros
a)No software downloading and installation required
b)WebEx Meeting Center enables easy scheduling,starting,and conduct of meetings online
c)Fairly straightforward presentation
d)Fairly reliable call quality
Cons
a)A meeting involving lots of people usually loses quality and can be frustrating
b)Speed may be reduced over unreliable networks
c)Not an all-in-one device
4. Logitech HuddleRoom
The Logitech through the years has managed to come up with different video conferencing solutions meant for different meeting spaces. The latest video conferencing product offered by Logitech is MeetUp designed for delivering a beautiful and high-quality webcam. For that reason,the equipment is the right one for a business that has embraced a conference room-type set up that is small and is serious about audiovisual quality.
Pros
a)120-degree field of view
b)Excellent image and call quality
c)Good remote control and management options
Cons
a)May find the Pan-tilt-zoom twitchy in operation
b)Need to download the software for meetings by your own as it lacks built-in software
5. Avaya
With Avaya equipment,you are able to convert any huddle space into a collaboration room that is cloud-enabled. Avaya video conferencing deviceallows you to perform the video performance in qualitative quality progressively.The participants can beable to enjoy real-time quality audio and video performance. Avaya also allows collaboration of its users through documents,spreadsheets,etc.
Pros
a)Rich user experience
b)Easy to use
c)Good sound and image quality
d)Unified central management
Cons
a)Complex facility
b)Complex installation
In conclusion,the video conferencing solutions provided above are some of the besthuddle room equipment available since they have continued to help many businesses streamline their communications. If you are looking for a video conferencing hardware that not only represents a cost-effective solution but also offers quality performance,then you have to really consider the ezTalks Meet S.