What is a Live Webinar and How Does It Work?
Live online webinars are important video collaboration tools in business and education because they make real-time communication with prospective clients, employees, business partners, and students easy, fast, affordable and efficient. In addition, live webinars allow seamless presenter-participant interaction, which allows the attendees to ask questions and get answers immediately. In other words, live webinar meaning is that these sessions are hosted in real-time.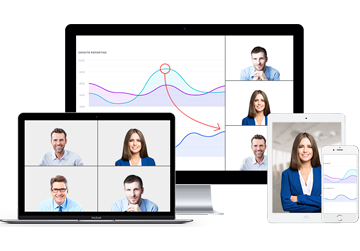 ezTalks - Best Webinar Software
Free for up to 100 Participants
Fluent Group Video/Audio/IM Chat
Screen Sharing and Whiteboard
Webinar Cloud Recording
Webinar Custom Branding
Sign Up Free Now
What's a live webinar and what makes live webinar hosting unique? 
Simply put, live webinars are online seminars, lectures, or classes presented online and in real-time and to a live audience. These are engaging online events in which one or more speakers, present information to a large and live audience. The attendees receive the information and they can interact with the presenters by asking questions and participating in polls or surveys while the presenter can evaluate how well the webinar is working towards achieving the intended goals. In the academic world, webinars can allow students to remotely attend the lectures from the convenience of their hostels or homes, and this helps both business people and students to save on commuting to business premises or lecture halls on campus. 
Live webinars differ from meeting tools and traditional media such as video streaming that doesn't offer the audience room to interact with the presenter. The live webinars also differ from pre-recorded or on-demand webinars, which aren't presented in real-time. 
How does a live webinar work with ezTalks Webinar?
There are numerous webinar platforms, but not all can win most of the popularity. For example, WordPress Live Webinar runs well with various features, but WordPress Live Webinar plugin is too complicated to install for a newbie. ezTalks Webinar stands from the rest as it better facilitates the hosting of live webinars easily and flexibly. But how does a live webinar work? Well, this outline specifically presents the process of running a live webinar using ezTalks Webinar software, which is one of the most popular and reliable webinar platforms in the market. 
Step 1: Before you can host a live webinar, you have to visit the ezTalks official website and download the ezTalks live webinar software, which can work on iOS, Android, Mac, or Windows operating systems. You can use your smartphone or computer, and it's advisable to download the latest version because it will have the most updated features. Thereafter, install the ezTalks webinar app before you can continue. 
Step 2: Find the sign-up button and create your ezTalks Webinar account before you can proceed. You'll need a valid e-mail address, and a few more details to sign up. After registration, check your e-mail and click on the link provided to activate your ezTalks Webinar account for use. Remember that if you get a free limited trial period, you can host a free live webinar without having to pay for any plan. But if you like to enjoy more brilliant features, the paid plan will be more suitable for you.
Step 3: Before starting the actual live webinar you have to first prepare and plan by choosing your live webinar topic and the date and time of presentation. The chosen time should be ideal for attendees in different time zones or demographics. You should also select a motivating and informative topic, and if necessary, you need to find the ideal guest speakers with relevant experience or knowledge.
Step 4: Rebrand your webinar and create a hashtag for it by selecting an appropriate theme for the live webinar and if possible, choose a relevant image for the landing page and include your logo to ensure that the design is a true reflection of your branding. The rebranding icon on ezTalks Webinar can lead you to tools that can help you in this process. You can get great publicity effect if your webinar is to be successful and receive great viewership. One of the other ideal ways to achieve this is by creating a hashtag, which will make it easy for you and your prospective attendees to share this information on social media. 
Step 5: After you open the ezTalks app or site, you can schedule a webinar to your chosen time using the 'schedule' icon. Alternatively, you can conduct the webinar immediately without scheduling process. Then, you can invite your chosen participants to attend the webinar. You can pick the people to invite from your address book on the ezTalks page if you've made a list of people in the address book. In addition, you can click on the invitation e-mail icon and create an invitation e-mail to all people that you wish to invite to attend your live webinar. This is a step that requires a little more creativity for the first time. But you can improve attendance by sharing your webinar ID or posting your hast-tag on social media platforms or your website to reach out to more prospective attendees. 
Step 6: Before hosting a webinar, ensure that your camera and microphone are ready to deliver HD video and clear audio. You can log in and click on the 'start a meeting' button to conduct a practice run. Before the actual presentation day, you can send reminders via e-mail to all people who received the webinar promotional messages to remind them of the scheduled date and time. 
Step 7: With the attendees invited, you should now concentrate on the development of the live webinar content. Ensure that you create rich content and provide features that will make the presentation more engaging. You can achieve this by creating surveys and polls, providing online screen sharing and online whiteboard for collaboration, creating a question and answer session at the end of the content presentation and so on, which are all supported by ezTalks Webinar.
Step 8: Now that all are set and ready for your live webinar broadcast, you can host your presentation. Start by clicking on the 'start meeting' button and remember to use the webinar 'Recording' button to record a webinar for local storage or cloud storage for future posting and reference. Make your live webinar recording available online as an on-demand or pre-recorded webinar for any new people that would like to view it after getting recommendations from the attendees who were part of your live audience.
Step 9: After successfully presenting your live webinar broadcast, you can use the 'Thank-you page' icon to write a thank-you e-mail to all your attendees. It's also advisable to follow up on your attendees shortly after the presentation. You could ask them how they've used the information presented to get their feedback or analyze the reports provided by ezTalks Webinar for improving your next webinar.
Conclusion 
Live webinar is an ideal tool and mode of reaching out to your audience in the business world or in academia. This is because they provide a live and interactive platform where you can have a one-to-one live session with your live audience. Easy steps on how does it work must help you create a more fruitful webinar!