How Do I Schedule a Conference Room?
For small and relatively huge business owners,conferencing is one of the most important business tools. However,without the proper conference room booking system,you are bound to run into a number of obstacles and complications.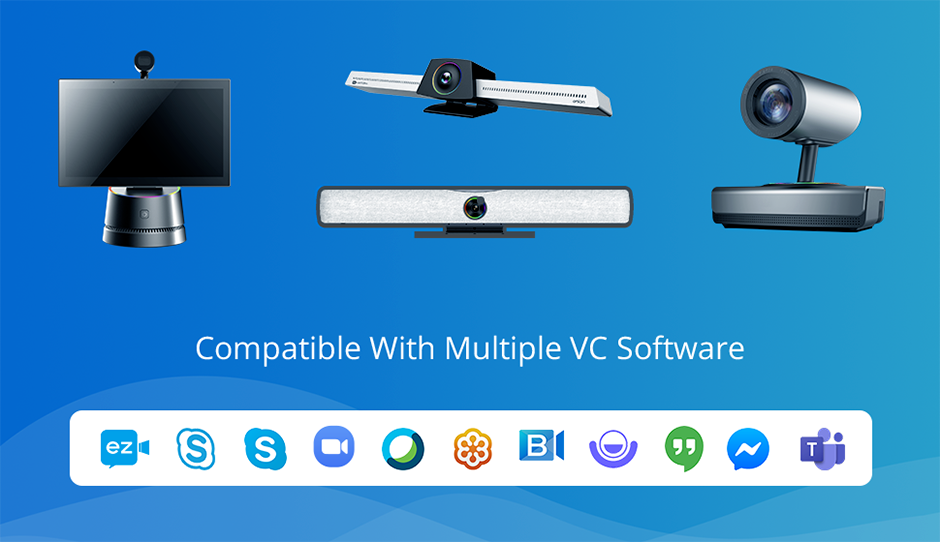 ezTalks Hardware
Supports Multiple VC AppsezTalks all-in-one video conferencing devices work with most popular VC apps like ezTalks,Skype for Business,Skype,Zoom,WebEx,GoToMeeting,BlueJeans,Lifesize,Google Hangouts,Facebook Messenger,Microsoft Teams and more as you require.Request A DemoThe priority of conference room management is to find a suitable online scheduling system that allows easy and fast configuration for best meeting experience. Then we can start steps for scheduling a conference room. In this article we choose ezTalks Rooms Software as the example to explain the steps.
How do I go about scheduling conferences and my conference room?
Before being able to control,manage and schedule a conference room,you must first set up the system and configure it right. Here is a details step-by-step guide on how to set up and configure ezTalks Rooms Software:
Requisites:
1) Functional PC equipped with a microphone,webcam,and speaker;
2)ezTalks Rooms Software;
3)ezTalks Controller app;
These are the equipment needed to set up video conferencing.
Setup and Installations:
1) To have ezTalks up and running on your computer.
2) Boot up your PC and install the ezTalks Rooms Software on it.
3) Install its affiliate mobile partner,ezTalks on the Mac,Windows or Android device that you will be using on the management and scheduling of meetings.
4) Add your rooms in the application program. The application features a very simple and friendly user interface easy to navigate. On the top right section of your running program,click on the button labeled '+' to add the room's ID. This should be relatively simple in the app.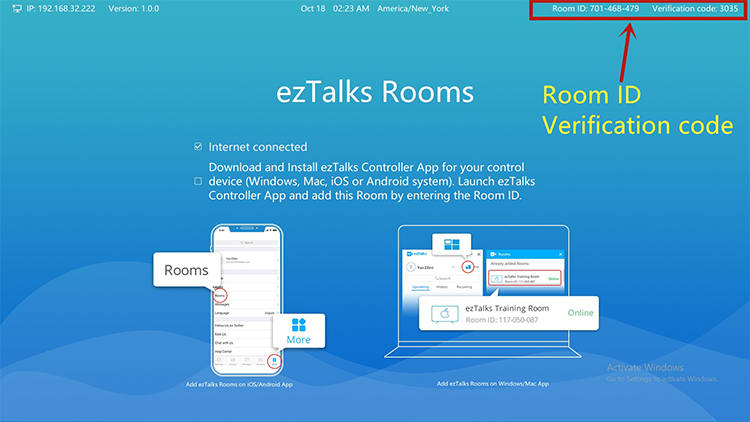 After completing these first few steps,you are now set and ready to go. Your software should be ready for use.
How is a conference room scheduled using ezTalks Rooms Software?
Conference and conference room scheduling is surprisingly easy when using the ezTalks Rooms Software. To schedule your rooms and meetings,you simply have to do the following:
1) Boot your system and run ezTalks Rooms Software.
2) Sign in to your account in the ezTalks Controller App.
3) Up next,simply click on meetings; then click on schedule.
4) Next,invite any and all the meeting's attendees.
When done,you have your meeting or conference room scheduled. Up next,all you have to do is wait and be ready to start the conference meeting on the set date and time. In very simple terms,ezTalks Rooms Software can be simply described as easy,ideal and dedicated conferencing software meant for conference rooms of all sizes. Being cloud-based,it is safe and very secure.
Why choose ezTalks Rooms Software as your conference and conference room scheduling system?
ezTalks is one of the best and most efficient scheduling programs in the whole conferencing business. Some of the reasons behind its relatively huge support and endorsement include the following:
1) It features a very simple and friendly user interface.
2) Among the best features of ezTalks Rooms Software is that it features a very friendly user interface. This means navigation and its use,in general,is relatively easy.
3) It is compatible with a number of calendar applications.
4) The best kinds of programs are the ones capable of integrating and synchronizing your personal data from other applications. ezTalks features calendar integration. This simply means that you don't have to transfer or learn new calendar application programs in order to make bookings and schedules.
5) It features a mobile application.
6) At this age and time,one of the most vital and crucial factors to consider when acquiring a software program is its compatibility with other devices. ezTalks provides you with quick access and control options on the ezTalks mobile app that enable you to book rooms and organize conference meetings.
Other features that brand ezTalks as one of the top conference scheduling software include the following:
* Fast and easy configuration;
* Multi-screen video output;
* Wireless sharing capabilities;
* Cloud recording and storage;
* Easy management including remote control of system operations;
* Dedicated software capable of handling conference rooms of any sizes.
When all is set up and configured,you get to enjoy conference room scheduling using your own mobile Smartphone or a similar device. This is a modern and very simple,yet super effective conference and conference room scheduling technique.
With the constant and consistent technological advancements witnessed every other day across the whole world,video conferencing has become one of the most important achievements of the same. However,some folks tend to find the whole conferencing business quite difficult and overwhelming. At times,this exercise proves to consume too much money and funds. However,this is only true if you keep insisting on using outdated conferencing software and application programs.
A perfect meeting room management system or program should function right by minimizing,if not completely eliminating scheduling conflicts. It should also heighten and maximize efficiency. To completely eschew non-productive time and increase efficiency in any setup on the same,you have to go for the best meeting room manager.