Top 10 Webinar Providers in 2019
Webinars have shifted to an effective tool in bridging the gap in diverse fields. There are lots of webinar software to choose from. A good choice can only be done by comparing the different webinar providers. With the variation in capacity and interaction, different webinar providers are suited for different uses. Before deciding on what webinar provider to use, it is prudent to compare webinar providers carefully. This will ensure you choose the appropriate one for you. This article highlights the top 10 webinar providers comprehensively to help you decide on the best one to go for.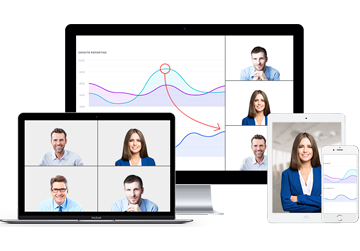 ezTalks - Best Webinar Software
Free for up to 100 Participants
Fluent Group Video/Audio/IM Chat
Screen Sharing and Whiteboard
Webinar Cloud Recording
Webinar Custom Branding
Sign Up Free Now
1.ezTalks Webinar 
ezTalks Webinar is one of the top webinar providers in the market right now. Due to its unsurpassed features, it ranks first in almost all webinar provider reviews. 
Key features:
•Ability to host or join any video conference regardless of the location or time. This will highly boost your attendance percentage and increase the efficiency of the webinar approach. For busy users, you can record your presentation at a time that suits you best. It will be replayed when required with absolute element of live presentation.
• It is very cheap- as low as $40/mo for 100 participants with many features. This is economical and affordable to different kinds of organizations or businesses. It makes ezTalk Webinar seem like a stepping stone for young businesses to grow.
• Big capacity of at least 100 interactive participants and a whopping 10000 audience.
• Runs on a number of operating systems, for example, Android, iOS, Windows operating system or mac. You do not need a sophisticated device to run this amazing software, only your native phone or computers.
• Supports collaborative tools such an improvised whiteboard, screen sharing, polls & survey that as lock key give this software a cut above the rest. Users are provided with high-definition videos and audio and a swift instant messaging alert to boost interaction. Interactions between presenters and participants are highly fostered by such a user-friendly platform.
• It is customizable. You can insert your company emblem or add a motivating background picture. This feature can be sufficiently utilized for marketing and highlighting. Besides, you can set up your webinar to reoccur on multiple days of the week, multiple times per day or even set it up to continuously begin in the next few minutes with the "scheduling" feature.
2. EverWebinar 
This software has automated web hosting and attendance. It is a kind of really powerful software that has not only a reminder for the subsequent webinar but also geared towards creating a personal appeal in the webinar interaction. Users have said that it has greatly increased their online client attendance after shifting to it and increased satisfaction among clients attending webinars via EverWebinar.
Key features:
• A reminder on when the following presentation begins to avoid missed attendance. 
• Automatic time adjustment depending on your location time zone.
• "Just-In-Time" feature informs the audience before the start of the webinar, which encourages them to attend the full webinar.
• Analysis of the webinar strategy and its impact in order to decide if to go on or not.
Cons
• It doesn't support to customize your EverWebinar "Live" experience with YouTube Live and Facebook Live integration.
• Some users have reported technical glitches which result in frustrations when operating. 
3. GoToWebinar
This yet another platform in the top webinar providers list. It enables you to entirely automate and personify your presentation. This webinar is mainly considered as an alternative to other webinar providers. It is most suitable for small businesses who have an absolutely little audience and are only interested in conferencing online through videos. 
Key features:
• Dual video and audio support, that is, on the client and host side. 
• Gives one of the best live presentation impressions.
• Ability to support client and host screen sharing.
• Ability to record a presentation a month before and appear live during presentation.
Cons
• No auto scheduling of presentations which reduces its convenience. 
• The price increase radically as time progresses making it expensive with at least $89 per month. If you would like to enjoy more functions, you need to pay more. 
4. GetResponse
This is also among the highly referred platforms. It is appropriate for all kinds of groups ranging from small family interaction to large entrepreneurs. The system provides plenty of solutions required by the user in just one platform.
Key features: 
• Customizes your webinar URL with a title and choose whether your webinar will be open to everyone or password-protected.
• Uses the advanced date-and-time picker for flexible scheduling options.
• Gets immediate responses on surveys.
Cons
• Lack of an easy download option.
• Lack of more customization options.
• Lack of "along the way" support as you initially set up your account or explore the features for the first time.
5.Demio
This is a widely known webinar software for its tracking capabilities. This platform is dedicated to webinar services. No complex procedures required to register and the registration process is done only once. Some of the features include its simple set up process and its ability to provide documents for download. Monthly payment plans are averaged to $49 for 50 attendees which most many customers find it difficult to raise.
6. AdobeConnect 
This is one of the inexpensive webinar providers. Its pricing plan starts at $50 for every user. With it, you can securely share anything from your laptop using an integrated Adobe Flash Player. This means that you need to have the Adobe Connect software and a laptop or something of that sort. Then it links the online presentation and displays it on your PC.
Key features: 
• Supports 3D presentation which helps to foster a better understanding through enhanced visualization.
• Supports both offline editing and presentation which means that clarifications can be made when spotted without affecting an ongoing presentation.
Cons
• The obvious one is that it consumes a good amount of bandwidth, otherwise it could have a propensity of lagging.
• In places of weak Internet connection, a presentation is likely to have sporadic pauses, which results into frustrations. 
• Reporting features work inconsistently.
7. Livestorm 
Livestorm is unique in that you can host or attend presentations online using your browser and with nothing downloaded. The software also has an automation of presentations and you can record a presentation and play it later. It also has an assortment of support tools such as online whiteboard and locks for the enhanced experience.
Key features:
• Real-time presentation and two-way support of sound and video which helps to improve the interaction of participants. 
• Record and replay support makes it convenient by enabling prior presentation recording.
Cons
• It is very expensive compared to other webinar providers such as the ezTalk Webinar. 
• Some users have complained of delays in support in case of bugs which might lead to missed event attendances. 
8. Google Hangouts on Air
Google Hangouts is an absolutely free software that operates in coordination with the YouTube channels. Google Hangouts on Air for webinars allow you to record videos directly from your device.
Key features:
• The system is very automatic and therefore no delays in uploading the details on the YouTube channels.
• No costs incurred in the platform. However, all members need to have Google accounts.
• It offers easy integrations with many business systems and applications, such as Google Apps, Zendesk, UberConference and so on.
Cons
• It is not a dedicated webinar application hence it doesn't provide professional webinar features.
• It needs plenty of other plugins or various kinds of software to support the live function.
9. ReadyTalk 
Founded in 2000, ReadyTalk is one of the best audio support webinars. It is an easy-to-use webinar service that provides a basic platform for creating a multimedia-rich, interactive presentation.
Key features:
• Content and project management with ease which makes its usability easier.
• Chat support and contact control for better interactions during presentations .
Cons
• Users have complained of difficulties in downloading its updates. 
• Its video conferencing tools are less advanced though it has an asking price at less than $25.
10. WebEx
It combines many features other than just presentation. It is superior because of its support of interactive forums, meetings and presentation. Due to its increased versatility, it is suitable for those who want a single communication means.
Key features:
• Video conferencing and file sharing for increased interaction. 
• Auto record support and versatility in its use which improves the user experience in terms of convenience. 
Cons
• This webinar lacks dedication to marketing and is very unsuitable for marketers. 
• If you want to scale your webinars and eventually host to a large number of people, WebEx will be not the best choice for your webinars.
Conclusion
For any industry to grow, it must have a strong relationship with others and diversify its market. Webinar providers have come to help you with that. With the webinar providers comparison contained herein, you can make an informed decision on what option to go for. However, it is clearly evident that ezTalk Webinar ranks higher among all. Therefore, it is a natural choice for many.