Best RingCentral Alternative and Competitor You Want
As globalization becomes more embedded in business and companies,the communication becomes a little bit difficult because the workforces are distributed in different places with different time zones. Despite that business leaders still do not worry about since technologies offer us a wide range of options to communicate remotely with experience just like "face to face". RingCentral is the leading provider of service that connects employees and partners through voice,video,messaging,SMS and fax. However,nothing can be perfect and part of RingCentral users do not experience good and would like to look for an alternative. In this article,we will introduce the best RingCentral alternative to you.
Part 1 What Is RingCentral?
Established in 2003,RingCentral is a provider of cloud unified communications to increase business productivity for companies and enterprises. RingCentral Meeting is the video and audio conferencing solution included with RingCentral Office,the RingCentral business phone solution. RingCentral Meetings allows you to join the meeting across smart phones,desktops and tablets for remote communication with "face to face" experience. Its function is good but some users do not feel good when using this RC meeting because of the complex set-up process,unnecessary phone systems,comparatively expensive plans and unfriendly customer service. Considering the RingCentral alternative,this article introduces the best option to you.
Part 2 The Best RingCentral Alternative
ezTalks Meetings will be the best choice if you would like to select a RingCentral alternative for your team collaboration and communication. Being easy,reliable and affordable,ezTalks Meetings allows users to connect with teams or partners in anytime from anywhere on any device with outstanding features. With it's the Starter plan,you can host up to 100-participant online meetings for lifetime free with full-featured functions including group video chat,screen sharing,annotation,whiteboard,IM recording,playback and more.
Here is why you should trust ezTalks: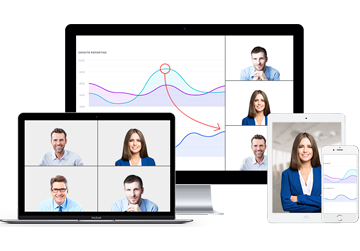 Why Choose ezTalks Meetings?
Free for up to 100 Participants
Fluent Group Video/Audio/IM Chat
Screen Sharing and Annotation
White Board and Collaboration
Record and Playback
SIGN UP FREE NOW
1. Easy to Set Up
It takes only minutes to set up and start a meeting.
If you are a host,it takes you only three steps to start a meeting. Download and install the apps,sign up for an ezTalks account and click "Start A Meeting". If you are an invitee,you can join the meeting via your browser with just entering the meeting ID. It is extremely easy and saves you a lot of time without configuration.
2. Affordable
If you are running a start-up company with a limited budget for company infrastructure,then ezTalks is the worth-trying solution. The Starter Plan allows you to try with full-featured functions and with up to 100 participants per meeting. You can use it for lifetime without any cost. The only limitation is the duration of each meeting can not exceed 40 mins. If you need more than 40 minutes,you can choose the Professional Plan with only $12.99 per month and more admin functions to manage the meeting rooms.
3. 7/24 Customer Service
ezTalks support team is 7/24 online to offer advice and suggestions for your questions,confusions,and technical issues. So if you need an assist for your meeting at midnight,no worries,ezTalks specialist is at your side.
Since remote meetings can help you save time and energy,improve efficiency and as interactive as physical meetings,it is the wise choice to apply video conferencing for your company. The discussed ezTalks is the best alternative to the RingCentral solution and if you are not sure,just give it a try with free trials. Then,you will get what works for your companies.